Key points:
The Cineworld share price barely moved after its price target was lowered at Morgan Stanley.
However, its financial position is quite precarious, given its massive debt.
The company has several options to improve its finances in future.
The Cineworld Group plc (LON: CINE) share price edged slightly lower today after Morgan Stanley analyst Ed Young lowered the cinema operator's price target from 50p to 30p while maintaining an underweight rating on the stock.

The cinema company was dealt a harsh blow after the Ontario Superior Court awarded Cineplex damages worth C$1.2 billion, which translates to £700 million.
The award could be debilitating for Cineworld, given that it has a current market valuation of £510 million and cannot pay the damages using the available equity.
The company has other debts worth £3.5 billion that it is still servicing, and many believe that it could easily default on the debt if it is forced to close its cinemas again due to COVID-19 restrictions.
Cineworld remains in a challenging financial position, and I wouldn't buy the company's shares until its circumstances shift materially. However, as we saw last year, the meme stock rally pushed many companies out of bankruptcy driven by retail investors.
As a prudent investor, I would not count on such a rally to lift Cineworld's shares and change its financial circumstances.
However, the company still has a few options that it could exploit to improve its financial position, including the listing of its US theatre chain operating under the Regal cinemas brand.
Such a listing would unlock significant revenues for the firm that it could use to repay some of its outstanding debts and boost its balance sheet.
Another option for Cineworld lies in its appeal of the Superior Court's ruling, which it could win, thus removing the burden of paying Cineplex. However, the appeal could take over a year before it is determined. Hence, investors have to be patient.
On a positive note, Cineworld's management team owns a significant portion of its outstanding shares. Therefore, they would do everything to avoid liquidating the company since they would be the biggest losers.
Meanwhile, I think there are better investment options in the London Stock Exchange.
*This is not investment advice. Always do your due diligence before making investment decisions.
Cineworld share price.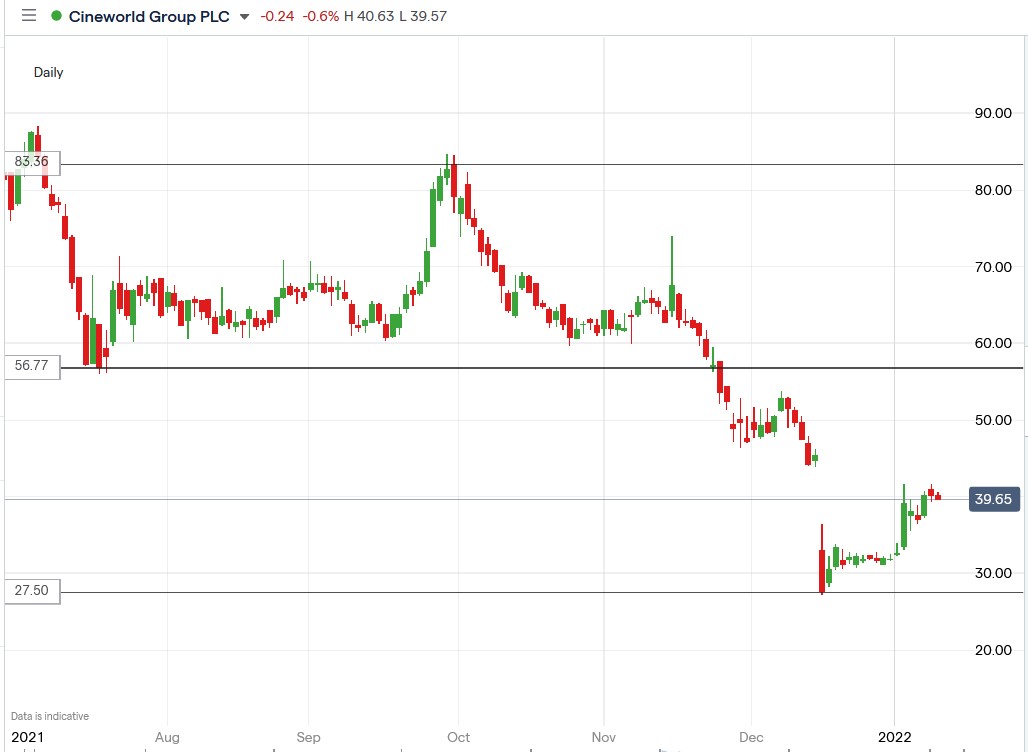 Today, the Cineworld share price edged slightly lower amid a muted reaction to the downgrade.