Code Chain New Continent Ltd (NASDAQ: CCNC) stock price plunged 37%, erasing all the gains made since announcing plans to expand its Bitcoin mining activities to North America.

The company, based in China, is planning to expand its mining capacity by acquiring 10,000 mining units at the Houston mining farm operated by MinerVA Semiconductor Corp.
Code Chain expects to kick off its North American operations in January 2022 by paying a $5.6 million deposit to secure the mining capacity with MinerVA.
The company's announcement comes after many Bitcoin miners closed their Chinese operations after its government cracked down on Bitcoin miners earlier this year, citing their high electricity usage and environmental impact.
The Chinese government has attempted to disrupt the cryptocurrency industry multiple times by banning Bitcoin usage in the country, but this has proven exceptionally hard given the decentralised nature of blockchain networks.
However, North America has benefitted immensely from China's crackdown as miners shifted their operations to the region. As a result, the United States accounts for a third of Bitcoin's total global hash rate.
Still, the US is not the most crypto-friendly jurisdiction as the country does not have a unified regulatory approach to cryptocurrencies and the more significant blockchain industry yet.
Code Chain shares today gave up all the gains accumulated during the past few days, and investors sold their shares under unclear circumstances since the company did not make any new announcements.
Therefore, I have attributed today's decline to buyer's remorse as over 2.32 million Code Chain shares changed hands at lower prices.
Investors interested in acquiring Code Chain shares may find its current prices quite attractive given its positive prospects.
*This is not investment advice. Always do your due diligence before making investment decisions.
Code Chain stock price.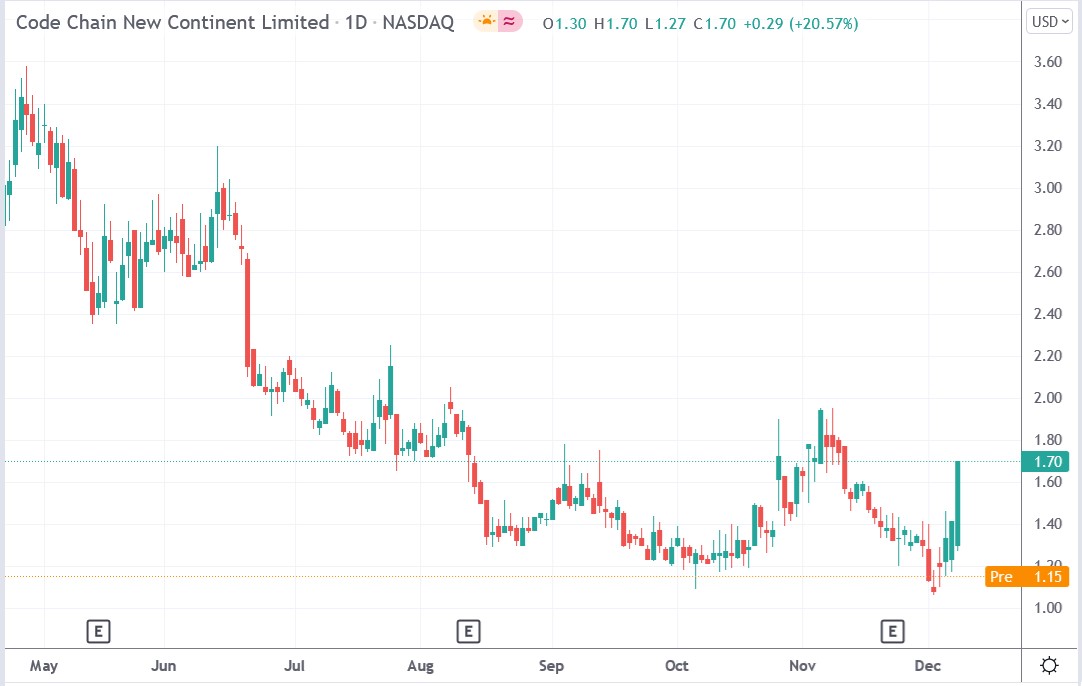 Code chain stock fell 38.82% to trade at $1.04, erasing all the gains made in the last few days.
Should you invest in Code Chain shares?
Tech stocks offer some of the best growth potential, but time and time again, traders and investors ask us "what are the best tech stocks to buy?" You've probably seen shares of companies such as Amazon and Netflix achieve monumental rises in the past few years, but there are still several tech stocks with room for significant gains. Here is our analysts view on the best tech stocks to buy right now.