Key points:
Coinbase shares were down 2.92% premarket despite positive comments.
The crypto pure-play company's shares appear cheap after the selloff.
The stock seems oversold and is long overdue for a bounce-back rally.
The Coinbase Global Inc (NASDAQ: COIN) stock price fell 2.92% during premarket trading despite Richard Repetto, an analyst at Piper Sandler, saying that the crypto exchange's shares look attractive after the recent selloff.

The analyst opined that the mainstream adoption of crypto/digital assets remained strong. As a result, Coinbase was well-positioned to capitalise on the trend by being the most preferred "on-ramp" platform for all things crypto in the future.
The analyst suggested that the company's stock price would decouple from Bitcoin prices in the long term as it diversifies its revenue streams. Still, the prediction is quite ambitious given that coinbase is a crypto company.
Repetto called Coinbase a top stock pick and issued an Overweight rating with a $440 price target.
While the analyst was calling for coinbase stock to decouple from Bitcoin prices, crypto investors are getting to terms with the reality that the crypto market is not decoupled from the overall financial markets and that everything is connected.
The latest selloff in Bitcoin and crypto prices has demonstrated that everything in the financial markets is connected. As a result, no asset is out of the reach of rising inflation and hawkish Fed policies.
Coinbase shares have fallen 40% in the past three months as a pure-play crypto company, mimicking the selloff in Bitcoin prices from their all-time highs of $69K+ in November.
However, the selloff has not spared other companies involved in the crypto sector, including Riot Blockchain and Marathon Digital, both Bitcoin miners.
However, many are waiting for the Fed to take a step back and announce a slower pace of rate hikes and monetary tightening so that financial markets can take a breather and bounce back.
The markets could continue falling if the Fed takes a tough stance on inflation and keeps up the momentum when it comes to unwinding its balance sheet and slowing down the pace of its asset purchases.
Meanwhile, investors interested in picking up Coinbase shares at a discount may find its current prices quite attractive.
*This is not investment advice. Always do your due diligence before making investment decisions.
Coinbase stock price.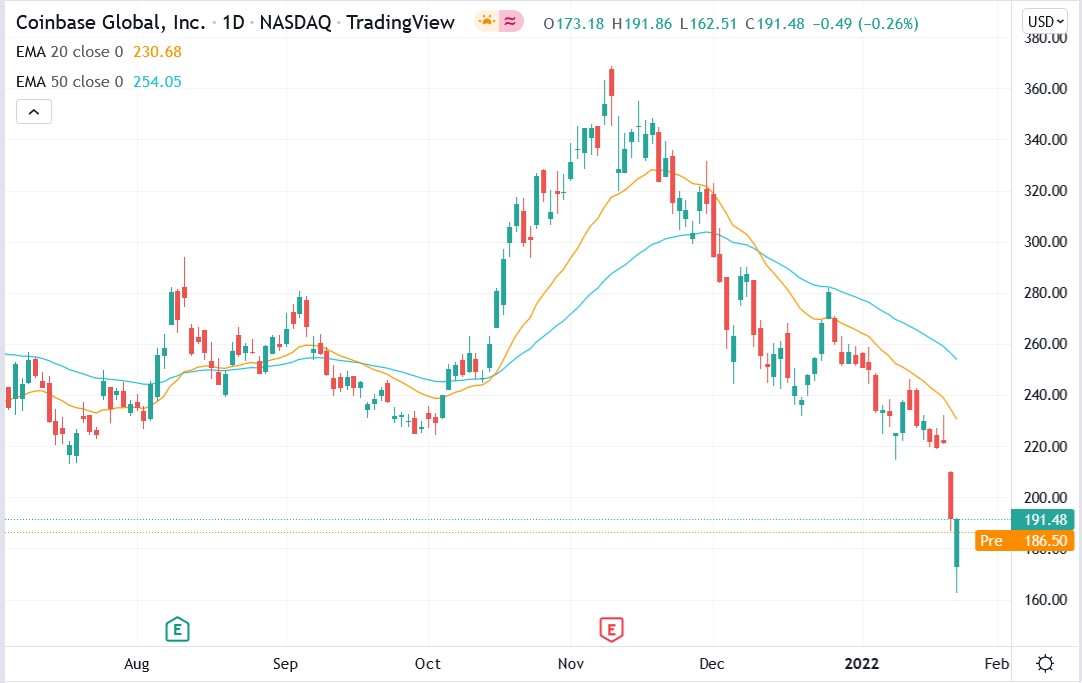 Coinbase stock was down 2.92% premarket despite analysts opining that the shares were an attractive buy.