As a beginner, online crypto trading can, at first, seem a little overwhelming. One of the easiest ways of getting up to speed is to get familiar with the process by buying a small position in a cryptocurrency using a demo or live account. It's important to limit the size of the trade, but some brokers allow trades as small as $40 to be put on.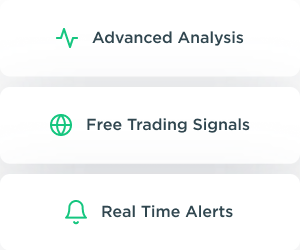 With this in mind, this article details the following steps to assist you in your journey when learning how to trade bitcoin for the first time.
---
Step 1 – Onboarding
The quality end of the online broker market includes an array of regulated brokers offering the latest tech security features to their clients. A modern trading account typically has the feel of an online bank account, although is far easier to set up.
It's important to remember that cryptocurrency trading is unregulated, so there aren't the same client protection structures in place as there are for equity and bond trades. That being said, the multi-asset brokers that offer crypto as well as stock, commodity, derivatives, and forex trading do tend to be regulated. Your crypto trades won't come into the scope of regulatory protection, but the broker is set up in a way that it's operations in regulated markets are compliant. As such, some of the broker's good practices will carry through to all types of trading activity.
The below screenshots outline the simple steps that can be taken to set up a free-to-use demo account at the reputable broker eToro. Trading in a demo account is risk-free as the funds are virtual but the market prices are accurate, so they offer a chance to practise trading and become familiar with the way things work.
Source: eToro
The registration process at eToro is like those of other brokers. From the homepage, follow the link to the login page where new users are invited to register a new account. This can be done by using stored information relating to existing Google, Facebook or Apple profiles. Alternatively, input your email address, create a username, enter a password and you're ready to start trading using a demo account.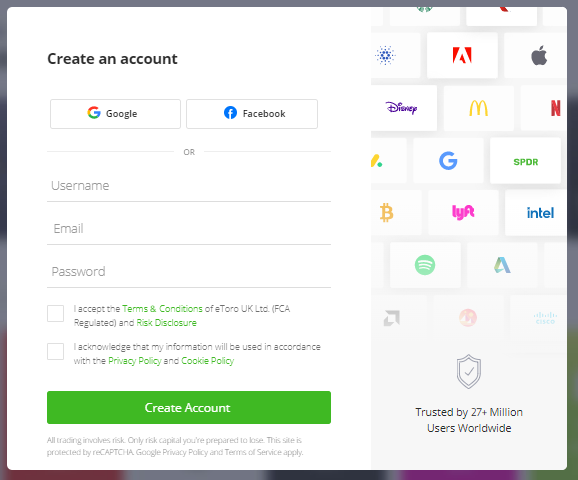 Source: eToro
*Your capital is at risk
The initial process takes moments to complete and as soon as those three pieces of information are entered, you'll be taken through to the actual trading platform. Live prices will feed into your monitors, and although the cash you trade with is virtual, the data you trade-off will be exactly the same as if you were trading with real cash.
You and only you will have access to your account and your profile will be the starting point for moving onto the next step and setting up a live trading account and allocating real money to trades.
As the move from Demo to a Live account is a significant one there is a need to complete some additional form filling. This is all done online and whilst the questions asked can take some minutes to answer they are a sign that a broker is regulated and takes its compliance responsibilities seriously.
By creating a profile, new users allow brokers to ensure appropriate 'Client Care' protocols are followed. It also ensures your funds are better protected and most brokers will also offer or require two-stage verification to be set up on an account.
You will also want to perform some due diligence by checking the broker you are using uses a Tier-1 regulator such as those detailed below:
These regulators require brokers to compile some 'Know Your Client' information. This involves answering a range of questions about your experience, education, source of wealth and investment aims. There aren't necessarily right or wrong answers and the process also prompts some self-reflection and consideration of whether crypto trading really is for you.
The final part of the onboarding process to pay funds into your account. While different brokers offer a multitude of payment options, wiring funds via a bank account or debit or credit card remain popular as those transactions tend to be instant and have the same feel as any other online transaction.
With your profile complete and funds in your account, you're ready to trade.
---
Step 2 – What Is Bitcoin? Analysis and Risk Management
Bitcoin is a particularly volatile asset. Its back story dates back to its establishment in 2008, under mysterious circumstances. The currency utilises blockchain technology, which could ultimately lead it to become an alternative to traditional fiat currencies.
With outcomes being so binary, the price of bitcoin swings around a lot. This provides those who buy it the chance to sit back and wait for price to perform. For example, between July and November 2021 the price of BTC surged by more than 120% and then between April and June 2022, it more than halved in value.
The extreme price swings in bitcoin, and other cryptos make them popular with day-traders who are looking to make a short-term gain. At the same, time buy-and-hold investors have historically been drawn to bitcoin as well. An investor who bought bitcoin in March 2017 and held it for five years would have experienced an extremely bumpy ride but would have also posted a 4,059% return.
Bitcoin Weekly Price Chart 2020 – 2022
Source: eToro
*Your capital is at risk
When looking to take a long-term position in bitcoin, it is important to check the reliability of your broker and its pricing schedule so that frictional costs don't eat into potential returns. Online reviews of different brokers outline their respective pros and cons so that it is possible to establish which might be a best fit. The functionality of each trading platform also varies with some set ups. Some favour those looking to trade from desktops and others can provide an option for those trading using a mobile phone.
One other way in which brokers try to differentiate themselves from each other is through the research and analysis materials they provide to clients. These are usually free-to-access items, which range from in-depth written analysis reports on bitcoin's long-term prospects, to newswire style updates and price alerts, which keep clients up to date with market events.
When using a trading platform, the best way to get up to date with a market such as bitcoin is to head to that asset's dedicated page. This will have a price chart, technical indicators, news and analysis and a range of additional nice-to-have features. If your broker offers Copy Trading or Social Trading, then you'll also be able to consider the views of other investors who are active in the market.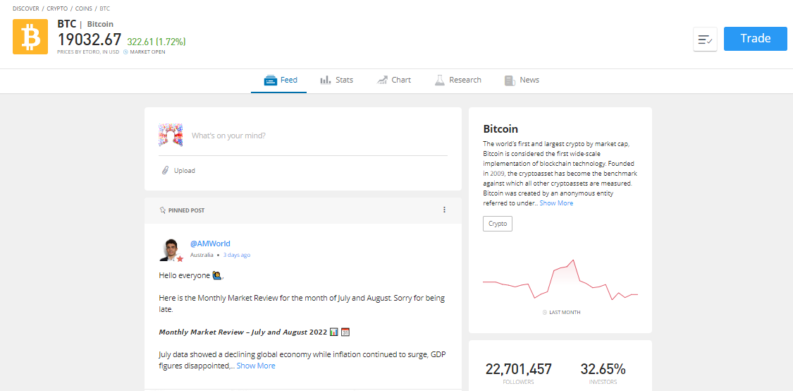 Source: eToro
*Your capital is at risk
---
Step 3 – Buying Bitcoin
Modern online broker platforms come packed full of tools designed to help you trade what you want, when you want. The trading experience has been streamlined to make the process easy and secure for all levels of trader – from experienced investors to complete beginners.
Basic trade instructions at online brokers require you to populate a few data fields to declare your trading intention:
Buy/sell
Instrument — what you are trading
Amount
It really can be as easy as entering that information into the trading monitor and clicking 'Open Trade'.
More sophisticated trade orders might include:
Stop-loss — there are several types to consider such as 'trailing'. If you're taking a long-term view, you may decide to not use a stop loss so it isn't triggered if there is a slump in price that is followed by a rally to above your entry-level.
Take-profit — an automated instruction to sell if your trade makes a certain amount of profit.
Leverage — the process of scaling up your risk-return profile. Crypto markets offer plenty of price volatility, meaning many investors deem it unnecessary to use leverage. Some regulators, such as the FCA, have also taken steps to clamp down on crypto trading using margin.
The above are all tools designed to help you set your trade up in the way that best suits your own trading strategy.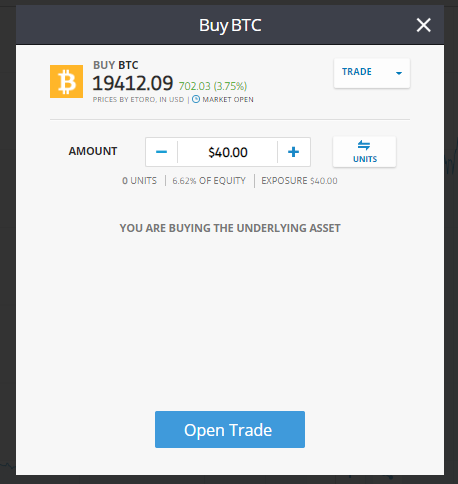 Source: eToro
*Your capital is at risk
---
Step 4 – Managing Your Portfolio
As soon as you've booked your trade, your position in bitcoin will be valued according to the live price in the global crypto markets. As the price of bitcoin rises and falls, so will the value of your relatively small piece of it.
Brokers, of course, have taken into account that their clients want to keep up to date with events. In the below screenshot, using a virtual account we booked a trade to buy $10,000 of bitcoin at eToro.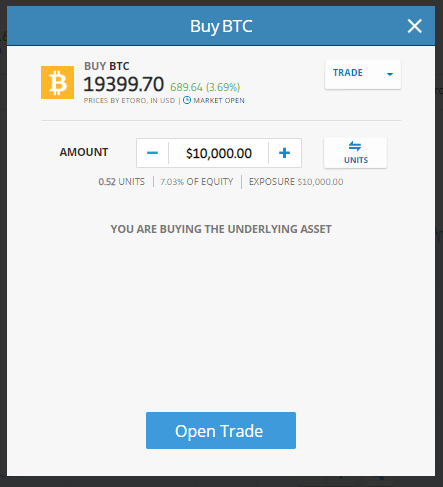 Source: eToro
Then after the trade was executed, it was possible to visit the Portfolio section of the platform to get an up-to-date assessment of the value of the position.

Source: eToro
*Your capital is at risk
Until the moment you sell your position, your bitcoin will show an 'unrealised' profit or loss. As long as you don't sell it, the value of the position will keep on changing in line with the underlying market price.
---
Step 5 – Closing Out The Trade
A trade doesn't necessarily need to be in profit for you to decide to close it out. Cutting your losses on bad trades is as important as running your winners.
When the time is right, regardless of whether the position is showing a profit or a loss, the mechanics of closing out the trade are the same.
The exact buttons you press will differ from broker to broker. At eToro, it's a case of clicking on your open position, clicking 'Close', confirming 'Close All' and the position of BTC is sold and converted back to cash.
As soon as you click to close your position, your account will sell your bitcoin at the market price and crystallise your profit or loss.
As mentioned previously, online broker accounts are nowadays very similar to online bank accounts. This extends to being able to withdraw funds from your brokerage account and return them to your bank account if that is what you want to do.
Final Thoughts
The process of putting on a trade, monitoring it, and then closing it out is remarkably simple. Brokers have invested heavily in making the trading experience as positive as they can.
Intuitive functionality and helpful customer support staff come as part of the package but behind the scenes, powerful software tools and regulatory compliance processes ensure your trades are booked in a secure and compliant way.
The harder part is fine-tuning your trading decisions so that they make a profit. But beginners who follow the standard advice of trading in small size, or in a Demo account, give themselves the best option of being successful at trading bitcoin.