Creatd Inc (NASDAQ: CRTD) stock price rallied 17.9% after releasing its Q3 earnings results, where it generated revenues worth $1.18 million, a nearly 3X improvement to the $425,000 generated in Q3 2020.
The company which runs the Vocal creator-first platform attributed its higher revenues to increased subscriptions from creators on the platform that operates under its Creatd Labs brand.
The Creator-first company also reported increased revenues from its agency business under the Creatd Partners program, which grew 14% after the acquisition and integration of WHE Agency into Creatd's platform.

Creatd promised to share the total bookings generated by its Agency platform and other non-financial data related to its agency business and promised to expand the practice to all its divisions.
Despite the impressive revenues generated by Creatd, the company reported a comprehensive loss of $9.7 million for the quarter primarily driven by one-time non-recurring charges such as the retirement of debt, which amounted to $3 million.
Still, Creatd's losses in Q3 2021 were lower than the $16.2 million loss recorded in a similar period last year.
Some of the report's highlights include the acquisition of Dune, a direct-to-consumer beauty brand that sells health and wellness beverages, on October 3, 2021. Creatd Labs had designed a sophisticated eCommerce platform for Dune during Q3 leading up to the acquisition.
Creatd's Camp brand also announced a redesign of its website and new product launches during the third quarter. The company had acquired Camp in Q2 and spent a lot of resources on the redesign.
The company also launched a new NFT platform known as "OG Gallery" that focuses on the tokenisation, marketing, and sale of digital collectables generated in the OG Gallery.
The platform currently has over 150,000 original photographs, imagery, digital artwork, original documents, videos, illustrations, and collectables by the legendary Bob Guccione, the former CEO of General Media.
Bob also owns leading publications such as Viva, Penthouse, Longevity, and OMNI.
Investors cheered today's earnings results, as evidenced by the premarket rally. However, I was expecting a much larger rally that did not materialise.
Long term investors may find Creatd's current share price quite appealing given that it is trading near its recent lows.
*This is not investment advice. Always do your due diligence before making investment decisions.
Creatd stock price.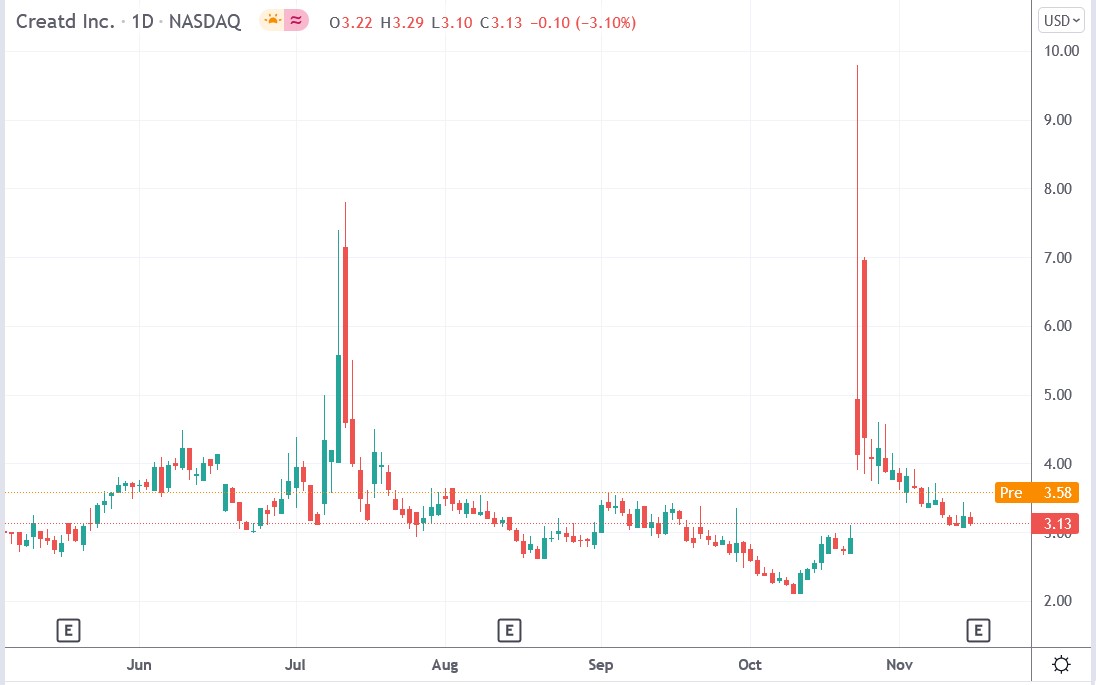 Creatd stock price rallied 17.89% to trade at $3.69, rising from Monday's closing price of $3.13.
Should You Invest in Creatd Shares?
One of the most frequently asked questions we receive is, "what stocks are best to buy right now?" It's a wide-ranging question, but one that we have answered… Our AskTraders stock analysts regularly review the market and compile a list of which companies you should be adding to your portfolio, including short and longer-term positions. Here are the best stocks to buy right now.