Key points:
Deepverge shares rallied 4.31% higher after identifying 3 COVID-19 variants.
Investors cheered today's announcement, as evidenced by the rally.
The firm is about to launch its Modern Water mobile services.
Deepverge PLC (LON: DVRG) shares rallied higher after announcing that its Modern Water mobile service can detect up to three COVID-19 variants.

The COVID-19 variants that can be detected are the Delta, Alpha and Omicron variants, the most prevalent variants globally.
Investors cheered the move, as evidenced by the rally in Deeverge shares, but I expected a more significant gain than what we got today.
Today's announcement comes ahead of the firm launching the mobile version of its Modern Water services.
In my last article on Deepverge, I highlighted the significant drop in its share price after releasing its 2021 fiscal results, which failed to meet expectations.
At the time, I mentioned that investors had ignored the multiple positive milestones achieved by the environmental and life sciences company during the past year.
Some of the report's highlights included the receipt of orders worth over £10 million, a significant milestone for the firm, despite being unable to deliver on all orders due to staff constraints and supply chain bottlenecks.
Today's update was derived from an analysis of MicrotoxPD chips coated with Optimer binding agents from Aptamer Group, Deepverge's partner on the project.
Deepverge's scientists at the York laboratory successfully attached the binding agents to the Modern Water chips using an anti-SARS-CoV-2 antibody.
The company's shares have risen over 14% since my last article on the firm a week ago, as investors jumped in at a crucial support zone shortly after publishing the article.
The move underscores the importance of timing your trades and investments based on technical analysis pillars such as support and resistance levels that increase the chances of share price rising or falling.
Gerard Brandon, Deepverge's CEO, said: "The extended scientific community will now have the ability to monitor the virus in real-time and require testing for new variants of concern."
Deepverge shares are still attractive at the current 25p level, but the best time to open positions was last week when the shares hit the 20p support level outlined in my last article.
*This is not investment advice. Always do your due diligence before making investment decisions.
Deepverge share price.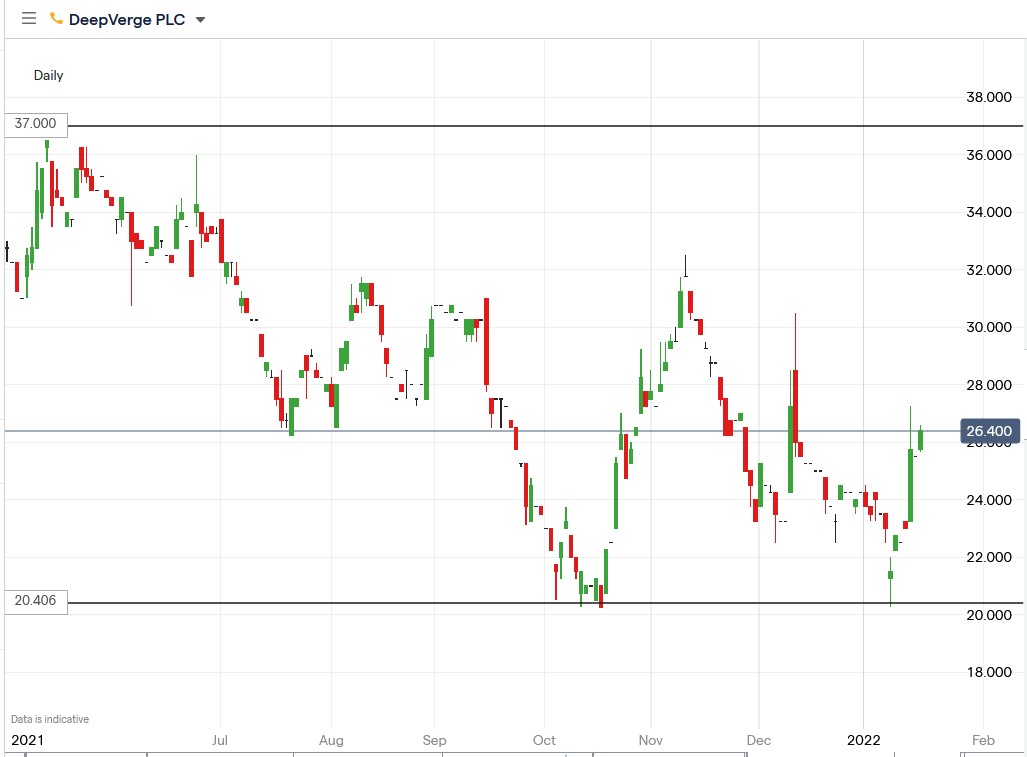 Deepverge share price rallied 4.31% to trade at 26.60p, rising from Tuesday's closing price of 25.50p.