Key points:
Deliveroo shares edged 5.76% higher on upbeat Q4 fiscal results.
The food delivery app grew its transaction value by 36% in Q4.
Investors cheered the news hoping that it would trigger a new rally phase.
The Deliveroo PLC (LON: ROO) share price edged 5.76% higher after the food delivery app revealed that the gross value of transactions on its platform grew 70% in 2021, with the fire recording a 36% rise in the value of transactions in Q4.

Investors cheered the news, but I expected a more significant surge in ROO shares than the 5.76% jump. It appears that it will take more for the food delivery company's shares to recoup some of its recent losses.
Since the year started, ROO shares have fallen 15.8%, primarily driven by investor sentiment.
However, many investors hope that today's announcement marks a turning point for Deliveroo shares after the company reported that its customer base kept growing despite the easing of lockdown restrictions.
Deliveroo shares had fallen over 50% in the past five months as competition in the sector became stiff, and many feared that companies such as Just Eat and Uber Eats would take some of the firm's share price.
However, investors were pleasantly surprised to learn that not only did the value of orders placed via Deliveroo's platform rise, but the company managed to attract more customers despite the reopening of restaurants.
As many have pointed out before, the online shopping habits formed by consumers over the past two years due to the pandemic lockdowns would persist long after society returned to a form of normalcy, as is the case with Deliveroo.
The food delivery app said that its operating margins remained at 7.5%-7.75%. The company's shares appear pretty attractive at current prices, but I would like to see more signs of a recovery before opening new positions.
A sustained rally over multiple days might do the trick. However, I will be holding on to my cash until such a strong signal emerges.
*This is not investment advice. Always do your due diligence before making investment decisions.
Deliveroo share price.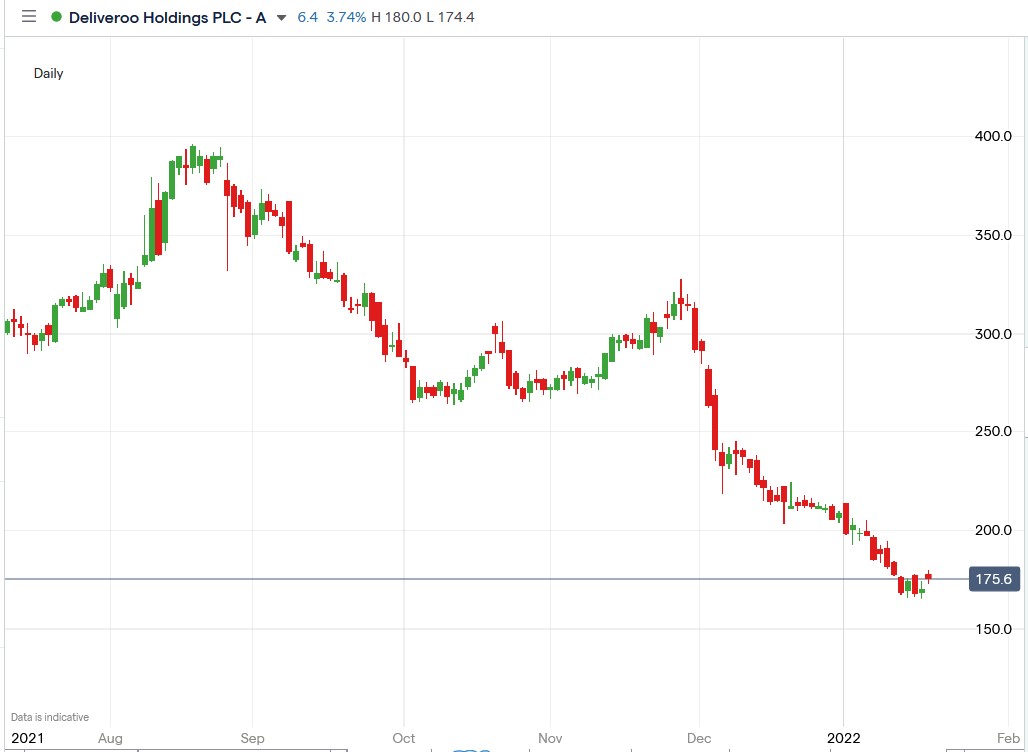 Deliveroo shared edged 5.76% higher to trade at 179.8p, rising from Wednesday's closing price of 170.0p.