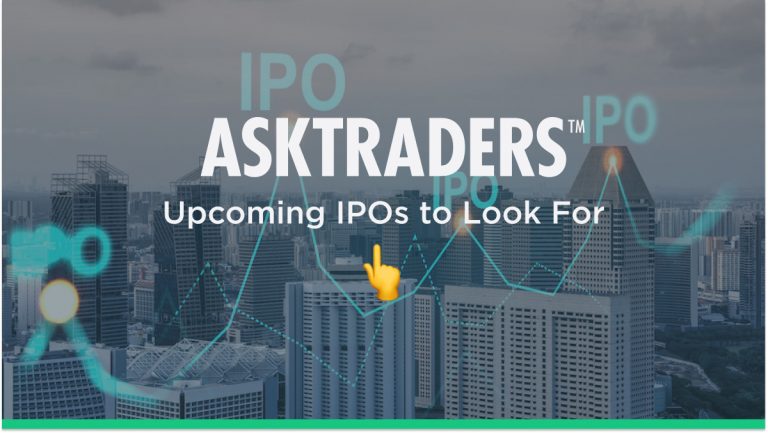 Initial Public Offerings (IPOs) describe the moment a firm lists its stock and the valuation of it is determined by the forces of demand and supply among investors. Many IPOs don't live up to expectations, partly because the listing price might form an unrealistic valuation, but a quick scan of recent UK IPOs which have generated returns for investors explains the interest in the market. Darktrace Plc listed on 30th April 2021 (250p) and now has a stock price of 395p representing a 134% gain. In the US, Apple, Microsoft, Amazon, and Facebook all currently trade at a price level multiple times what they were when they entered the market. Let's dive into some of the best upcoming IPOs to observe in 2022.

Best IPO Stocks to Look For in 2022
EG Group
Monzo
BrewDog
PureGym
Huel
1. EG Group (estimated value £26bn)
The largest proposed IPO hitting the UK market next year is the company owned by billionaire brother owners, Mohsin and Zuber Issa. Operations include 6,000 petrol stations and convenience stores across the UK, US, and Australia. The listing could also include supermarket chain Asda.
2. Monzo (estimated value £3.1bn)
The innovative banking group has over 5m customers and US expansion plans. Investors are expected to show a lot of interest in the best bet in the challenger bank sector.
3. BrewDog (estimated value £2bn)
Scotland based brewer BrewDog has moved on from crowdfunding among its ardent fans and planned to list in 2021. Negative press reports about the firm's "toxic work culture" saw that launch stall and suggests the listing price could be up for considerable debate.
4. PureGym (estimated value £1.5bn)
IPO rumours have followed PureGym since 2016 but the coronavirus pandemic's impact on the leisure sector saw it turn to more immediate sources of capital last year. The firm has 1m members, more than 500 gyms and is set up to prosper if lockdowns and social distancing become less disruptive factors.
5. Huel (estimated value £1.0bn)
Nutrition and plant-based food producer Huel had used its impressive social media operations to expand into the US, Japan and Europe. JP Morgan and Goldman Sachs are suggested to be in the running to bring the innovative firm to the London Stock Exchange in 2022.
Why Invest in IPO Stocks Now?
The appeal of IPOs is driven by several factors.
Innovation
Some of the firms coming to market will be at the cutting edge of the business environment and spotting new trends is the key to successful investing.
Wide-spread Appeal
Retail and institutional investors can take part in IPOs. They offer an opportunity for the little guy to get into a position at the same time as a massive pension fund and that additional momentum can drive valuations higher.
Initial Premium
A lot of pride is at stake in an IPO. The investment banks who manage the float and the listing firm's management both want to extract as high a price as possible, but for the advisors it is as important that the IPO is seen as a success. If they set the initial listing price too high there may not be enough buyers for the sizeable amount of stock coming into the market. If an IPO flops, then future IPO contracts with other firms considering listing are put in jeopardy. For that reason, initial listing prices are often set just below what is considered fair value to ensure day one investors buy up all the stock.
What to Know Before Investing in IPO Stocks?
The fact that some institutional funds have investment mandates which restrict them from buying IPO stock should act as a warning light for retail investors. It is a relatively high risk-return end of the stock market with several reasons for adopting a cautious approach.
Valuation
Long-established blue-chip stocks suffer dramatic price swings as bulls and bears take a different opinion on their valuation. That is even with an abundance of historical reports and investor update notes to draw on. Consider then how hard it is to value an IPO of a firm with a much shorter track record. The task is made even harder if a firm's competitive advantage involves using innovative technology in a new and hard to quantify market. The market ultimately provides a valuation of a recently IPO'ed stock and there are instances of those managing the launch overvaluing the firm.
Timeline
Regular IPOs take approximately a year to come to market. Regulatory and stock exchange protocols need to be adhered to and that leaves an extended period of time for good or bad news to come into play. Lead managers offer an estimated range for listing price in the run up to launch but as moving too far from that could cause alarm there is a question as to whether last minute bad news is appropriately priced in.
Big Bank Fees
Listing a stock in an IPO is an expensive process. The advising bank will invest significant resources promoting the listing and lining up buyers for part of the sale. Lead Managers also offer commitments to buy any unwanted stock. As a result, recent IPOs in the UK have been associated with fees charged by investment banks reaching up to 7% of the total size of the float.
Big Bank Politics
With fees so high and IPOs associated with prestige for those involved major investment banks are incentivised to make their IPOs appear more successful than their rivals. Chinese walls are in place to ensure asset management divisions of a bank aren't swayed by the IPO team, but if a deal at a rival  flops that can be chalked up as a win. This leaves retail investors at a disadvantage as if there were to be collusion between banking chiefs, smaller investors would be the last to know about it.
The Primary and the Secondary IPO Market
Investment banks which take on the role of Lead Manager prioritise getting all the stock released into the market. Leveraging off established relationships, they allocate chunks of the new firm to other big players in what is called the Primary Market. The Secondary Market refers to all subsequent buying and selling activity as share ownership broadens out into the wider market. The decision on whether or not to allow retail investors to take part in the Primary Market is taken by the Lead Manager.
How to Buy UK IPO Stocks
Finding the right IPO stock is made easier by there being a 'pipeline' of companies coming to the market. The process of listing takes months and targets are easily identified because there is a lot of press attention and brokers such as IG also have dedicated areas of their site which cover the IPO market.
1. Choose a Broker
One crucial check to make is that the brokers you are considering using to buy UK IPOs are trustworthy. This broker shortlist includes firms which cover the market but are also well-respected in the trading community. They've also been reviewed by the AskTraders team and our analysis of their pros and cons can be found here.
When choosing a broker, it's important to check levels of client protection, platform functionality and T&Cs. In terms of security of funds, signing up with a broker regulated by a Tier-1 regulator from the below list is an ideal start.
Tier-1 Regulators
2. Open and Fund an Account
The account opening process is relatively straightforward and should only take minutes to complete. It can be done using handheld or desktop devices and the first step involves sharing personal information. This allows the broker to comply with KYC (Know Your Client) protocols but also ensures they can identify you and that you and only you have access to your account.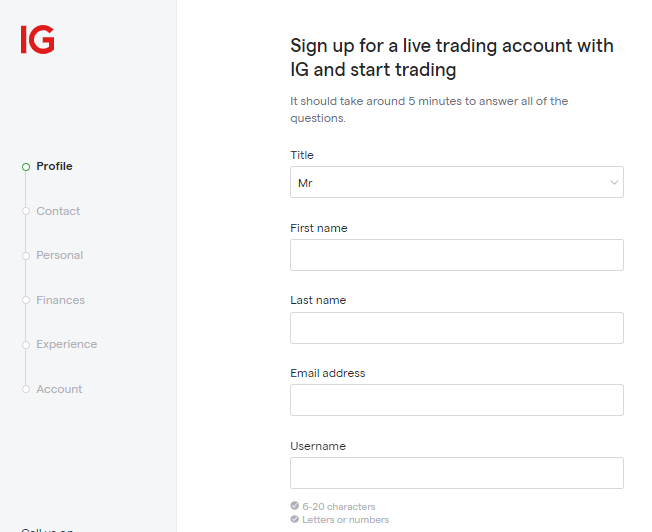 Source: IG
Transferring funds to a new account can be done using debit and credit cards, bank transfers and e-Payment agents. Processing times vary and some incur administration costs so it's worth checking the T&Cs.
3. Open an Order Ticket and Set Your Position Size
After the cash hits your brokerage account the next step is to wait for the IPO date and list price to be confirmed and enter into the platform the quantity of shares you want to buy. Stocks can be located by using the 'search' function.

Source: IG
4. Set Your Stops & Limits
Stop Loss instructions and Take Profit orders are risk-management which instruct a broker to automatically close out some, or all, of a position if price reaches a certain level.
Stop-losses kick in if price moves in the wrong direction and limits downside risk. Take profits lock in gains should the price of your IPO stock suddenly sky-rocket.
Buy-and-hold investors who buy IPO stocks often decide to not use either of these orders because price volatility can be intense. Whipsawing price action can result in a trader getting stopped out on a trade when they were intending to ride out the volatility and targeted long-term gains. Alternative risk management techniques include trading in small size so that riding out extreme price moves is easier to do.
5. Make Your Purchase
At the time of trade execution, the account cash balance will reduce, and the platform will report a position in the IPO stock. This will fluctuate in value in line with live market prices until the time to sell arrives and profits or losses will be crystalized in cash terms.
Whether you're a new trader looking to make your cash work a bit harder for you or just looking to keep up to date with current trends, these trading platforms are perfect for beginners. Not only are each of them fully regulated – providing a safe and secure trading environment – they are fully equipped to help their clients optimise returns. They also offer free to use Demo accounts which offer a risk-free way to try out trading. Platform functionality and T&Cs vary from broker to broker but the core offering across the sector includes a wide range of stocks to choose from and educational resources to help you get started and make your first trade.
Summary
Make no mistake, IPOs offer a chance for investors to make money. There are at the same time significant risks to factor in and a lingering sense that those on the inside of the deal-making have an advantage. Following the progress of launches can give an idea of the broader health of the market, the number of IPOs being seen as a bellwether of investor appetite. It's not necessarily a market to avoid but is one to treat with care if allocating capital.