Key points:
The Enquest share price has since 12.9% since the year started.
Many investors wonder whether there will be more gains as the year unfolds.
It seems like there is a lot in store for Enquest investors, as detailed below.
The Enquest Plc (LON: ENQ) share price has risen by 12.88% since the year started, and many wonder whether the shares shall keep rising for the rest of 2022.
The short answer is that we cannot predict what will happen over the next twelve months with any degree of accuracy. Still, we can develop an investment thesis based on several factors affecting the oil company's stock price this year.
Firstly, Enquest will benefit from rising crude oil prices, given that it is an oil producer. Hence, higher oil prices will translate into higher revenues for the company.
Another positive factor is that the company could increase its oil production numbers from the measly 46,000 barrels per day of oil equivalent produced in 2021 to the 2020 production figures, which were above 60,000 barrels of oil daily.
Enquest's production was affected by production hiccups at some of its oil fields, including its Malaysian operations, where a severe accident led to a drastic drop in its overall production.
The company shut down the Seligi Alpha platform after a fire erupted on the riser causing a 42.1% drop in its Malaysian production figures, which hit its revenues negatively.
Many analysts expect Enquest's production to increase significantly this year after the repair works at the Seligi riser were completed last year, which should result in a production boost.
The company also experienced production cuts in its other sites, but many were temporary and should be fixed as we head into the new year.
Finally, the company could also benefit from rising oil prices this year, but its revenues could take a hit if oil prices fall significantly. However, the combination of higher oil production figures and steady oil prices should result in a better outcome for Enquest this year.
Therefore, Enquest's shareholders may be in for some gains this year. Still, as I stated initially, it is tough to predict what will happen over an entire year, especially in the highly volatile crude oil markets.
*This is not investment advice. Always do your due diligence before making investment decisions.
Enquest share price.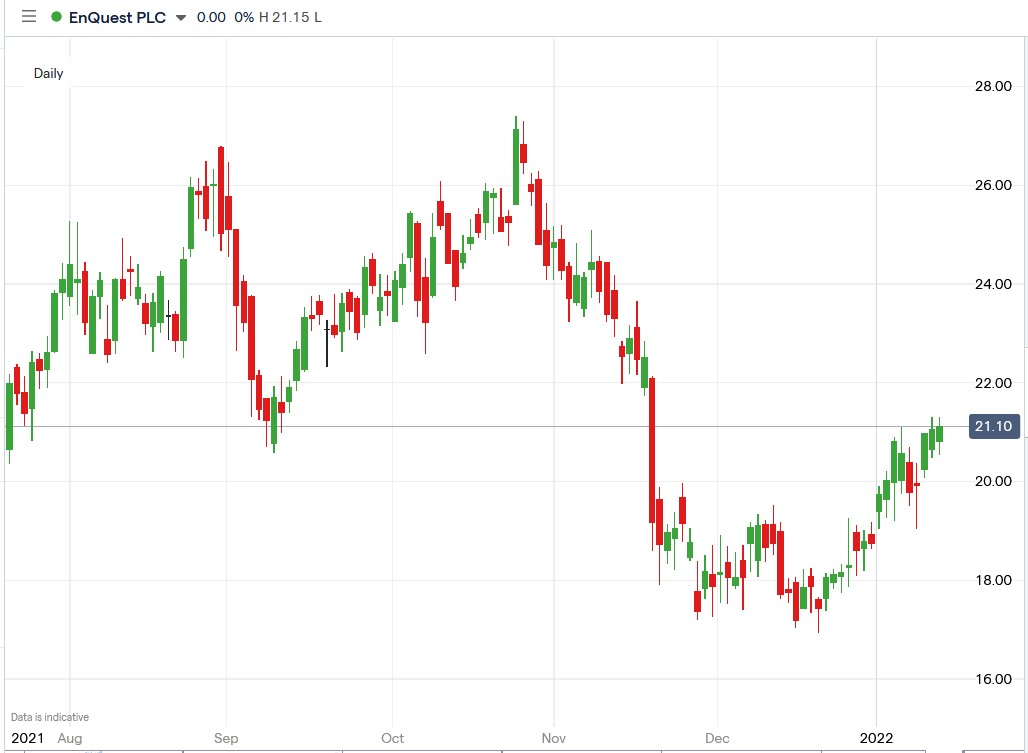 Enquest shares have risen 12.88% since the year started. Will the uptrend persist throughout 2022?