Best Oil Stocks to Buy Right Now
Trade Oil Stocks with eToro
eToro: 68% of retail CFD accounts lose money
Take A Look
eToro is the world's leading social trading and investing platform and is perfect for those who are looking to add oil stocks to their portfolio. Their platform is very user-friendly and with 0% commission to pay they are a great choice.
Rapidly Growing Oil Stocks
1. Hoegh LNG Partners (HMLP)
Hoegh LNG Partners not only offers floating natural gas services, but also services the oil sector as well. Based in Norway, they service major clients in the North Sea and beyond. The company mainly focuses on owning and operating storage and regasification units in the North Sea and beyond. They also have gas and oil carriers in a massive fleet. With an EPS Growth of 571.4%, this company is one of the fastest growers in the sector and worth looking at.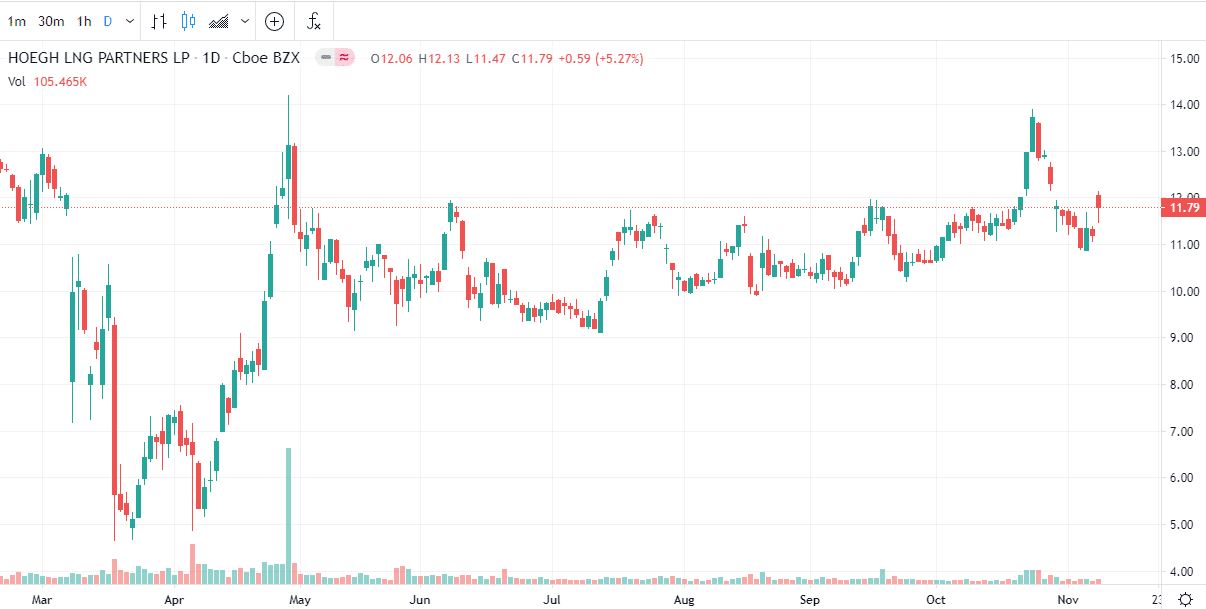 2. Torm PLC (TRMD)
Hailing from Denmark, this company features explosive growth as they focus on some of the peripheral markets around the energy sector, as they are involved in the transportation of petroleum and gas. The company is known for transportation of jet fuel, gasoline, and diesel. The fleet of tankers have been in massive demand, as they not only benefit from the movement of oil, but also from the overflow of storage needs. With an EPS Growth of 1270%, this company is a fast grower.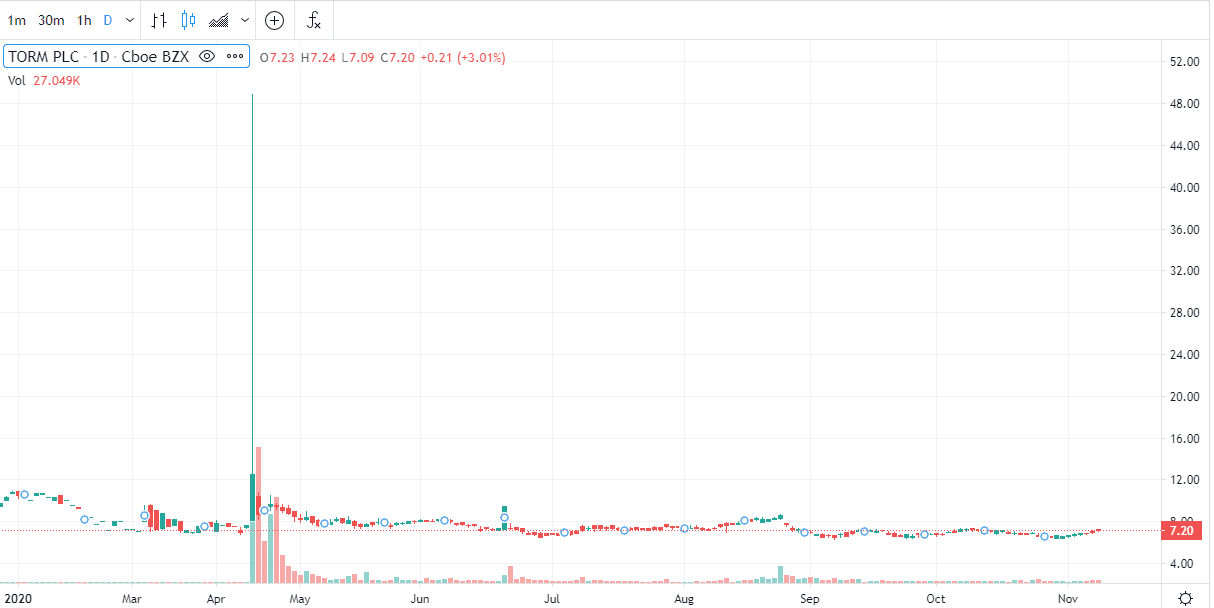 3. Valero Energy Corp. (VLO)
Valero is the closest thing to a well-known fast grower in this list. The company is a refiner of petroleum and ethanol with operations in Canada, the U.S., and Aruba. The company produces gasoline, distillates, jet fuel, asphalt, petrochemicals, diesel fuels, and other products. The company has an EPS Growth of 108.8%, which is massive for a larger company. By investing in Valero, this allows the investor to play the oil markets without the inherent risk of the smaller companies.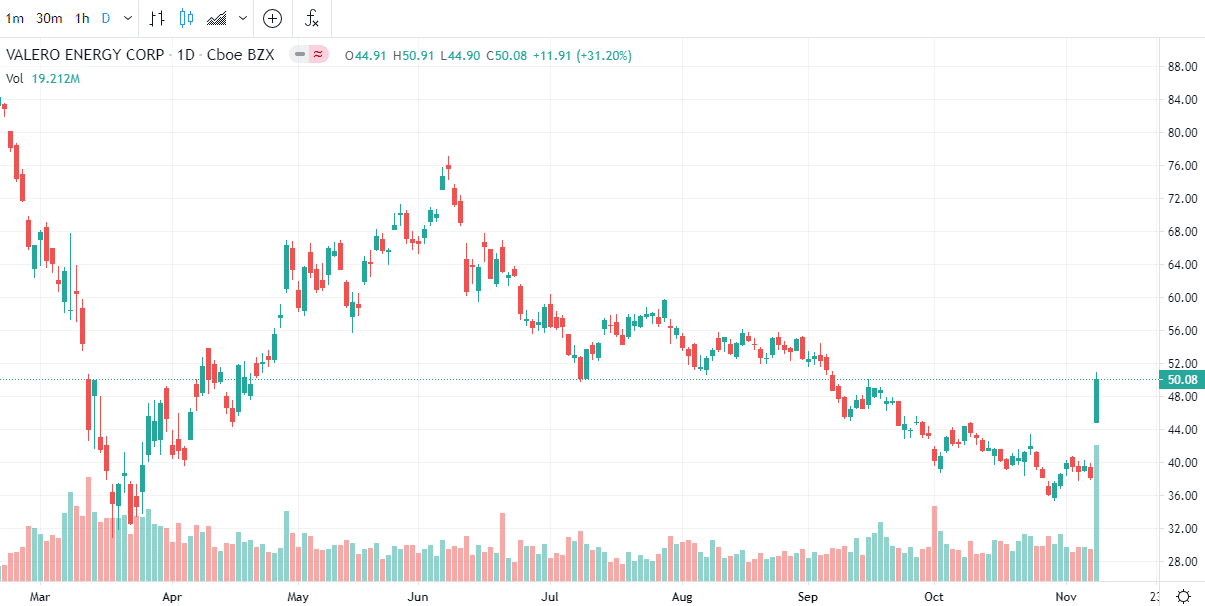 Best Value for Money Oil Stocks
1. Murphy Oil Corp. (MUR)
Murphy Oil Corporation is a major oil and gas exploration corporation that also has assets in the production of both crude oil and natural gas. Murphy also has refineries and retail operations in some parts of the United States. As the oil prices over the last couple of years have plunged, Murphy has reported a large net loss of 324 million dollars, during the Q2 part of 2020. If the economy starts to recover, Murphy will certainly be one of the major beneficiaries due to demand for energy. The market cap of $1.2 billion and a 12 month trailing P/E ratio of 5.3 makes this a strong value play.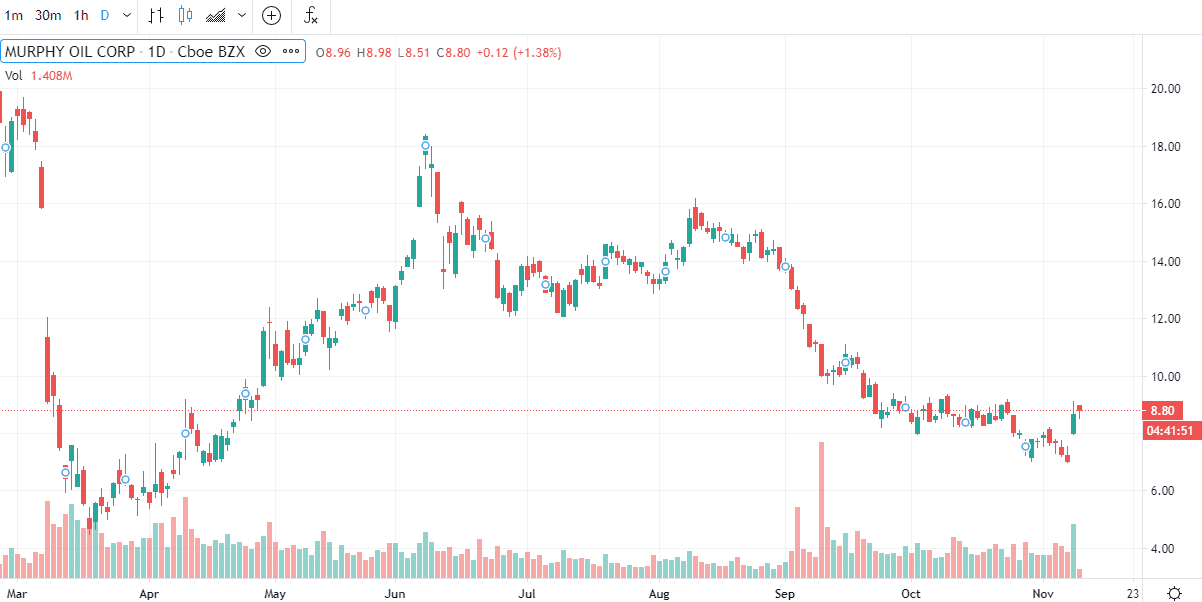 2. Cheniere Energy Inc. (LNG)
Cheniere Energy is a long term player in liquefied natural gas, which is an interesting way to play energy demand as they also have crude oil stakes. That being said, this gives the trader the ability to take advantage of LNG gains, but also have exposure to the crude oil market. Cheniere is a great value play as they have a $12 billion market cap, with a 12 month trailing P/E ratio of 11.1 offers great value.
3. ConocoPhillips (COP)
ConocoPhillips is a huge corporation that does everything from start to finish when it comes to crude oil and natural gas, as well as other petroleum products. They do oil exploration, production, processing, refining, and marketing all under one roof. The company is a fairly household type of name that most investors will be familiar with. With the market cap of $32.4 billion, and a 12 month trailing P/E ratio of 14.9, ConocoPhillips should be one of the big winners should the economy start to expand rapidly again.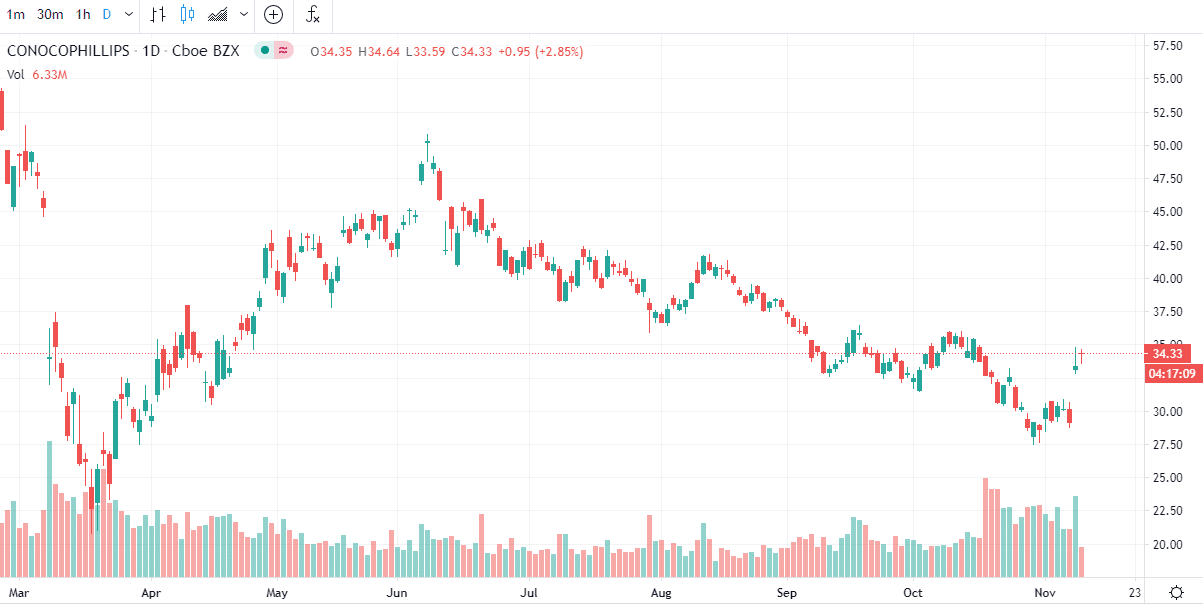 Oil Stocks with the Strongest Momentum
1. EQT Corp. (EQT)
EQT Corporation is a company that you may or may not be aware of. This is because it is somewhat regional, but it is a supplier to some of the major companies that you will be familiar with. For example, the company has just entered an agreement with Chevron to acquire and supply both upstream and midstream Appalachian assets. The company's focus is on the production gathering and transmission of natural gas in the Appalachian area, as well as exploration for crude oil and natural gas liquids. With a market cap of $4 billion, and a 12 month trailing total return of 66.1%, EQT is a highflyer.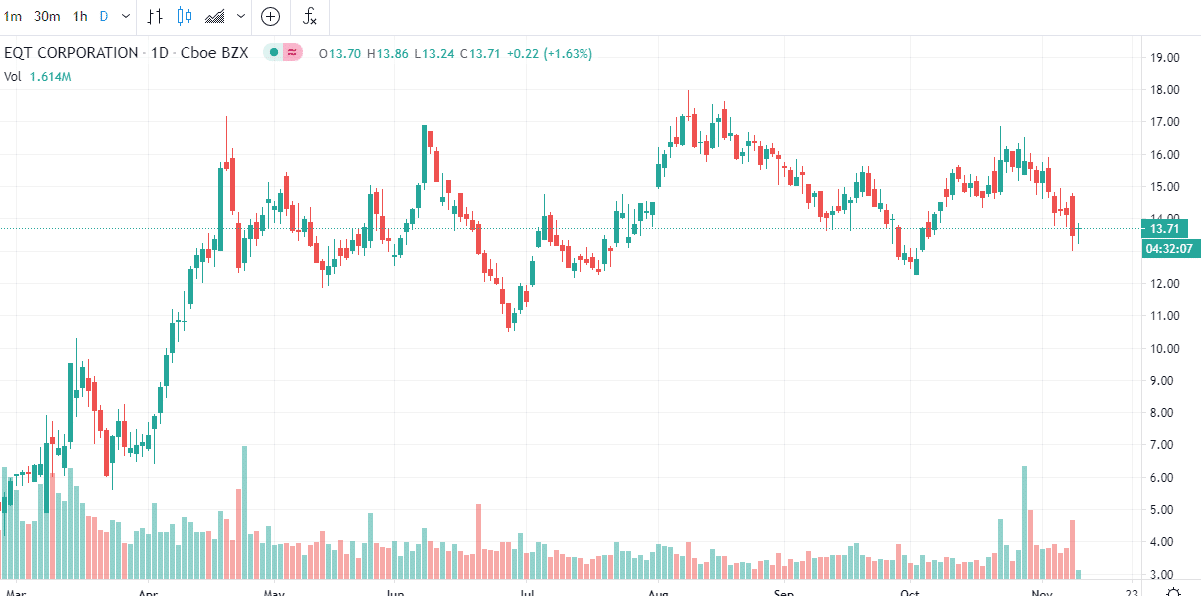 2. Cabot Oil & Gas Corp. (COG)
Cabot Oil & Gas Corporation is a company that you may or may not know, but it does develop and explore oil and gas properties throughout North America, and places such as the Rocky Mountains, Western United States, and Texas. With expiration of oil set to boom in some type of economic expansion, it is likely that Cabot will continue to attract a lot of inflows. With a market cap of just $7.7 billion, and a 12 month trailing return of 5.2%, it has performed quite well amongst its peers.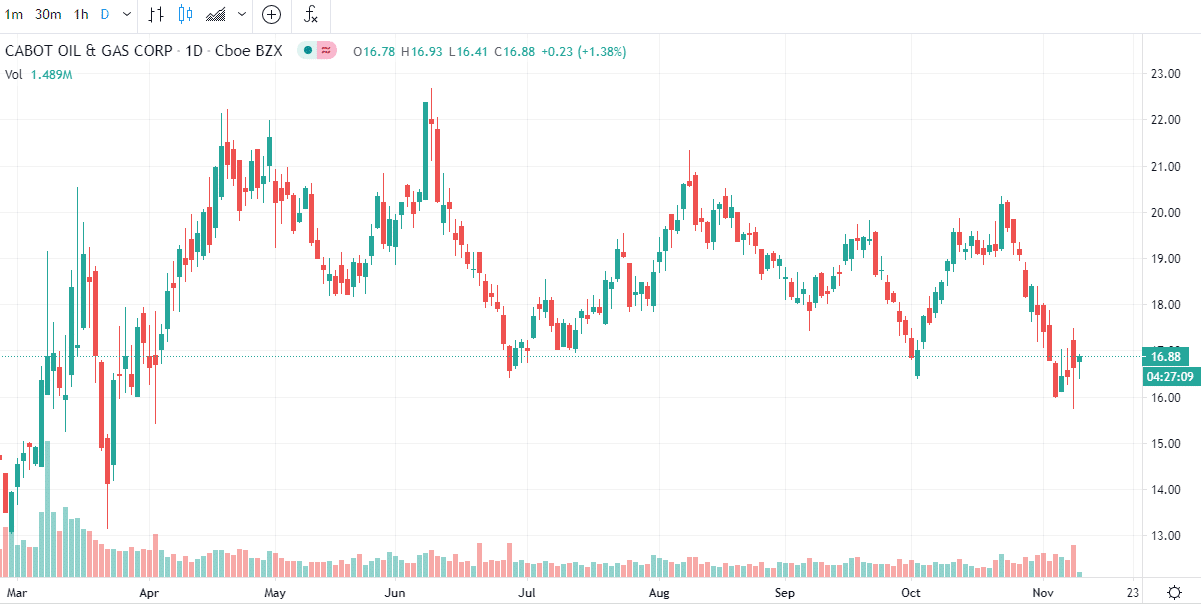 3. Antero Midstream Corp. (AM)
Antero Midstream Corporation owns, operates, and even develops midstream energy assets which makes it a necessity for the energy sector. It operates pipelines and compressor stations, as well as water distribution and fractionation. Pipeline safety serves as a major source of revenue as well. With a market cap of $3.1 billion and a 12 month trailing total return of 9.1%, Antero could be a place to put money.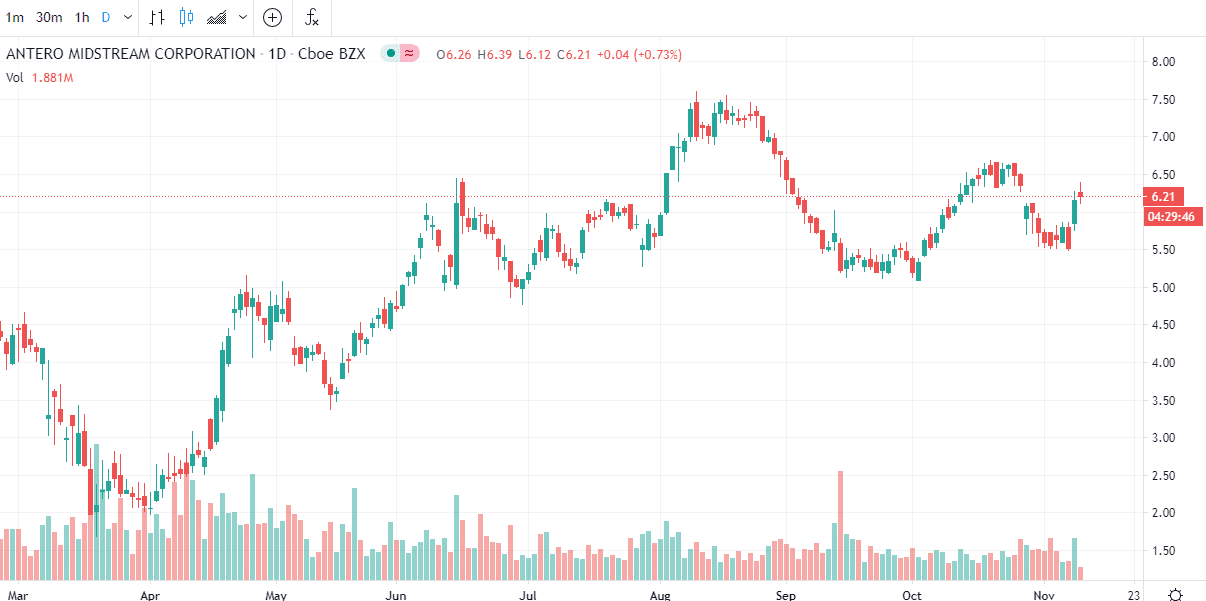 Why Invest in Oil Stocks Now
If you are looking to trade in a sector that is highly followed, the oil sector is a great place to get started. The current environment suggests that oil markets and supply/demand situation is changing rapidly, as the United States is one of the biggest players in that market.
Over the last few years, we have seen a selling of oil in general, mainly due to lacklustre economic momentum. This means that the oil markets and by extension, the oil stocks, are all offering a great way to play any potential economic recovery, something that the world has been doing since the Great Financial Crisis. The better the outlook for the global economy, the better your oil company portfolio will perform.
What to Know Before Investing in Oil Stocks
You need to understand that oil stocks have a lot of crosscurrents going on at the same time. The first and the most obvious thing to pay attention to is whether or not there is global growth. If we do not have strong global growth in the world's economy, crude oil is one of the first places that suffer because it is used in so many different parts of the global supply chain. In other words, if we are trading and growing economically, then ships, trains, and tankers will all need fuel to move those goods.
It is also worth noting that there are various points along the way from extraction to marketing and investments in companies that cover the full spectrum, which is probably one of the best ways to balance out an energy portfolio. There are ETF products out there that will allow you to specifically pick out part of the process if you are not able to do the fundamental research.
There is concern about the world moving away from fossil fuels, but the reality is very different from the hyperbole. We are decades away from everyone driving an electric vehicle, not to mention the fact that petroleum is also used to run power plants and provide electricity to a huge portion of the world. With that in mind, oil still remains crucial to the entire economic process.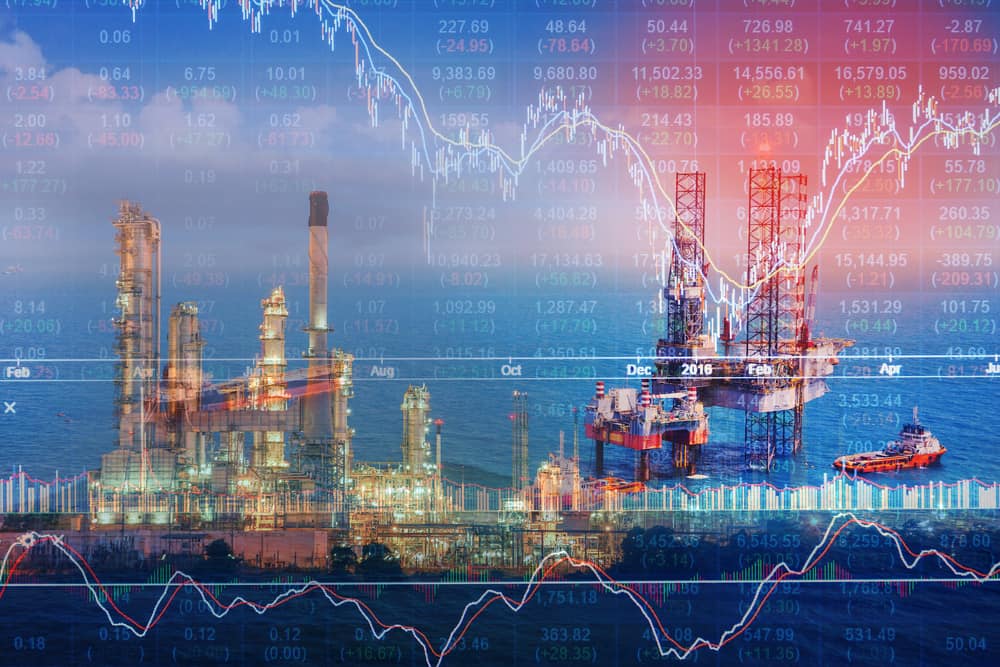 How to Buy Oil Shares in the UK
1. Research Oil Companies
Initially, you will need to do research on the company that you are looking at investing in. Earnings should be looked into, and whether or not the company has a lot of viable products, or even whether they have energy fields in places that are stable. For example, if the major field of a company that is an oil driller might be shut down due to political issues, as it could cause major issues with revenue. You should also do research on potential demand for crude oil, which obviously has a major influence on earnings.
2. Find a Broker
The broker you use will be important. However, there are just a handful of things that you will need to pay attention to in order to be successful. For example, the broker needs to be regulated, and of course the broker needs to offer the instruments and markets you wish to trade. There are a lot of extras that you could take advantage of as well, so by looking around you can get extra value for your business if you are paying attention.
3. Open & Fund an Account
Opening an account is the next move and is roughly the same process no matter where you choose to trade. It typically will involve proving who you are by verifying your identity, and of course transferring the deposit to the company, quite often via bank transfer eWallet, or even credit card for some brokers.
4. Set Order Types
Make sure you understand the various order types that you have available to you. For example, you need to understand whether or not a market order or a pending order makes the most sense. You also will need to understand various protective orders that are available, to keep your account safe. The protection of your trading capital is crucial. Make sure to learn about these trading orders.
5. Select & Buy Oil Stocks
The next move is to select and buy the shares that you wish to either invest or trade in. The markets have an almost endless amount of possibilities, and therefore your research is crucial. The timeline that you are choosing is also crucial. Make sure that you are planning ahead, and not trading on a 'spur of the moment' type of thought process. By sticking with your research, you can execute your trades easily.
Best Brokers to Buy Oil Shares:
eToro:
68% of retail CFD accounts lose money
Take a look
If you're ready to buy Oil shares, you'll need to use a broker that is FCA regulated, has low trading commissions and a reliable trading platform. Finding one can be an arduous and daunting task, which is why we've hand-picked favourites that tick all of these boxes to help you get started.
No matter what kind of experience you have, or even if you are just looking to know more, the brokers mentioned above are perfect for your needs. All of them are regulated, and therefore allow a safe and secure trading environment. The brokers have very reasons to join them, as a lot of them not only give your access to the markets, but they also offer a wide range of stocks to be involved with. Educational resources are plentiful and will be more than enough to get you started.
Summary
If you are looking to build wealth or some type of nest egg, you need to get involved in multiple sectors that have longevity. Energy, and thereby extended to crude oil, is an area that people will always be involved in. Although we are starting to see the idea of electric vehicles take away some of the luster, the reality is that we are decades away from that being the norm. Because of this, we are much better off dealing with the now, and not trying to speculate too much on where we will be in 50 years. Furthermore, one of the great things about trading crude oil stocks is that it is a play on the entire economy, not just one particular company.
Energy is an important part of any portfolio, especially if you are banking on some type of economic growth. Knowing the difference between the various types of energy stocks is a great place to start and getting a solid education at some of the brokers mentioned is the beginning move in building a portfolio. While there are multiple ways to play the energy markets, it all comes down to economic growth.
PEOPLE WHO READ THIS ALSO VIEWED: