Key points:
The eqtec share price has fallen 20.8% in 2022. What's next for the firm?
The waste gasification firm recently secured a £10 million financing facility.
The company's prospects are quite promising as its projects progress.
The Eqtec Plc (LON: EQT) share price has fallen by 20.8% this year, leaving many wondering if the waste-to-energy company's share price will recover.

Investor sentiment towards the sustainable energy sector turned positive in late February to early March when Eqtec shares bottomed before rallying higher. However, Eqtec shares pulled back in the last week of March.
Eqtec recently announced that it had secured a £10 million financing facility and had already drawn down £5 million. However, the company revealed that it would start repaying any drawdown five months after receiving the advance. The loan also attracts a 7.5% interest and matures in 12 months, indicating its short term nature.
Investors were not delighted with the loan terms, evidenced by the decline witnessed in Eqtec's share price after announcing its financing agreement. However, the company needed the money to fund its growth and development activities in some key markets.
Eqtec announced an update to the terms governing its relationship with partners on its Deeside RDF project. The company revealed that its wholly-owned subsidiary, Deeside WTV Limited, has signed a binding supplemental agreement with Logik Developments Limited.
The agreement allows Deeside WTV to acquire 32% of the issued share capital of Logik WTE Limited (the project SPV) via the settling of advances worth £2.3 million from Eqtec to Logik and project SPV.
The acquisition of the stake is expected to be complete by the end of June 2022. The two partners are also looking for a buyer for the project SPV at a minimum valuation of £15 million. If the sale is successful, Eqtec expects to send a £2 million invoice to the project SPV for its project development services.
However, Eqtec is willing to reduce the invoiced amount if the amount received from the new buyers is less than £17 million.
EQTEC has appointed Black and Veatch, a global engineering, procurement, consulting and construction company, to conduct a peer review of the overall project. The company specialises in sustainable infrastructure development. Eqtec is also in advance commercial discussions to appoint Black and Veatch for the complete detailed design for phase 2 of the project.
Investors are watching closely to see what happens next to the Deeside RDF project. Eqtec seeks to unlock significant capital from the project that it could use to fund its other projects or repay the £10 million financing facility.
The company's prospects are promising, given that its other projects are also progressing well.
*This is not investment advice. Always do your due diligence before making investment decisions.
Eqtec share price.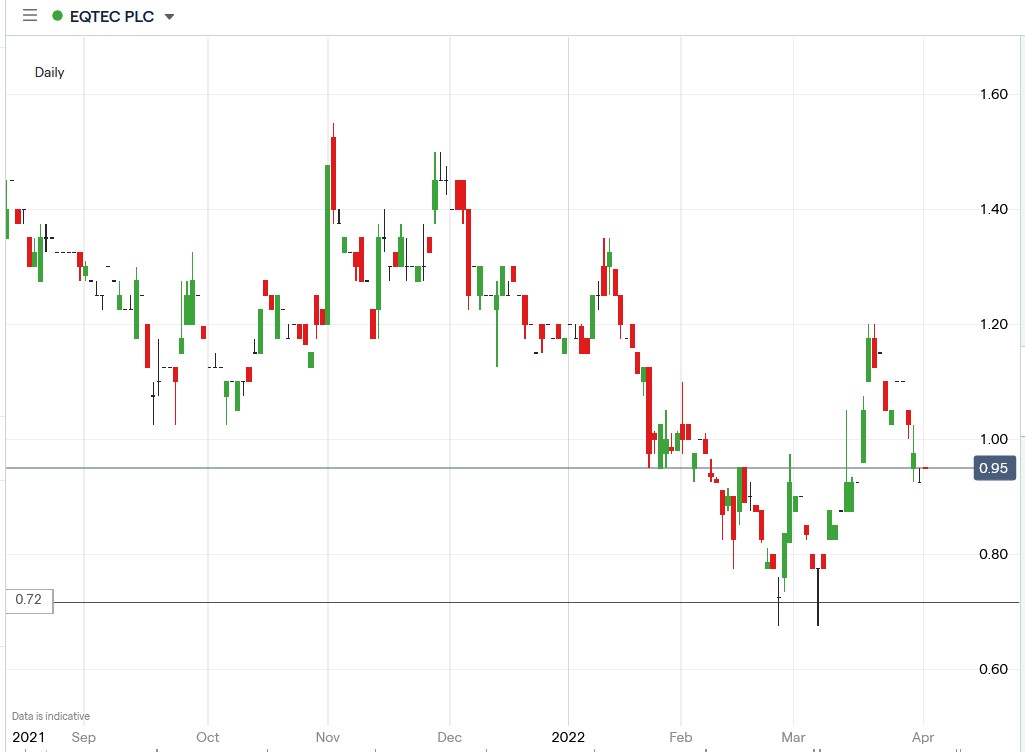 The Eqtec share price has fallen 20.83% in 2022, and many wonder whether it can recover.