Globalstar, Inc. (NYSEAMERICAN: GSAT) stock price is down 31.9% over the past week ever since Apple Inc announced that the iPhone 13 would not support satellite communication as many reviewers and investors were expecting.

Most of the company's shareholders are wondering when the current selloff will end, and the good news is, we might be quite close to the end of the downtrend, which seems to be losing momentum.
The price chart below shows that GSAT stock price is currently hovering above a support zone marked by the $1.66 level and the $1.57 level, which has been respected in the past, though not perfectly.
Investors should also pay attention to the fact that GSAT stock has retraced almost two-thirds of the gains associated with the Apple Inc rumours, which is typically expected of sharp rallies that form parabolic shapes.
Despite its recent losses, GSAT stock is up an impressive 422.7% this year rewarding investors who bought at the start of the year and held the stock. However, it has not been an easy ride for GSAT investors given the stock traded as high as $2.98 in February.
The tech company's fundamentals appear shaky given that its revenues have flatlined, which is why investors were excited about the Apple deal, given the millions of iPhones manufactured each year.
GSAT still needs a huge contract that will take investors eyes off the Apple deal and boost its finances. The company is pursuing other deals, which could be lucrative over time.
The firm has several leading products in the IoT sector such as its SPOT Gen4 Satellite GPS Messenger, which can track objects in flight. GSAT recently secured a deal with France's Federation of Free Flight recently to keep free flight participants safe.
Meanwhile, the stock could bounce back if the support level holds. However, a break below the level would invalidate the bullish thesis.
*This is not investment advice.
Globalstar stock price.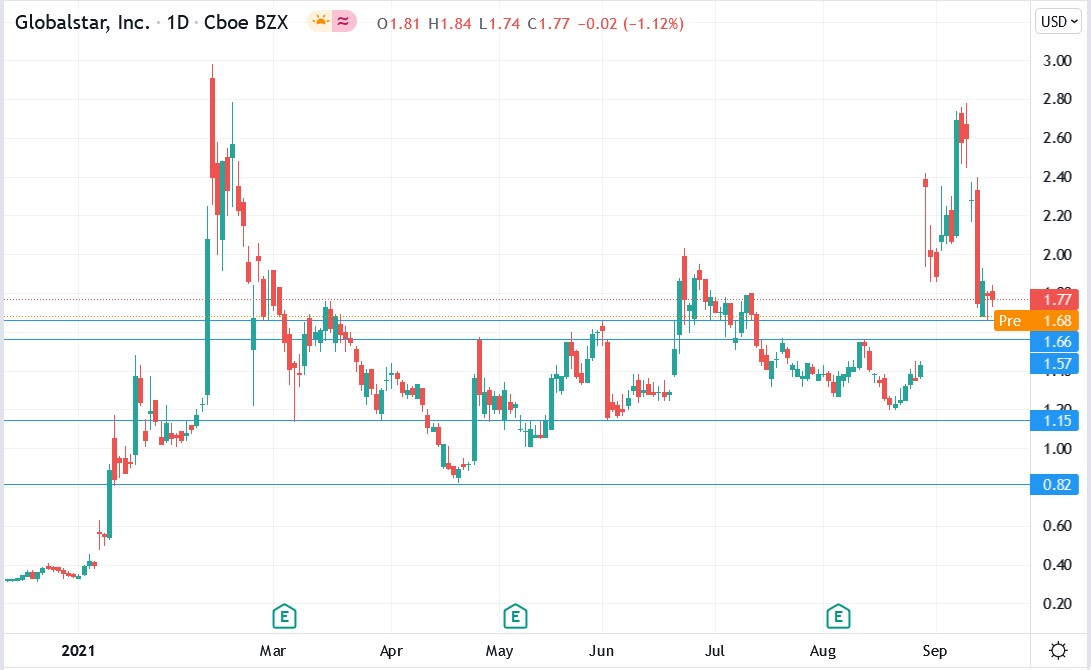 Globalstar shares were down 5.08% premarket to trade at $1.68, falling from Friday's closing price of $1.77.
Should You Invest in Globalstar Shares?
One of the most frequently asked questions we receive is, "what stocks are best to buy right now?" It's a wide-ranging question, but one that we have answered… Our AskTraders stock analysts regularly review the market and compile a list of which companies you should be adding to your portfolio, including short and longer-term positions. Here are the best stocks to buy right now