Artelo Biosciences Inc (NASDAQ: ARTL) stock price rallied 77.8% today despite not making any specific announcements.

It appears investors were reacting to a positive analyst coverage of the stock after H.C Wainright started covering the firm.
According to the firm's analyst Vernon Bernardino, Artleo Biosciences stock price can rally up to his price target of $4, making it a buy.
The main reason behind the buy rating was that the biotech company has a promising drug pipeline that can fight certain cancers.
The clinical-stage biopharmaceutical company is developing potential first-in-class therapeutics targeting the endocannabinoid system.
Artelo Biosciences currently has three drugs in its pipeline, including ART 27.13, which aims to treat anorexia associated with cancers, a phase 2 clinical-stage drug.
Its other drugs ART 26.12, targets breast and prostate cancers, and it is in phase 1 clinical trials. Lastly, Its ART 12.11 anxiety/sleep disorder drug is also in phase I clinical trials.
Retail investors jumped on the stock given its low prices and floating, looking to make a quick profit boosted by trading the biopharma stock.
Artelo shares were still holding on to their gains at publishing, which is a good sign for buyers. However, the real question is whether the rally will continue in the coming days, or we will see the shares fall back down.
*This is not investment advice.
Artelo Biosciences stock price.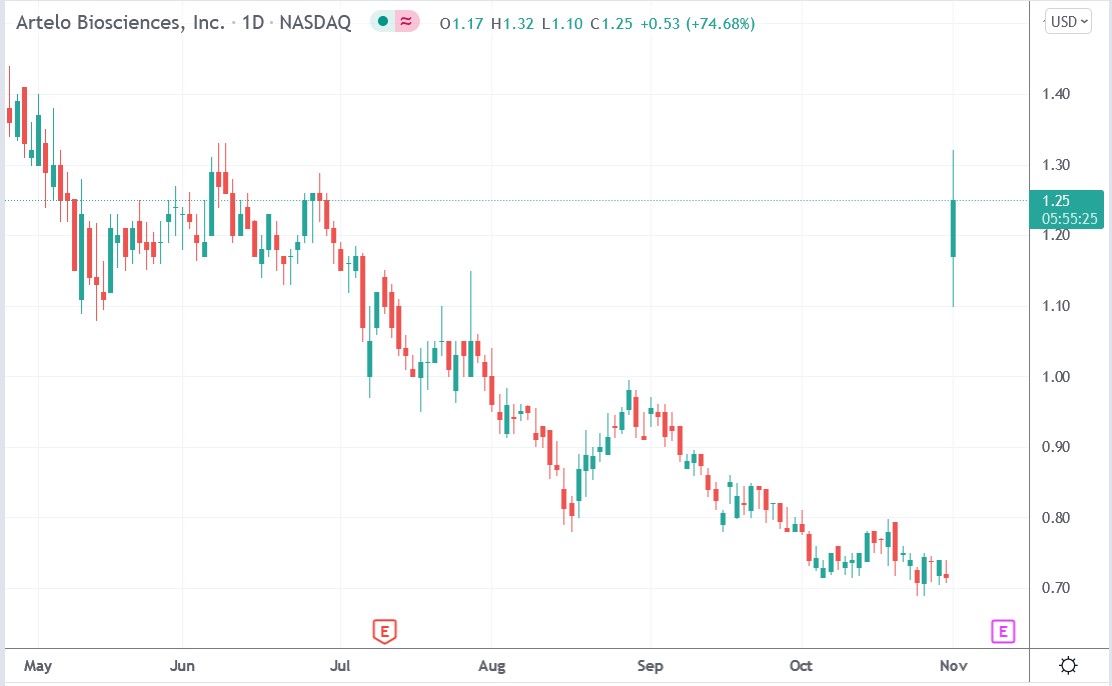 Artelo Biosciences stock rallied 77.78% to trade at $1.28, rising from Friday's closing price of $0.72.
Should you invest in Artelo Biosciences shares?
Tech stocks offer some of the best growth potential, but time and time again, traders and investors ask us "what are the best tech stocks to buy?" You've probably seen shares of companies such as Amazon and Netflix achieve monumental rises in the past few years, but there are still several tech stocks with room for significant gains. Here is our analysts view on the best tech stocks to buy right now.