Key points:
Biolife Sciences stock rallied 14.2% despite not making announcements.
The stock was lifted by positive investor sentiment towards pharma companies.
Investors are eagerly awaiting Biolife's Q4 and full-year results due soon.
Biolife Sciences Inc (OTCMRKTS: BLFE) stock rallied 14.2% despite not making significant announcements in a move primarily driven by positive retail investor sentiment that lifted many healthcare stocks.

The company's shares have alternated between gains and losses over the oast few months after a massive rally that started in early Novmeber and lasted up to early December.
Since then, we have had a significant pullnback, which was followed by a rally and then another pullback bringing us to today's price action.
Biolife's November rally could be attributed to positive investor sentiment with teh company holding its inverter conference to discuss its Q3 earninsg results on November 11, 2021.
However, we all know that sharp rallies are usually followed with significant pullbacks and that is exactly what happen to Biolife stock.
The company netted gross revenues of nearly $34 million in Q3 2021, a 200% jump compared to the revenues generated in a similar period in 2020. The firm's organic revenues grew 37% driven by significant demand for biopreservation media, whos eslaes grew 50% on an annualised basis.
Biolife has three operating divisions, which include cell processing, its freezers and thaw systems platform and finally its Storage and Cold Chain services.
All the above divisions grew in Q3 as the company atrcated 200 new customers compared to 213 new customers in all of 2020. Demand for its services is expected to remain high driven by the coronavirus pandemic and the need to store some vaccines.
However, the company has witnessed massive growth it its biopresevtaion media services, which is part of tis cell processing division with a top 10 global pharma company using its CryoStor biopreservation media, evo Cold Chain Management offering and size safe storage services.
The company was prompted to the S&P SmallCap 600 Index in August 2021 boosting its investment profile, while making it attractive to larger shareholders, but its impressive rally was what caught most investors attention.
Biolife's prospects appear quite  promising given the massive growth achieved in Q3 2021 and many expect similar results to be attained in the last quarter of 2021. However, investors have to wait for an official update from the company later this quarter.
*This is not investment advice. Always do your due diligence before making investment decisions.
Biolife Sciences stock price.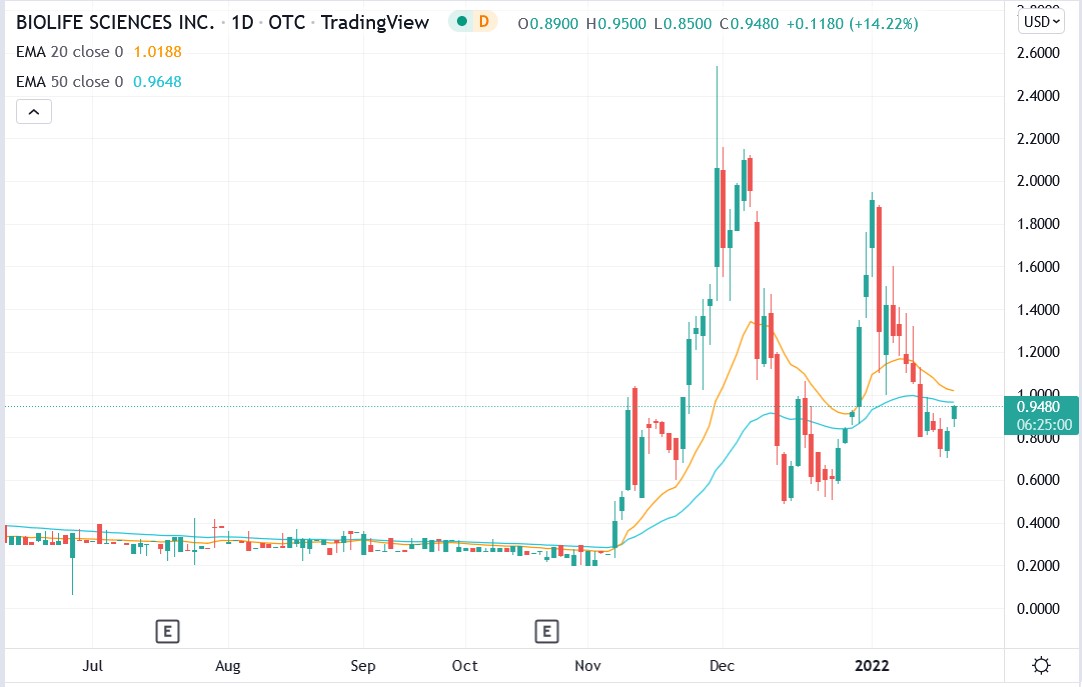 Biolife stock rallied 14.22% to trade at $0.9480, rising from Wednesday's closing price of $0.8328.