Mainz Biomed today acquired the exclusive rights to a portfolio of novel mRNA biomarkers.
Investors cheered the announcement to help the company's ColoAlert colorectal cancer test become the leading home test globally.
Investors may get a better chance to buy the shares after a potential pullback in future.
The Mainz Biomed BV (NASDAQ: MYNZ) stock price rallied 105.9% after acquiring exclusive rights to a portfolio of novel mRNA biomarkers that could integrate into its ColoAlert test for colorectal cancer.

Mainz entered into a Technology Rights Agreement with Socpra Sciences Santé Et Humaines S.E.C. (TTS) to gain exclusive access to the novel mRNA biomarkers.
The biotech company is currently marketing its highly effective and easy-to-use ColoAlert colorectal cancer test across Europe via a unique business model. It partners with third-party laboratories to offer the test.
Mainz Biomed is also preparing to start the regulatory process in the United States so that the test can be approved by the US Food and Drug Administration (FDA), which will allow the test to be sold in the country.
The agreement gives Mainz Biomed the unilateral option to exclusively license the global rights to five gene expression biomarkers that demonstrated a high degree of accuracy in detecting CRC lesions, including advanced adenomas ("AA").
The biotech firm highlighted the results published in an online peer-reviewed journal showing that the five biomarkers were 75% accurate in detecting AA and 95% accurate in identifying CRC markers, with the overall sensitivity coming in at 96%.
Mainz clarified that if the biomarkers replicated the statistical study results in its ColoAlert tests, they would position the Company's CRC test as the most robust and accurate at-home diagnostic screening test for colorectal cancer on the market.
Guido Baechler, Mainz Biomed'a CEO, said: "Securing the exclusive rights to license this family of novel biomarkers is a fantastic milestone for the Company as it provides an extraordinary opportunity to potentially upgrade ColoAlert's technical profile, possibly making it the most effective at-home screening test for CRC that has ever been commercialized,"
Adding:
"The Mainz team is on a mission to develop gold standard molecular diagnostic screening solutions for cancer indications, and obtaining the rights to these biomarkers is a testament to our ongoing commitment to develop cutting-edge products as they have shown superior sensitivity to even liquid biopsy products in development in terms of identifying advanced adenomas."
Investors cheered the news, evidenced by the massive premarket rally in Mainz Biomed stock. However, investors may get a better entry opportunity in future after a very likely pullback following today's parabolic rally.
*This is not investment advice. Always do your due diligence when making investment decisions.
Mainz Biomed stock price.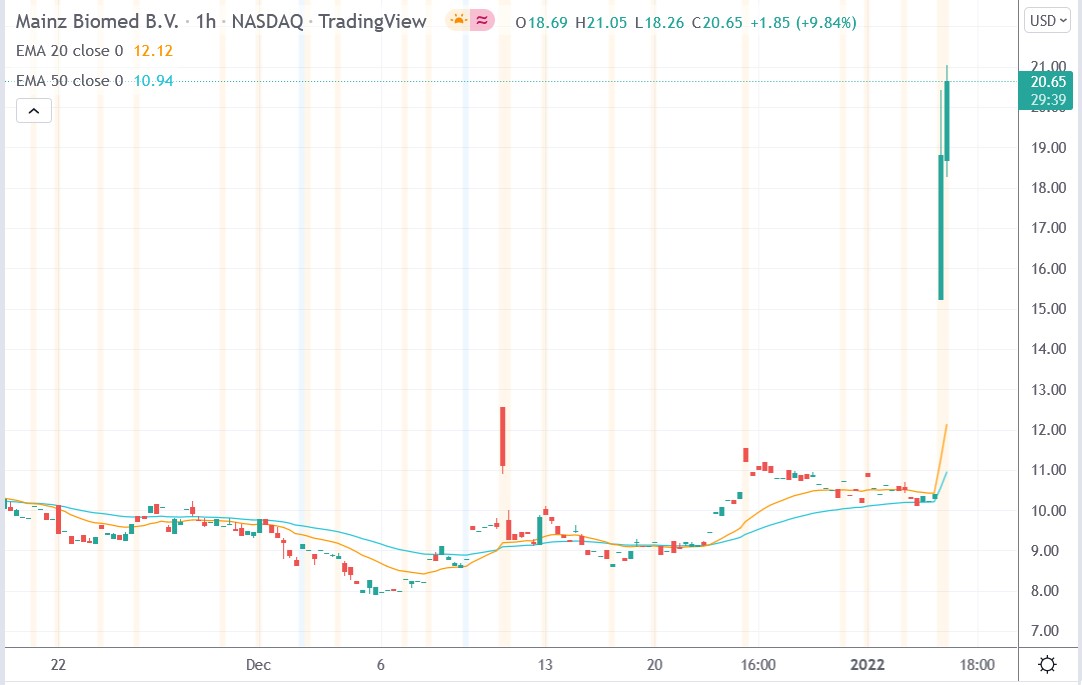 Mainz Biomed stock soared 105.87% premarket to trade at $21.39, rising from Tuesday's closing price of $10.39.
Is Now a Good Time to Invest In Mainz Biomed Shares?
Healthcare stocks, including Mainz Biomed shares, saw a wave of investors buy their shares during the pandemic. Governments also pumped money into the companies in an attempt to speed up the vaccine process. But, what happens now vaccines have been approved and the pandemic is becoming less prominent? Should we still invest in coronavirus-focused healthcare stocks? Or should we look to firms tackling other areas? Here are the best healthcare stocks to buy now…