Key points:
KOLD stock price soared 407%+ during premarket trading due to a stock split.
The Inverse short natural gas ETF underwent a reverse stock split.
ProShares, the issuer of the KOLD ETF, wanted to make it more attractive.
The ProShares UltraShort Bloomberg Natural Gas (NYSEARCA: KOLD) stock price soared 407%+ premarket in a move that caught some investors by surprise.

However, investors who read the articles we published yesterday should hint at what was behind today's move in KOLD stock.
For those who missed the articles, the sudden move in KOLD stock was triggered by a 5:1 reverse stock split to boost the ETF's stock price to make it more attractive to investors.
KOLD had fallen 78.8% over the past year as natural gas prices kept rising, driven by higher demand and supply shortages in many countries.
Given that we are in a new year, ProShares saw it prudent to execute the reverse stock split so that KOLD's stock price could start the year trading at a higher price, just in case natural gas prices keep falling.
ProShares announced the reverse stock split in the last week of December 2021 as the year drew to an end and was supposed to take effect today before the market opened.
Before today's reverse stock split, investors holding KOLD stock will receive one new share for every five shares they held.
Therefore, most investors should welcome the move since KOLD stock will now be attractive to more investors, including institutions, the biggest buyers of short ETFs, as a hedge against their investment in the commodities markets.
Most institutions have lower limits on the stocks they buy since many of them rarely want to hold penny stocks, which could quickly go bankrupt and end up losing them money. Therefore, they tend to stay away from low-priced stocks.
On the other hand, a forward stock split is usually implemented to reduce the price of a company's shares to make it more attractive to a larger pool of investors, especially retail investors who do not have large amounts to invest.
You can read this article to see how ProShares implemented forward stock splits in some of its ETFs.
*This is not investment advice. Always do your due diligence before making investment decisions.
KOLD stock price.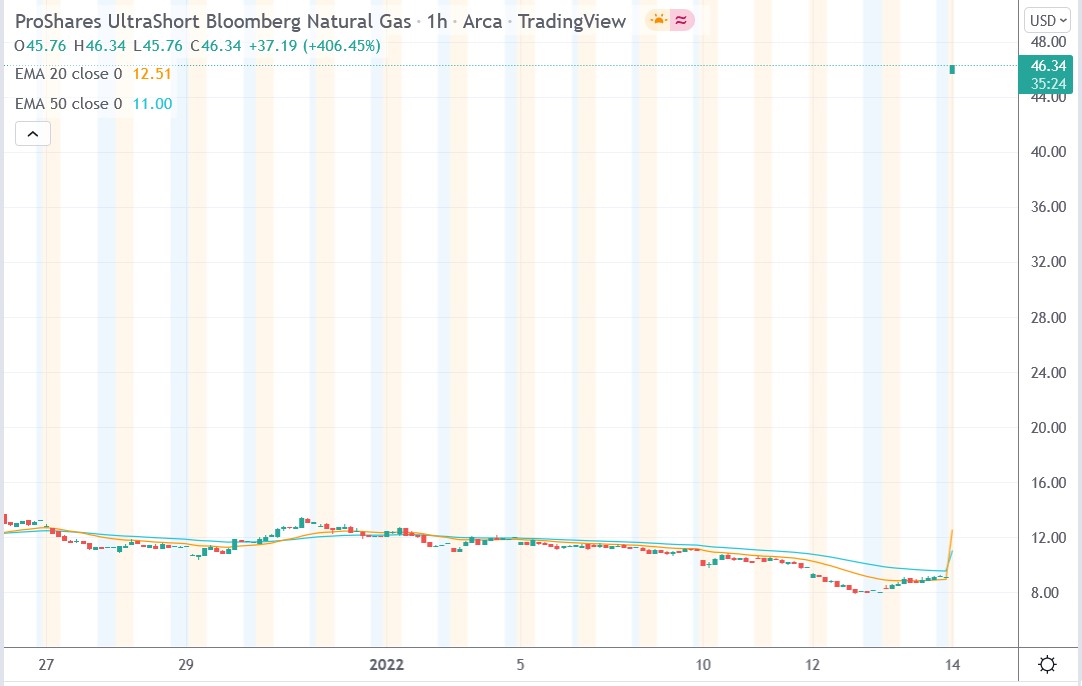 KOLD stock soared 407.56% to trade at $46.34, rising from Thursday's closing price of $9.13.