Jumia Technologies AG – ADR (NYSE: JMIA) stock price fell 7.61% after its Q3 earnings results were released.
The e-commerce company reported a 28% increase in customer orders, which were 8.5 million compared to Q3 2020 when it recorded 6.6 million orders.
Jumia's annual active customers grew 8.1% to 7.3 million compared to the 6.7 million active users in Q3 2020.

The company's gross profits fell to $ 25.5 million compared to the $27.1 million generated in a similar period last year. However, its net profits after deducting fulfilment expenses fell to $3.5 million compared to the $7.6 million generated last year.
Jumia's sales and advertising expenses surged 227.9% to $24 million compared to the $7.3 million used last year. In addition, its technology and content expenses rose to $9.4 million versus the $7.4 million recorded last year.
Sacha Poignonnec and Jeremy Hodara, Jumia's Co-CEO's, commented: "We are pleased to see growth acceleration during the third quarter of 2021 across all reported usage KPIs. Orders for the quarter reached an all-time high of 8.5 million, accelerating by 28% year-over-year, the fastest growth rate of the past seven quarters. Annual Active Consumers reached 7.3 million, up 8% year-over-year. As a result of the acceleration in consumers and orders, we are reaching an inflection point in the GMV trajectory leading to an increase in GMV of 8% year-over-year, reaching $238mm,"
They added:
"Our growth acceleration strategy initiated at the end of the second quarter of 2021 is starting to pay off. We are making investments in Sales & Advertising and Technology to further enhance consumer education, brand consideration, as well as the relevance and convenience of our platform."
*This is not investment advice.
Jumia stock price.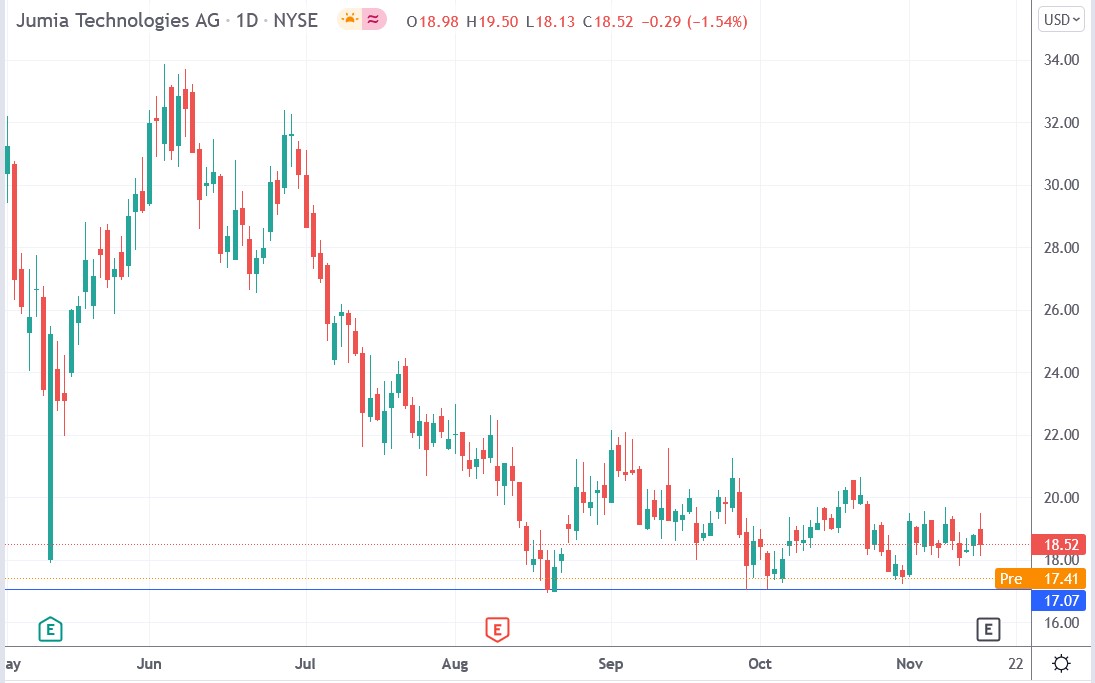 Jumia Stock's price fell 7.61% premarket to trade at $17.11, falling from Monday's closing price of $18.52.
Should you invest in Jumia shares?
Tech stocks offer some of the best growth potential, but time and time again, traders and investors ask us "what are the best tech stocks to buy?" You've probably seen shares of companies such as Amazon and Netflix achieve monumental rises in the past few years, but there are still several tech stocks with room for significant gains. Here is our analysts view on the best tech stocks to buy right now.