Key points:
Kanabo shares are up 12% in one week, and many wonder what to expect this year.
There are multiple significant milestones that the medical cannabis company is likely to achieve this year.
Kanabo's investors may be in for an exciting and profitable year if things go as planned.
The Kanabo Group PLC (LON: KNB) share price has risen over 12% in one week in a solid start to the year as investors remain bullish about the cannabis company. So what can we expect from the firm in 2022?

Firstly, we can expect the company to advance the commercialisation of its VapePod medical cannabis product, which started shipping to the UK in July 2021.
The company's VapePod product could be one of the first cannabis products to be categorised as medicines by the UK Medicines and Healthcare products Regulatory Agency (MHRA) as part of more favourable policies.
In early December, the UK's MHRA stated that they consider licensing e-cigarettes as medicines to help smokers quit smoking. At the time, Kanabo pointed out that its VapePod products could also be categorised as e-cigarettes.
Kanabo announced in mid-December that it had signed a 'Head of Terms' agreement to acquire Materia Malta Limited, which operates an EU GMP certified manufacturing facility in Malta.
However, the acquisition is not yet complete despite Materia starting shipments of "Carbasi Verde", a medial cannabis flower produced at its Malta site.
Kanabo plans to acquire the entire business of 11157353 Canada Corp, which operates under the Materia brand, and negotiations are still underway to complete the transaction.
Finally, let's not forget that Kanabo told investors that its CBD and nicotine formula has advanced from the Patent Cooperation Treaty phase to the National Phase in the UK, US, and EU countries.
The formula is close to being awarded a patent in various jurisdictions. Kanabo is looking to secure an internationally recognised patent for the formulation to treat nicotine and tobacco addiction.
At the time, Avihu Tamir, Kanabo's CEO, said: "Our tests show a dramatic reduction in nicotine consumption, whether in cigarettes or e-cigarettes, which can only be good news for health services around the world."
Kanabo conducted some tests on a small group of volunteers, which showed that the formula reduced the psychological and physical nicotine withdrawal effects by an average of 70%.
It seems like 2022 will be an exciting year for Kanabo investors as some of the above activities are finalised. However, we cannot rule out other crucial milestones since a year is long.
*This is not investment advice. Always do your due diligence before making investment decisions.
Kanabo share price.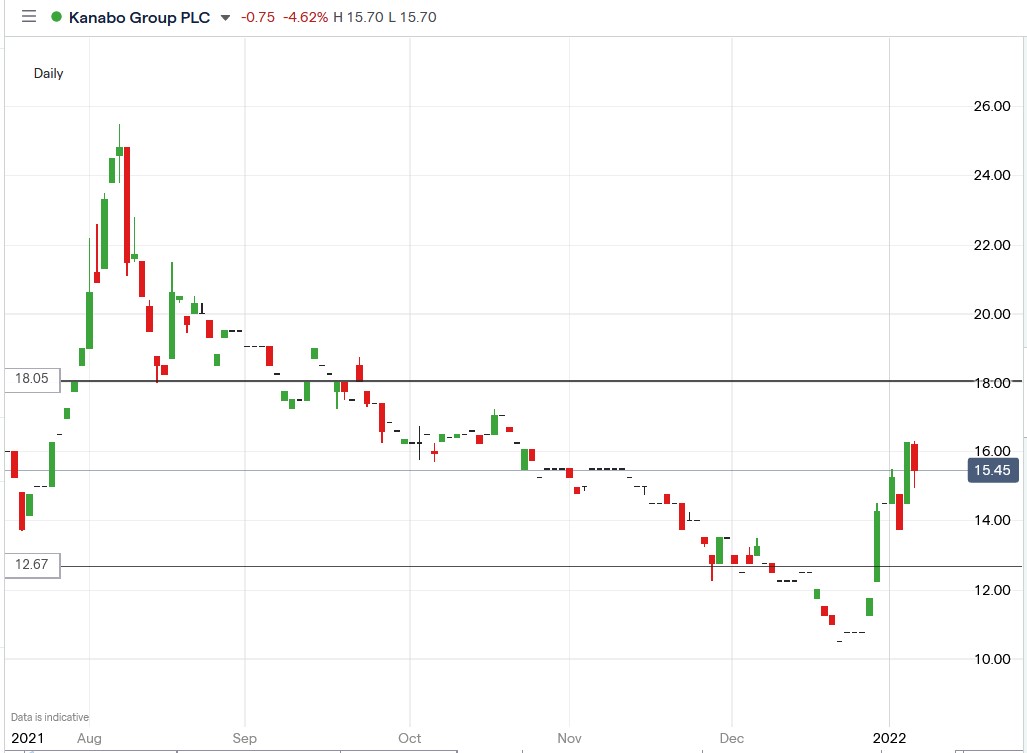 Kanabo share price has risen over 12% in the past week as buyers step in. So what's in store for the company this year.