Kanabo Group PLC (LON: KNB) share price rallied 6.3% after the UK Medicines and Healthcare products Regulatory Agency (MHRA) said it would start licensing e-cigarettes as medicines based on evidence that they could help people quit smoking.

Dr June Raine, the CEO of the MHRA, stated: "The evidence is clear that e-cigarettes are less harmful to health than smoking tobacco and that nicotine-containing e-cigarettes can help people quit smoking for good."
Adding: "The updated guidance on licensing requirements we have published today is a strong first step towards availability of safe and effective licensed e-cigarette products."
Kanabo pointed out that its VapePod medical cannabis product has been produced in a certified GMP medical facility in full compliance with ISO13485. The medical cannabis company started shipping its first medical cannabis cartridges to the UK in July 2021.
The company noted that: "Cannabis has gained legitimacy and recognition as a powerful source of relief for a number of ailments, but smoking as a delivery mechanism does not present a viable solution. In contrast, inhalation through vaporization dramatically improves the degree and rate of absorption of all the beneficial medical compounds in cannabis," the company detailed."
Investors cheered the development since the licensing of Kanabo's VapePod cannabis products as medicines would increase its availability to patients and a broader customer base as doctors would prescribe it to their patients.
Today's statement from the MHRA follows the publication of its updated guidance on the steps required to licence an e-cigarette as a medicinal product in the UK in October 2021.
Kanabo hinted that its VapePod products could be among the UK's first licensed medicinal cannabis products.
Investors interested in Kanabo shares could find its current prices quite attractive, given that its shares have fallen significantly from their post-IPO highs of 51p to their current price of 13.6p.
*This is not investment advice. Always do your due diligence before making investment decisions.
Kanabo share price.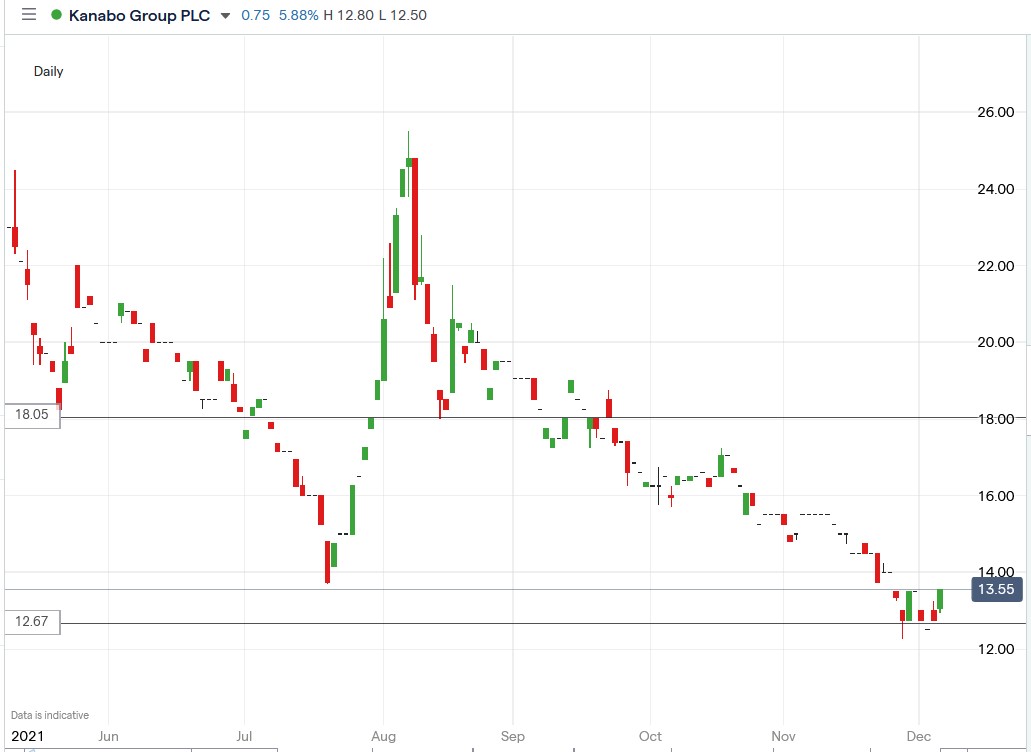 Kanabo share price rallied 6.27% to trade at 13.55p, rising from Friday's closing price of 12.75p.
Should You Invest in Kanabo Shares?
One of the most frequently asked questions we receive is, "what stocks are best to buy right now?" It's a wide-ranging question, but one that we have answered… Our AskTraders stock analysts regularly review the market and compile a list of which companies you should be adding to your portfolio, including short and longer-term positions. Here are the best stocks to buy right now.