Kyndryl Holdings Inc (NYSE: KD) stock price has fallen 28.37% from its post-IPO highs as investors struggle to value the company apart from its parent company IBM.
Kyndryl was spun off from IBM and started trading as a public company on November 4, 2021, at $28.41 per share but has been on a downtrend since listing on the New York Stock Exchange.
The company is expected to expand IBM's foray into the cloud computing market. Still, it faces the daunting task of proving that it has not inherited the legacy problems that continue to plague IBM, its parent company.
Martin Schroeter, Kyndryl's CEO, said: "The spin now allows a whole new set of customers who felt as though…we were just there to sell the IBM technologies to now open up a new set of discussions,"
However, he expects the company to start showing revenue growth in 2025, by which time he is confident potential customers will have stopped seeing it as an IBM subsidiary.
Kyndryl was once IBM's managed infrastructure division and witnessed dwindling revenues over the past few years. As a result, the company's revenues fell 7% in 2019 and 4.6% in 2020, with the same trend expected to continue this year.
Despite generating $19.35 million in revenues during the year ended December 30, 2020, the company still reported a net loss of $2.01 billion for the same year.
On the other hand, IBM is expected to continue generating the same amount of free cash flow as before the Kyndryl spin-off, which seems like it benefited more from the spin-off than Kydnryl did.
As for now, Kydnryl is still heavily dependent on IBM's mainframe customers, but it has to branch out and start offering higher-value cloud computing services, which might force it to retrain its staff and invest heavily in new cloud architecture.
While the road ahead for Kyndryl seems quite long, there is hope for the newly-independent company if it can act quickly to start capturing new market shares and offering high-value cloud services whose demand is growing at a decent pace.
Kyndryl's daily share price chart below shows a more significant decline since it tracks its potential valuation from October 22, 2021, before its November 4, 2021, IPO.
*This is not investment advice.
Kyndryl stock price.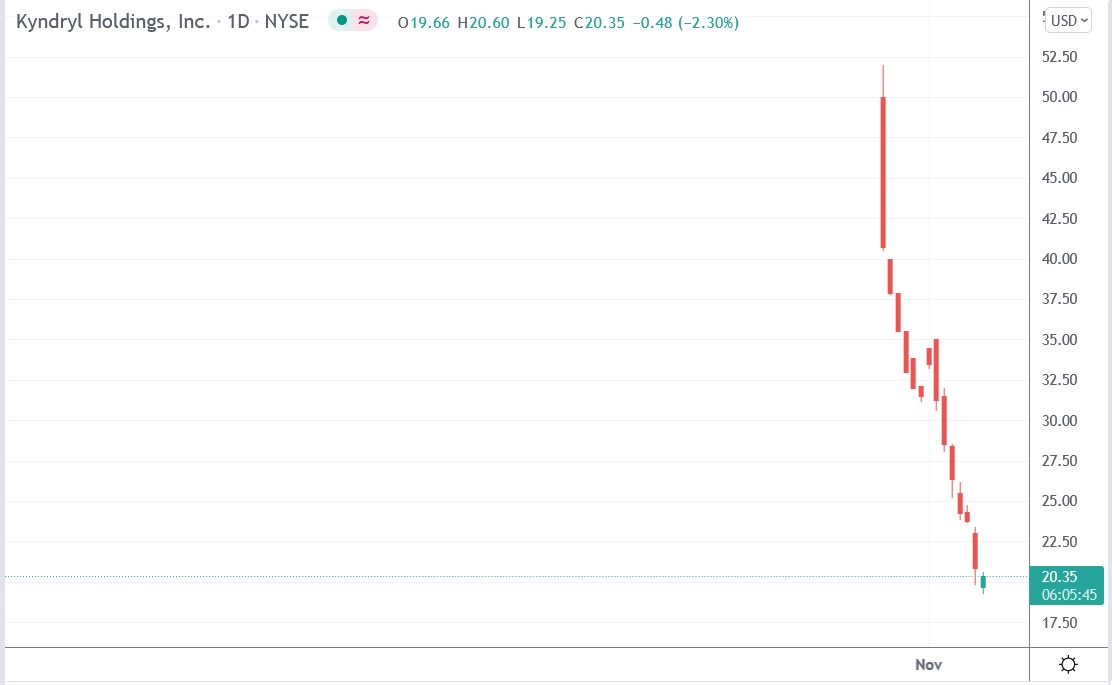 Kyndryl stock price has fallen 28.37% from its IPO high of $28.41 to its current price of $20.35.
Should you invest in Kyndryl shares?
Tech stocks offer some of the best growth potential, but time and time again, traders and investors ask us "what are the best tech stocks to buy?" You've probably seen shares of companies such as Amazon and Netflix achieve monumental rises in the past few years, but there are still several tech stocks with room for significant gains. Here is our analysts view on the best tech stocks to buy right now.