Longeveron Inc (NASDAQ: LGVN) stock price rallied 41.1% after the US Food and Drug Administration (FDA) awarded its Lomecel-B drug treatment for hypoplastic left heart syndrome orphan drug status.
Investors cheered the move, evidenced by today's rally since such orphan drug status usually makes it easier for a company to market the affected drug. In addition, the designation implies the drug is unique and treats a condition with little to no treatment options.
Lomecel-B is a cell-based drug therapy derived from culture-expanded medicinal signalling cells (MSCs), taken from the bone marrow of young, healthy adult donors.

The drug will enjoy seven years of market exclusivity for the particular disease if commercialised following the FDA's approval.
Longeveron's stock price has risen over 1000% since mid-November, driven by a short squeeze as retail investors on social media platforms but has since given up over half of its initial gains.
Hypoplastic left heart syndrome (HLHS) is a congenital disability that affects normal blood flow through the heart. It usually develops during pregnancy as the baby develops and the left side of the heart fails to form correctly.
Longeveron further announced that it had signed an agreement with institutional investors to purchase its common stock and warrants worth $20.5 million.
Under the agreement, the company will sell 1.17 million shares of its common stock at $17.50 each to the investors.
The markets did not react negatively to the capital raise via a share offering and opened up over 30% for trading, keeping most of its premarket gains.
Investors who missed out on today's rally may get another opportunity in future on a further pullback. However, there are no guarantees that such a move will materialise.
*This is not investment advice. Always do your due diligence before making investment decisions.
Longeveron stock price.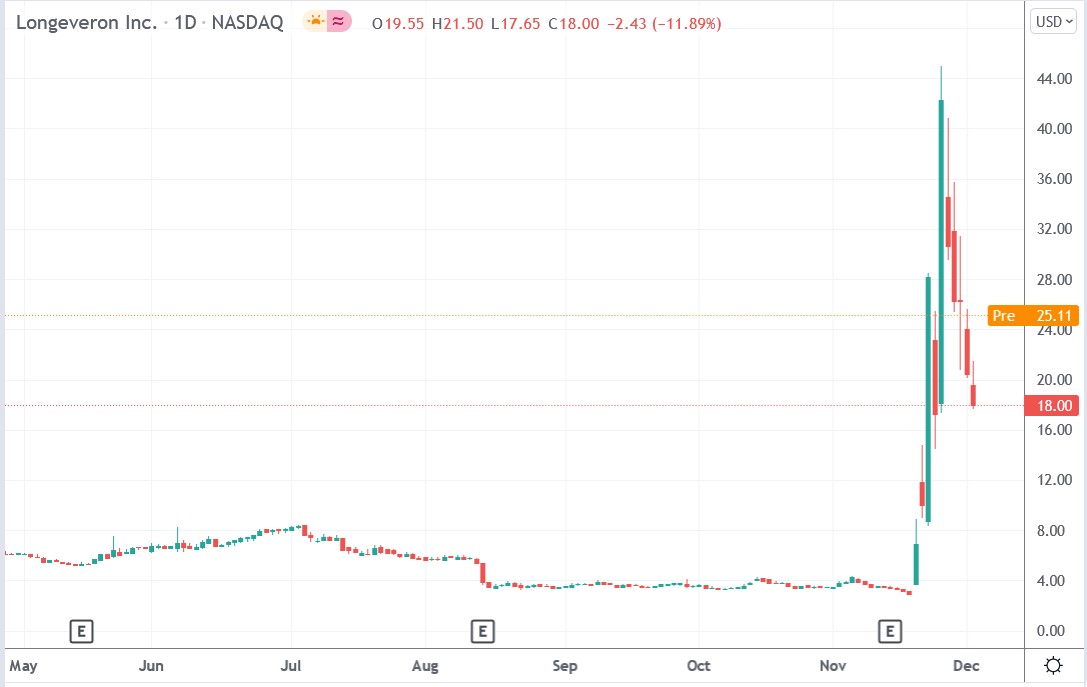 Longeveron stock price soared 41.06% to trade at $25.39, rising from Thursday's closing price of $18.00.
Should You Invest in Longeveron Shares?
One of the most frequently asked questions we receive is, "what stocks are best to buy right now?" It's a wide-ranging question, but one that we have answered… Our AskTraders stock analysts regularly review the market and compile a list of which companies you should be adding to your portfolio, including short and longer-term positions. Here are the best stocks to buy right now.