Marathon Oil Corporation (NYSE: MRO) stock price fell 4.67% during premarket trading despite not making any announcements.

Today's decline extends a topping out pattern seen on the oil company's daily chart below that has been in place since late October when the company's share price hit highs last seen in April 2019.
The oil company's shares went on to trade sideways and appear to be heading lower given today's decline.
Marathon Oil's share price has risen 141.68% since January, and oil experts say that despite the significant rally, MRO shares should be trading in the mid-'20s, indicating that there is further upside in store for the company's investors.
However, the shares appear to be in a consolidating pattern at the moment despite the company reporting excellent cash flows during its third-quarter at the start of November.
The oil company reported an adjusted net income of $310 million and generated impressive cash flows of $816 million, which is impressive.
Some experts believe that the company could generate enough cash flow to buy back its shares in the next five years. In a market where cash is king, you can see why MRO shares are an attractive long term bet.
As short-term traders, we are always looking for ways to profit from short-term price swings and right now, MRO shares have been trading sideways and could set up a potential bullish trade shortly.
Today's drop indicates that we could be in for further declines in future. Hence, we should stand aside and wait to see if the shares shall reverse course.
Marathon Oil is one of those companies investors should follow closely, given its latest trends and positive prospects.
Investors looking to open bullish positions in the company should stay alert to take advantage of pullbacks that could provide better entry prices.
*This is not investment advice.
Marathon Oil stock price.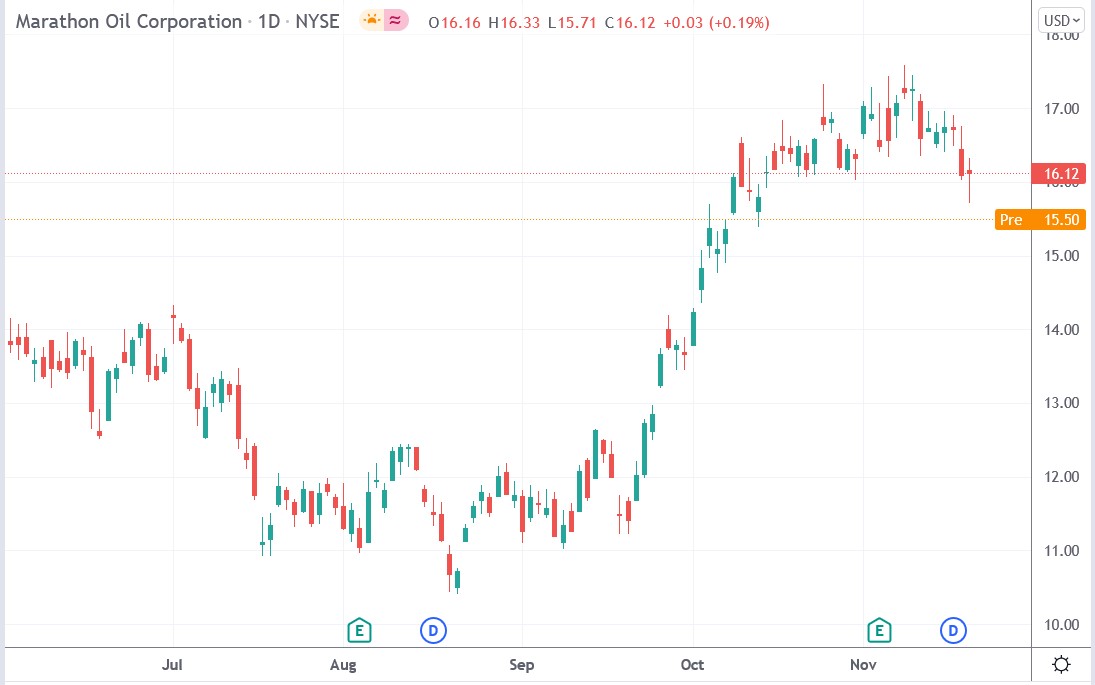 Marathon Oil stock price fell 4.47% to trade at $15.40, falling from Thursday's closing price of $16.12.
Should You Invest in Marathon Oil Shares?
One of the most frequently asked questions we receive is, "what stocks are best to buy right now?" It's a wide-ranging question, but one that we have answered… Our AskTraders stock analysts regularly review the market and compile a list of which companies you should be adding to your portfolio, including short and longer-term positions. Here are the best stocks to buy right now.