Key points:
Marston's shares edged higher on an upbeat 16-week trading update.
The pub chain remains a standout story in the UK hospitality sector.
The company's shares seem pretty attractive at current prices.
Marston's PLC (LON: MARS) edged slightly higher after releasing a positive trading update for the last 16 weeks (4 months) to 22 January 2022.

The report revealed that Marston's recorded higher like-fro-like sales in the first eight weeks of the review period up to 27 November.
However, the pub chain revealed that the results for the next eight weeks were lower than expected, with like-for-like sales falling 3.9% compared to a similar period in its 2019 financial year before the impact of the coronavirus pandemic.
Martson's revealed that stricter government controls, including guidelines on limiting social contact and working from home, affected its revenues in the second half of the review period.
The pub chain operator revealed that the first five weeks of December recorded impressive sales figures, with total sales rising 5% compared to a similar period last year.
The company's pubs in Scotland and Wales were the worst affected given the stricter government restriction in the two regions.
However, investors should remember that Marton's is one of the standout stories in the hospitality sector since the pandemic started with many other restaurants and pub chains getting into financial distress due to the pandemic restrictions.
Andrew Andrea, Marston's CEO, commented: "Whilst the emergence of the Omicron variant and subsequent Government guidance temporarily impacted consumer sentiment, we remain confident that the strong trading momentum which we were experiencing before that will resume.
Adding:
"We welcome the various plans underway to gradually ease trading restrictions in Scotland and Wales.  These, together with the reduction in the required self-isolation period and anticipation of an imminent end to the work from home directive, should enable some semblance of normalised trading patterns to return.  Indeed, there is growing evidence over the most recent of weeks of the New Year that consumer confidence is rebuilding, and guests are returning to our pubs in greater numbers, which is encouraging. Importantly, Marston's has a well invested, predominantly community pub estate which is well placed to benefit from the pent-up consumer demand which we are confident remains."
Marston's has continued to perform well over the past two years, and its recent performance is pretty decent as the firm has weathered the worst of the pandemic admirably.
The pub chain's share price has risen 2.24% since the year started, with the shares booking a 3.24% gain in the past 12 months. As a result, long term investors may find the shares pretty attractive at current prices.
*This is not investment advice. Always do your due diligence before making investment decisions.
Marston's share price.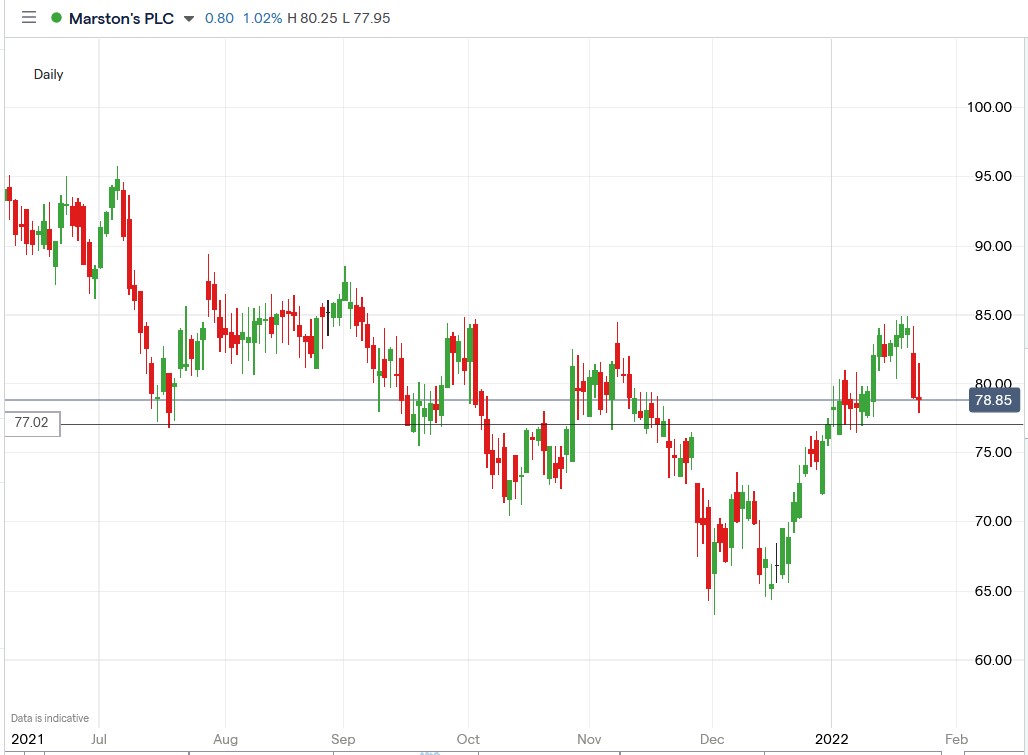 Marston's share price edged higher after reporting excellent 4-month trading results. Will the stock outperform?