Key points:
Netflix stock crashed 19.9% after predicting weak subscriber growth numbers.
Analysts at top banks slashed their price targets in light of the new data.
However, the company will keep growing at a slower pace going forward.
The Netflix Inc (NASDAQ: NFLX) stock price crashed 19.5% after the movie streaming service revealed that it expects to add 2.5 million subscribers in Q1 2022. The figure was much lower than the 3.98 million subscribers the company added in Q1 2021.
Investors were spooked by shockingly low growth figures predicted by the company, which made analysts from all the major investment banks lower their price targets on the firm, citing the lower growth potential.
Benjamin Swinburne, an analyst at Morgan Stanley, lowered his Netflix price target to $450 from $700 and downgraded his rating to Equal Weight from Overweight. He cited the tougher time the company is facing in adding new subscribers.
His previous upbeat rating was based on the company's content investment paying off and a rebound from the pandemic, but it will be more challenging for the firm.
An analyst at Deutsche Bank, Bryan Kraft, lowered his price target to $465 from $580 but maintained a hold rating on the stock. He said that Netflix's 2022 margins appeared highly disappointing, significantly reducing his predictions.
Eric Sheridan, a Goldman Sachs analyst, also lowered his price target to $450 from $580 and reiterated a neutral rating on the stock. He noted that Netflix forward guidance was disappointed despite reporting excellent results for Q4 2021.
Netflix executives revealed that stiff competition from other streaming services played a crucial role in its lower subscriber growth numbers. Many leading companies launched streaming services with exclusive content to compete with Netflix.
In the past, Netflix had downplayed the impact of other streaming services from major studios such as Disney and Apple's TV streaming service. Still, these new services are gaining traction at Netflix's expense.
The company also can increase subscription fees for its existing subscribers but risks losing some of its customers if its fees become too high.
Overall, Netflix reported a significant growth in subscriber numbers from Latin America, with the Asian Pacific region also having significant growth potential.
It appears that it will take much longer for Netflix to attract 800 to 900 million households to its service, given the competitive nature of the movie streaming services industry.
However, all is not lost for Netflix, as its subscriber numbers are likely to keep growing, albeit at a much slower pace.
*This is not investment advice. Always do your due diligence before making investment decisions.
Netflix stock price.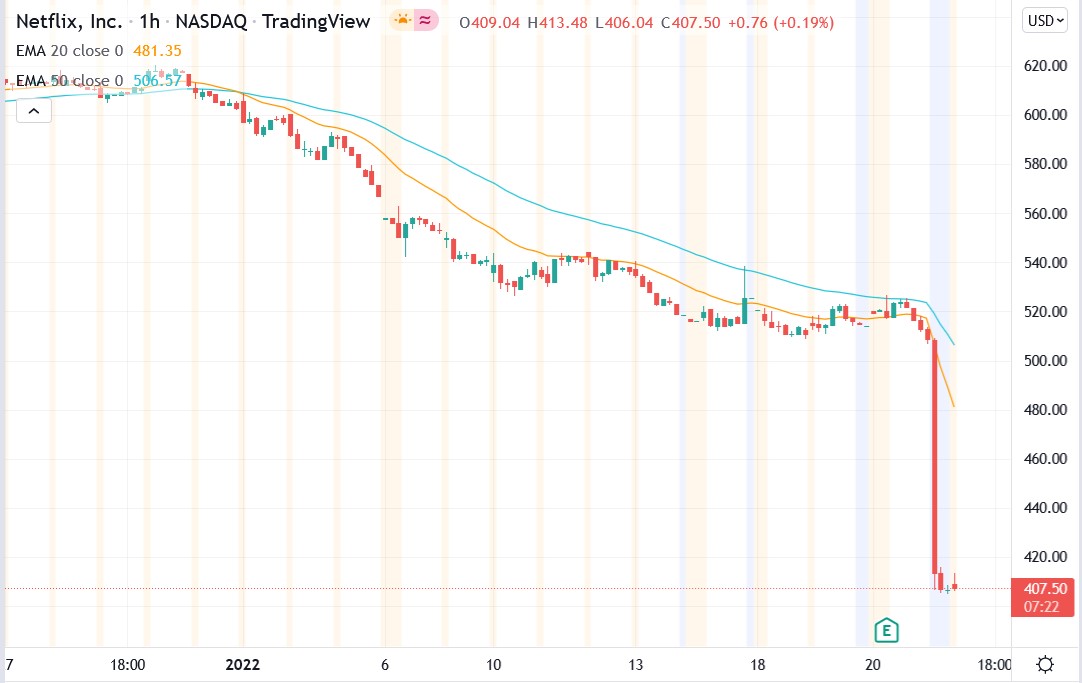 Netflix stock crashed 19.9% premarket to trade at $406.87, falling from Thursday's closing price of $508.25.