Key points:
Ocugen stock has fallen 60.6%in six months amid regulatory delays.
The company is still awaiting the approval of its COVID-19 vaccine in the US.
The firm today appointed a new SVP in charge of its regulatory affairs.
The Ocugen Inc (NASDAQ: OCGN) stock price has fallen 60.6% over the past three months despite recently announcing positive results from its COVID-19 vaccine booster shot.

One of the main reasons behind the selloff is the repeated delays in approving its COVID-19 vaccine known as Covaxin in the US and Canada.
The vaccine has long been delayed without any particular reason, which means that the company cannot sell it within the US and Canada, which are significant markets.
It does not take a rocket scientist to figure out why North American regulators are taking their time approving what could be a potent COVID-19 vaccine for their populations.
Bharat Biotech, Ocugen's Indian partner, developed Covaxin and gave Ocugen the exclusive rights to market the vaccine within North America if it could get regulatory approval.
Since the deal was announced in April 2021, the company has not gotten regulatory approval for Covaxin in the US and has missed out on millions of doses in potential sales.
The company recently announced positive results from a clinical trial of its COVID-19 booster shot that effectively minimised the impact of infections and had no adverse effects on participants.
Before its deal with Bharat Biotech, Ocugen had exclusively focused on creating treatments for eye diseases. As a result, the company generated $45,000 in sales in 2020 but booked a staggering loss of $21.8 million in the same year.
Ocugen is stuck in a difficult position as it awaits the approval of Covaxin in Canada and the US. Still, the total addressable market might have shrunk significantly when the vaccine is approved within North America.
The bio-pharma company may be best served pivoting to other regions where a significant percentage of the population is yet to be vaccinated. The potential sales are higher than in the US and Canada.
Today, Ocugen announced Nirdosh Jagota's appointment as the Senior Vice President in charge of Regulatory Affairs, Compliance & Safety. Jagota has over 30 years of experience in leadership roles within drug development and vaccines.
Jagota has led multi-disciplinary teams spanning over  20 countries and successfully shaped regulatory strategies in multiple therapeutic categories. He has also led the establishment of multiple centers of excellence.
Another suggestion for the company may be to refocus entirely on other promising treatments, maybe from its work on eye treatments, or strike a partnership focused on different treatments that can generate revenues and returns for its shareholders.
*This is not investment advice. Always do your due diligence before making investment decisions.
Ocugen stock price.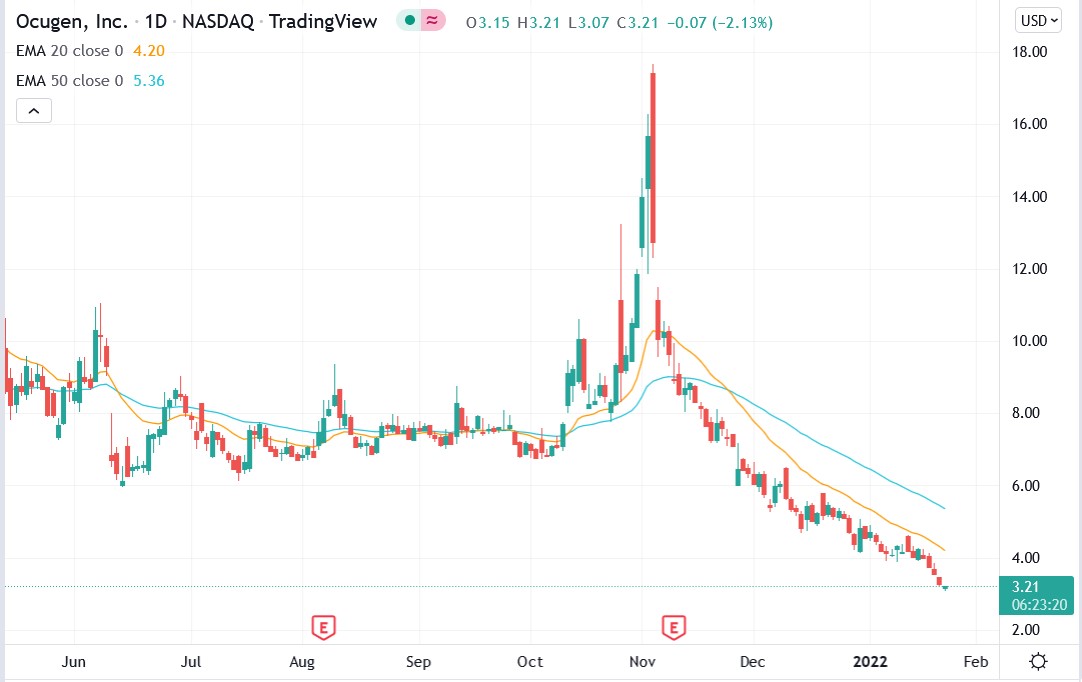 Ocugen stock has fallen 60.58% over the past three months, and some are losing hope. Can the stock recover?