Key Points:

Palantir stock price has fallen 31.2% in the past three months.
Temporary factors have driven the downtrend.
The company's stock chart indicates that the downtrend may be over soon.
Palantir Technologies Inc (NYSE: PLTR) stock price has fallen 31.2% in three months, and many are wondering whether the downtrend is finally over.
Investors watching Palantir's daily chart below will see that the stock is trading near a long term support zone in the $17-$18 range, which is a good sign that the downtrend might be reaching its climax.
Palantir stock has fallen 18.35% in the past month despite releasing positive Q3 earnings results demonstrating that its business is running smoothly as it raised revenue guidance for Q4 to $418 million versus initial estimates of $402 million.
Some of the highlights in the software company's Q3 report include the 103% growth in its commercial business compared to last year and the 46% jump in its customer numbers over Q3 2020.
The firm expects its full-year revenues to come in at $1.53 billion, representing a 40% increase to last year's figures, yet this was not enough to trigger a rally in Palantir's stock price, which kept falling.
One of the critical reasons behind Palantir's stock price decline is its lucrative stock-based compensation (SBC) scheme that saw it issue shares worth $185 million to select investors, which is approximately 47% of its Q3 revenues.
Investors are worried that the software company will keep diluting shareholders for the foreseeable future, explaining the sustained downtrend.
Palantir's generated revenues worth $218 million from its government division, a 34% improvement to last year's figures, but some investors are worried that its business with the government is slowing down.
Lastly, the past month's rotation out of growth stocks has contributed to Palantir's stock selloff. However, all these concerns appear transitory and should not hold back the company's share price over the long term.
Based on the fundamental factors discussed above and the technical analysis of Palantir's daily price chart, it appears that we might be at the tail end of the current downtrend. Therefore, investors interested in owning Palantir stock should find the current prices quite attractive.
*This is not investment advice. Always do your due diligence before making investment decisions.
Palantir stock price.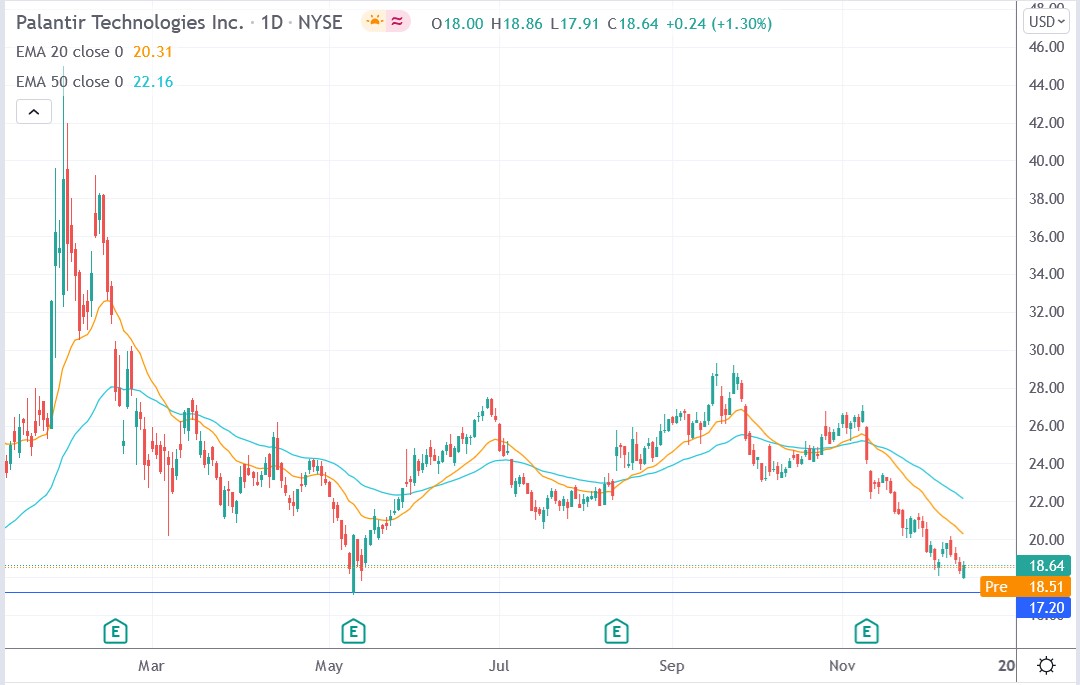 Palantir stock price has fallen 31.17% in the past three months. Is the downtrend over?
Should you invest in Palantir shares?
Tech stocks offer some of the best growth potential, but time and time again, traders and investors ask us "what are the best tech stocks to buy?" You've probably seen shares of companies such as Amazon and Netflix achieve monumental rises in the past few years, but there are still several tech stocks with room for significant gains. Here is our analysts view on the best tech stocks to buy right now.