Paysafe Ltd (NYSE: PSFE) stock fell 38.9% after reporting downbeat Q3 earnings results and downgrading its full-year results.

The online payments company reported adjusted earnings of $106.4 million during the quarter and $353.6 million in revenues, with both figures falling 1% compared to a similar period last year.
Paysafe downgraded its full-year earnings guidance to between $425 million and $435 million, a $60 million drop compared to the higher end of its earlier figures. 
The company further downgraded its revenue expectations to between $1.47 and $1.48 billion, representing a $700 million cut to its previous estimates.
Still, the payments company remains on a growth trajectory, having acquired viafintech, a German fintech company, which operates an extensive bank-independent payments system across Europe through its viacash brand.
The latest acquisition allows Paysafe to expand into critical European markets and position itself as a significant challenger to banks globally.
Some of Paysafe's popular brands include Skrill, Neteller and Paysafe cash. These brands service millions of customers worldwide, and the company is keen to expand its global reach. 
Philip McHugh, Paysafe's CEO, said: "In the third quarter we reported Adjusted EBITDA in line with our expectations, despite softer than expected revenue, reflecting both market and performance challenges within the digital wallet business. While the recent trend will drive an adjusted financial outlook, we continue to see strong momentum across the business."
Adding:
"Our position to win in high growth and disruptive markets including online sports betting and crypto continues to accelerate, coupled with strong delivery against our cost and technology platform targets," 
Today's significant decline may provide an excellent opportunity for long term investors to open new bullish positions in the payments company whose prospects remains very promising. 
*This is not investment advice. Always do your due diligence before making investment decisions. 
Paysafe stock price.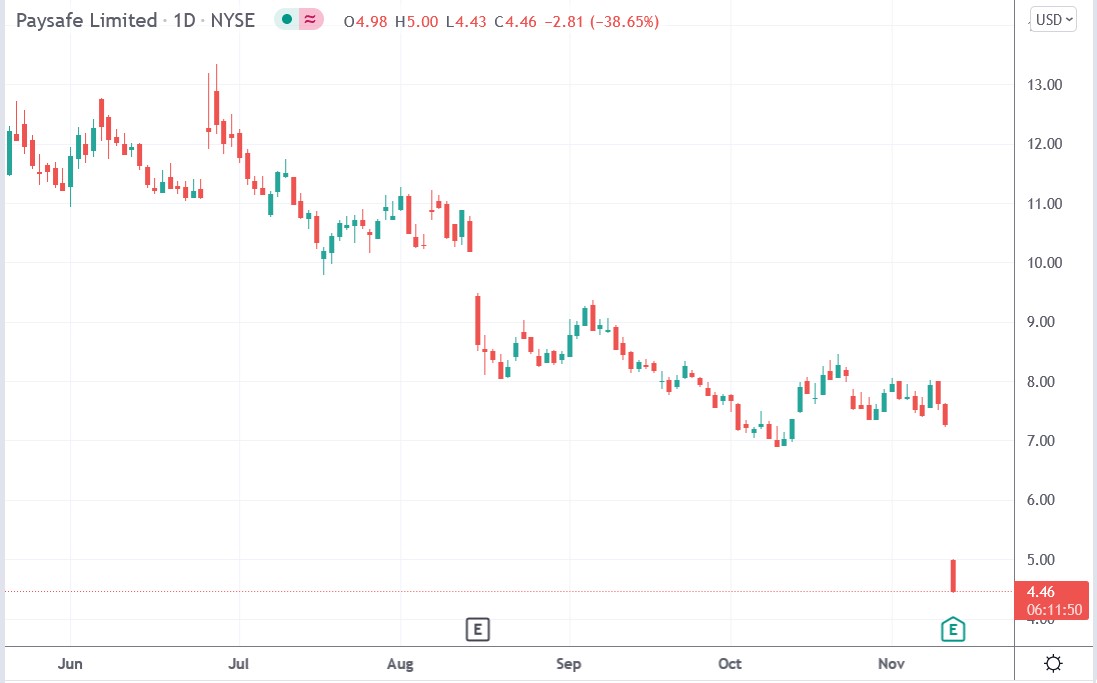 The Paysafe stock price plunged 33% to trade at $4.44, falling from Wednesday's closing price of 47.27.
Should you invest in Paysafe shares?
Tech stocks offer some of the best growth potential, but time and time again, traders and investors ask us "what are the best tech stocks to buy?" You've probably seen shares of companies such as Amazon and Netflix achieve monumental rises in the past few years, but there are still several tech stocks with room for significant gains. Here is our analysts view on the best tech stocks to buy right now.