Key points:
Peloton Interactive stock was up 6% premarket, recouping some losses.
The connected fitness company shares closed down 23.9% on a crucial report.
Peloton's future profitability remains in the balance amid slow demand.
Peloton Interactive Inc (NASDAQ: PTON) stock had risen 6% premarket to recoup some of the losses incurred after a report by CNBC yesterday indicated that the firm was pausing production of its bikes and treadmills.
However, the company came out later to clarify that it had not halted production but was strategically realigning its supply chain to meet the current demand from consumers, which is much lower than the demand experienced at the height of the pandemic.
Reports from earlier this week had indicated that Peloton hired McKinsey to help review its business operations and recommend strategic cost-cutting measures in the post-pandemic period.
Peloton pre-released its Q2 fiscal 2022 results, saying that its revenues and earnings were in line with its previous guidelines, which drove its shares higher during the premarket trading session.
Peloton shares have fallen 84.7% in the past year as demand for its bikes started tapering off in March 2021, and the company reported back-to-back losses compared to the triple-digit revenue growth witnessed in 2020 and early 2021.
The connected fitness company has been struggling to attract new customers and had reduced the prices of its bikes and treadmills to attract more customers, but recently hiked the prices to account for the high inflation in the country.
Analysts at all the major investment banks were quick to cut their price targets on Peloton, with Jason Helfstein, an analyst at Oppenheimer lowering his price target to $40 from $85, citing yesterday's pre-announced weak Q2 net customer additions.
Chris Woronka, an analyst at Deutsche Bank, lowered his price target on Peloton to $42 from $76 but maintained a buy rating on the firm, saying that a letter from CEO John Foley and the pre-announced Q2 results would help reverse some of the selling pressure.
Credit Suisse analyst Kaumil Gajrawala lowered his Peloton price target to $30 from $50 and maintained a neutral rating on the stock. He noted that while the pre-announced results were not bad, there was significant concern about the company's performance in H2 2022.
Peloton initially expected to become profitable in its 2023 financial year. Yet, recent events may make it impossible for the company to cross this crucial milestone from a loss-making entity to a profitable company.
The path ahead for Peloton Interactive is challenging given the stiff competition that has recently emerged, but it remains a market leader, and that counts for something.
*This is not investment advice. Always do your due diligence before making investment decisions.
Peloton stock price.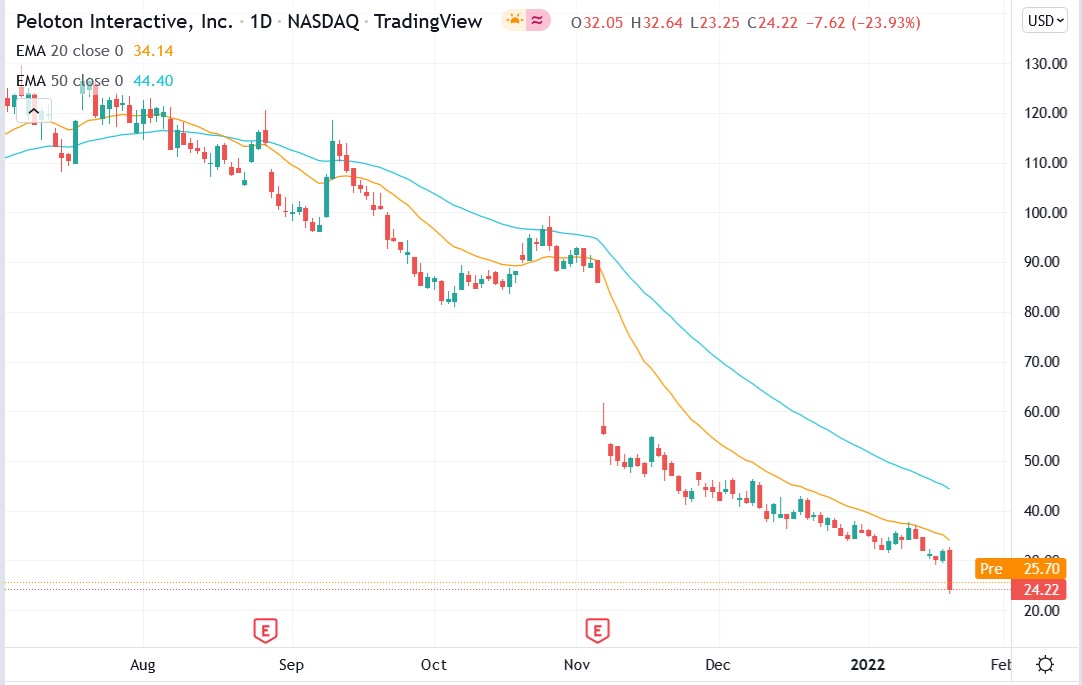 Peloton stock was up 6% premarket after falling 23.9% yesterday after reporting disappointing data.