Pennon Group plc (LON: PNN) share price has fallen 12.26% from its August highs but seems to have bottomed in early October. So should you buy the company's shares?
Firstly, Pennon is a water utility company, which means that it is a defensive stock bought by investors who are keen to hold stocks that pay a dividend and have stable share prices.
The largest group of investors who hold Pennon shares are people with retirement accounts looking to earn a dividend on their portfolios and preserve their capital for the long haul.

Therefore, it is clear that Pennon Group is not a day traders dream stock but presents an excellent opportunity for long-term investors.
Pennon Group sold Viridor, one of its subsidiaries specialising in waste management, recycling and renewable energy, to a consortium led by private equity fund KKR for £3.7 billion. The deal netted the company a £1.7 billion profit. 
Pennon shareholders were rewarded handsomely when the company decided to return up to £1.5 billion to shareholders via a special dividend of 355p per share.
The utility company also acquired Bristol Water for £425 million in cash, acquiring 1.2 million new customers, with the acquisition being earnings accretive from the very beginning.
The firm also intends to buy back some of its shares worth £400 million if it cannot find any other suitable merger and acquisition opportunities going forward.
From a technical analysis perspective, Pennon shares are currently trading below their 50-day and 100-day moving averages, indicating that they are still in a downtrend.
However, the shares are touching the 50-day moving average and could soon break above it, triggering a new medium-term bullish trend. 
Still, a break above the 100-day moving average, which is currently at the 1210p level, would provide a strong signal that a new uptrend has begun.
Short-term traders looking to capitalise on a short term move higher could enter once the shares cross above the 100-day MA and ride the move higher to the 1300p level near its recent highs.
Long term investors could still use the same logic despite their longer investing horizons.
*This is not investment advice. Always do your due diligence before making investment decisions. 
Pennon share price.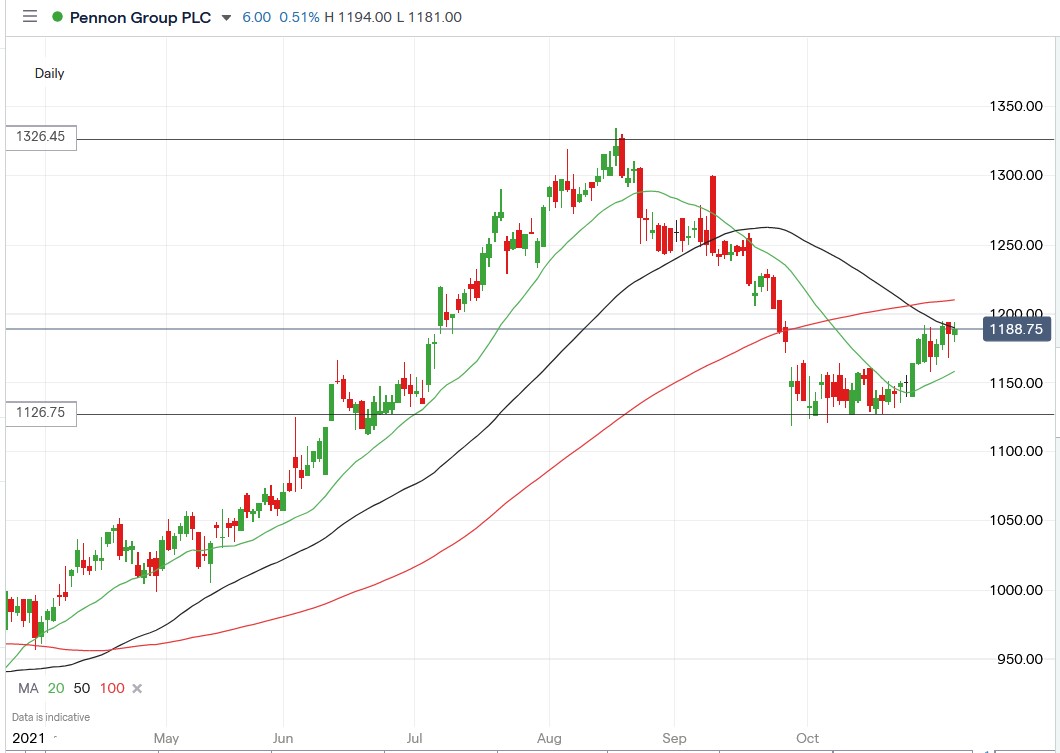 Pennon share price has fallen 12.25% from its August high of 1334.5p to its current price of 1188.75.
Should you invest in Pennon Group shares? If you're a smart investor, you will know that having large-cap stocks in your portfolio is vital. They are more mature companies, considered safer investments, trade with less volatility, have greater analyst coverage, and in most cases, have a steady dividend stream. Due to the current market environment, we think now is the perfect time to add large-cap stocks to your portfolio. But which large-cap shares should you buy? Our stock analysts regularly review the market and share their picks for some of the best large-caps to invest in