Pfizer Inc. (NYSE: PFE) stock price surged 11.3% after data from a large-scale study of ritonavir, one of its antiviral drugs, showed that it could reduce the risk of death or hospitalisation in COVID-19 patients by up to 89% if taken in the early stages.

The data was collected from a phase 2 and 3 clinical study involving 1,219 adults who had contracted COVID-19 but were not hospitalised. Patients who took the drug within three days of detecting COVID-19 symptoms had an 89% lower risk of hospitalization or death than those on a placebo.
Pfizer did the study globally, with 45% of the participants from the US, while 55% were from other countries.
The global pharmaceutical company said it intends to submit the data to the US Food and Drug Administration (FDA) shortly as part of its application for emergency use authorisation for the drug.
Alberta Bourla, Pfizer's CEO, said: "Today's news is a real game-changer in the global efforts to halt the devastation of this pandemic,"
Adding:
"These data suggest that our oral antiviral candidate if approved or authorized by regulatory authorities, has the potential to save patients' lives, reduce the severity of COVID-19 infections, and eliminate up to nine out of 10 hospitalizations."
Ritonavir, also known as Paxlovid, belong to a family of antiviral drugs called protease inhibitors. The drug is administered orally instead of intravenously; hence, patients can take it comfortably at home.
Pfizer's drug shares similarities with Merck's molnupiravir, which is also taken orally and was shown to reduce the risk of hospitalisation and death by approximately 50% in patients with mild-to-moderate COVID-19 symptoms.
Merck's drug, unveiled a month ago, was co-developed with Ridgeback Biotherapeutics and just received authorization from UK regulators yesterday.
Mikael Dolsten, Pfizer's Chief Scientific Officer (CSO), said that the company plans to seek FDA Authorisation later this month. Furthermore, the pharma giant wants to start shipping the drug by the end of 2021, which is quite impressive.
*This is not investment advice.
Pfizer stock price.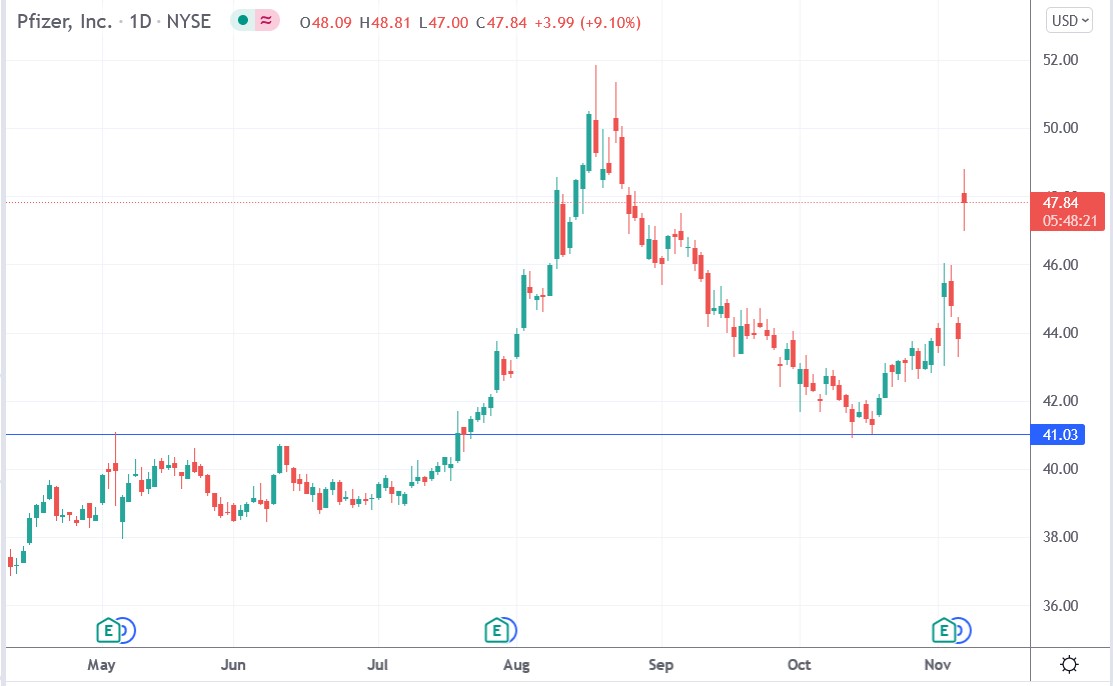 Pfizer stock price surged 11.34% to trade at $48.81, rising from Thursday's closing price of $43.84.
Should you invest in Pfizer Stock?
If you're a smart investor, you will know that having large-cap stocks in your portfolio is vital. They are more mature companies, considered safer investments, trade with less volatility, have greater analyst coverage, and in most cases, have a steady dividend stream. Due to the current market environment, we think now is the perfect time to add large-cap stocks to your portfolio. But which large-cap shares should you buy? Our stock analysts regularly review the market and share their picks for some of the best large-caps to invest in.