Key points:
Playtech shares plunged 15.7% after JKO withdrew its potential offer.
Investors will now have to approve the Aristocrat offer of 680p apiece.
There is a significant chance that shareholders will not approve the deal.
Playtech PLC (LON: PTEC) shares plunged 14.7% after JKO Play, an acquisition vehicle headed by Eddie Jordan, a former Formula1 team principal, pulled out of the race to acquire the company.

Sources familiar with the negotiations said that JKO pulled out of the race to acquire Playtech due to fears that a group of Asian investors who have acquired a 27% stake in the company would block their offer.
Investors were disappointed by the news since many expected JKO to offer 750p per share for Playtech's outstanding shares compared to the 680p being offered by Aristocrat Leisure. Today's decline reflects the prospects of a lower bid than was initially expected.
Playtech's board has recommended that shareholders accept the 680p offer from Aristocrat ahead of a Cout and General meeting scheduled for 2 February 2022.
The company also warned investors that it had been unable to reach a group of investors with a significant stake. Hence, it is not sure that most investors will approve the Aristocrat offer during the meetings.
Playtech's announcement collaborates reports regarding the group of Asian investors with the capacity to block an acquisition deal if they feel it does not reflect the company's accurate valuation.
However, investors will have to wait for the outcome of the two meetings on 2nd February to see if shareholders will block the deal.
Many expect the deal to be rejected by most shareholders since Playtech's shares traded above the 680p offer price from early November up to yesterday when JKO withdrew from the race.
Meanwhile, Playtech will continue offering back-end technology infrastructure to gambling companies such as Entain. As a result, the gambling industry is expected to grow rapidly over the next few years.
Interestingly, JKO will be barred from submitting another bid for Playtech for six months, after which it could submit another offer if Aristocrat's bid is rejected in early February.
Investors interested in owning Playtech shares would be best served to wait for the vote on 2 February 2022 before buying them. If the Aristocrat's bid fails, we could see a significant drop in Playtech shares.
However, I believe another bidder will quickly step up to acquire the company, with UK stocks being regarded as much cheaper than their US counterparts. Still, the group of Asian investors should clarify their position since they are a major stumbling block for most bidders.
*This is not investment advice. Always do your due diligence before making investment decisions.
Playtech share price.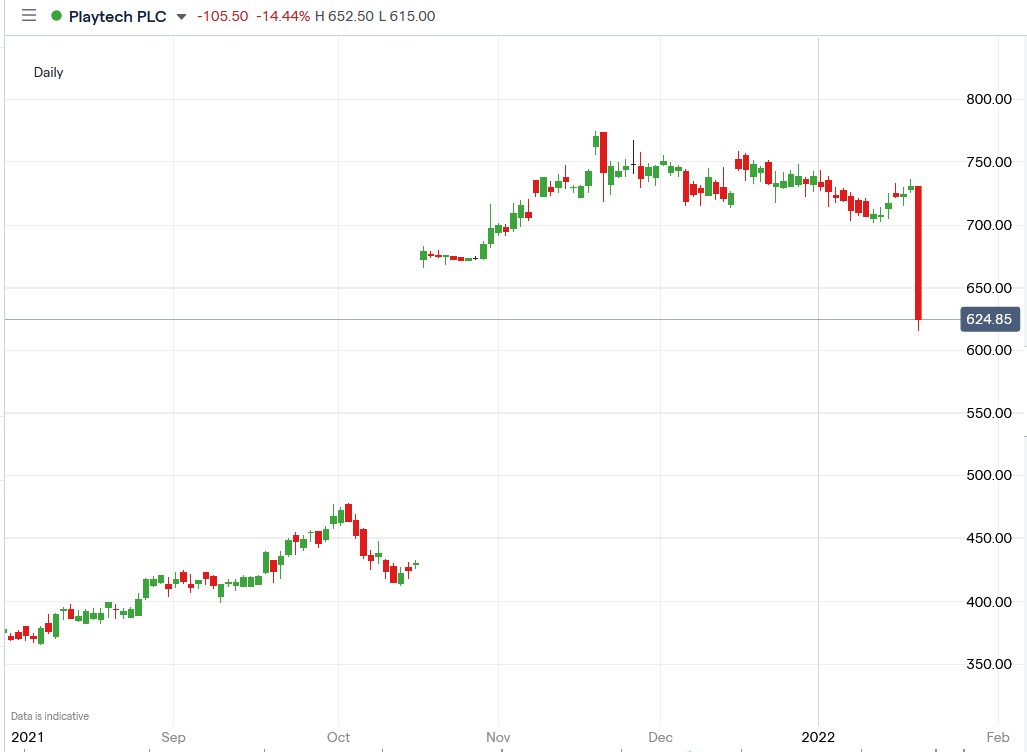 Playtech shares crashed 15.7% to trade at 615.40p, falling from Thursday's closing price of 730.25p.