The video game industry is one of the fastest-growing in the world, with a projected market value of over $200 billion by 2023. The emergence of social networks, smartphones and tablets has expanded its reach beyond traditional video game consoles and, in the process, helped to create a new generation of gamers.
With the industry continuing to go from strength-to-strength, is now a good time to start investing? In this guide, we'll cover everything you need to know about video game stocks, including:

Why Invest in Video Game Stocks?
The video game industry is rising at a rapid pace, and as lockdown restrictions were put in place across the globe, the industry has benefitted further.
So here's why you should consider investing in video game stocks:
The industry is undergoing rapid change and is currently worth approximately $60.4 billion in the US alone.
According to Research and Markets, the global gaming industry is expected to have a Compound Annual Growth Rate (CAGR) of 12% between 2020 and 2025.
There has been a significant rise in virtual gaming or esports tournaments with Allied Esports (NASDAQ: AESE) recently seeing its unique viewers rise to 1.7 million for the CS:GO Legend Series tournament in September.
There is expected to be a rapid rise in immersive gaming (virtual reality) with players forecasted to spend $4.5 billion in the immersive gaming sector in 2020.
Similar to the point above, the technology in the gaming industry is continuously evolving, which means consumers will regularly be purchasing new products to keep the industry growing.
Source: Newzoo Consumer Research
Best Gaming Stocks to Buy Right Now
Some of the best game stocks to buy right now are:
1. Electronic Arts (EA)
Now, I usually prefer stocks that look heavily discounted or have had a sharp move lower for an arbitrary reason. Essentially I like to invest in cheap video game stocks…
However, when taking a look at the current price of Electronic Arts (NASDAQ: EA) shares and what's on the horizon for the company, I believe there is a lot of upside potential, even though it is up this year.
Its share price currently sits at $119.83, down 15% in the last three months: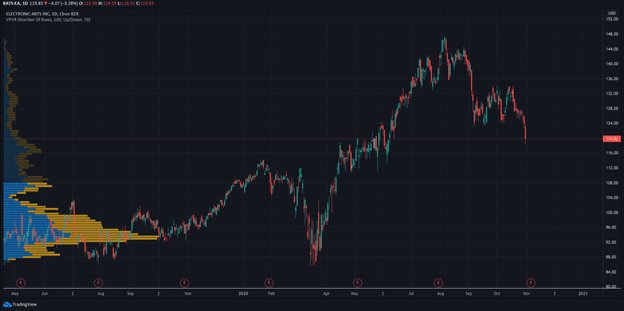 The company has the strongest sports gaming franchises under its banner with names including Fifa, UFC and Madden NFL.
Madden NFL is the best selling sports franchise in the US, while Fifa 21, which was released recently, saw 2.3 million players on EA Play within the first few days of its release. While Fifa 21's physical sales fell 42%, its online downloads rose 37%.
Now, we have to assume that the above information is already taken into account regarding its share price. Still, we should also consider that November 10th sees the launch of the new Xbox, while the Playstation 5 is set to be released on the 12th of November, meaning there will be some consumers waiting until its release so they can then purchase games such as the new Fifa.
With the rise in esports teams and tournaments, EA is sure to be at the forefront, considering the titles it holds. The company also owns the gaming right to Sims, Star Wars, and Need for Speed.
The company is releasing its next earnings report on the 5th of November.
A survey of 14 analysts surveyed by TipRanks has set a medium price target of $153 per share, and given my own analysis, I do agree with them.
2. Activision Blizzard
Another well-known gaming company, Activision Blizzard (NASDAQ: ATVI) shares are currently trading at $75.73, down 10.69% in the last three months, but up 27.45% overall for the year to date.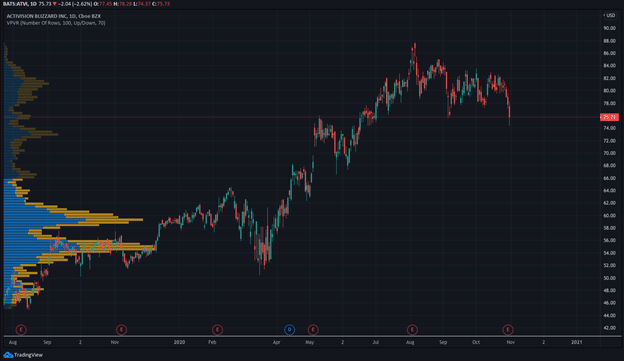 The company is behind games such as Call of Duty and Crash Bandicoot, and they have traditionally made games for consoles and PC…
Call of Duty: Modern Warfare saw three times the amount of monthly active users compared to the previous year, and it's premium game sales are the highest in the history of the game.
But, it is their move into mobile-based games which provides a more exciting outlook. The company released Call of Duty: Mobile, which was a success judging by the increase of 31% in monthly active users.
It was also the highest-grossing new game in US app stores since its launch last October and is now in the final stages of extensive testing in China where over 50 million players have pre-registered to date.
Activision is also behind the hugely successful Candy Crush game.
Finally, Activision Blizzard has recently released a new Crash Bandicoot game that has received positive reviews from websites and Twitch streamers alike.
Despite its share price falling due to concerns about its Q4 guidance, there has been a positive shift and focus on mobile gaming. There is set to be a new Call of Duty released on the 13th of November, and I feel Activision Blizzard is one to watch.
3. Wedbush ETFMG Video Game Tech ETF (NYSE: GAMR)
For our final pick, we are changing it up slightly and going with a video game stock ETF.
With the overall industry having such enormous growth potential, it makes sense to invest in a fund that holds 89 gaming stocks.
It is currently trading at $66.14, up 2.91% in the last three months and 48% for the year to date.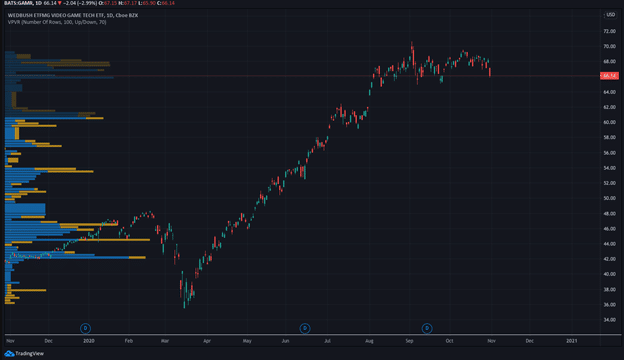 GAMR tracks an equity index of companies worldwide that support, create or use video games.
Approximately 26% of the fund is made up of stocks from the US, with 19% from Japan and the rest made up of stocks from various countries and areas of the gaming industry worldwide.
Its top three holdings are Corsair Gaming, Unity Software and GREE Inc.
The potential for long term expansion in the gaming industry means that I see GAMR as an excellent opportunity to capitalise. Esports tournaments and events are just getting started, and there is still a potential rise in immersive gaming, meaning that GAMR is an ETF to watch.
---
How to Buy Video Game Stocks
Buying video games stock is an easy and straightforward process. Firstly, you will need to have an account with a broker, but if you don't already, you can check out our reviews of the top-rated stockbrokers here.
Once you have an account, the next thing you will need to do is sign in to the platform and search for the stock you want to buy. One important point to note is that if you are trading CFDs, you won't be buying the underlying asset, so you will need to make sure you have the correct account to do so.
Once you have found the stock you are looking for, you will need to fill in the details regarding how many shares you want to purchase and then click the 'buy' or 'submit' button.
Best Brokers to buy Video Game Stocks:
eToro:
68% of retail CFD accounts lose money
Take a look
If you are ready to add some video game stocks to your portfolio you'll need a broker that is regulated, has low fees and a user-friendly platform. Finding one can be a daunting task, which is why we've selected some of our favourites that tick all of these boxes to help you get started.
How COVID-19 Impacted the Gaming Industry
Unsurprisingly the COVID-19 pandemic and subsequent lockdowns that took place globally only helped the gaming industry grow its user base and sales.
The number of players increased as people looked for ways to stay entertained while off work or school.
However, some companies saw games releases delayed due to the issues of remote working. Developing games while employees are working from home was a difficulty that gaming companies have had to overcome.
There were other issues too, such as the manufacturing of consoles. But, these are all problems that can, and for the most part, have been overcome, and we see the industry continuing its strong momentum throughout this year.
Desktop vs Mobile – Which Video Game Company Stocks Have the Brightest Future
Several mobile and desktop companies deserve mention here, and some that could have been included in our top three picks, but, of course, I couldn't write about them all, so here is a couple that has also stood out.
Glu Mobile, (NASDAQ: GLUU) is a developer of free mobile games and has names such as Disney's Sorcerer's Arena and Kim Kardashian Hollywood under its banner. Its shares are currently priced at $7.16, having fallen 26.94% in the past three months. Analysts surveyed by TipRanks have set a medium price target of $10.70 on the stock, representing a potential 49% upside. Whilst they are not an immediate pick, it is a company to keep an eye on.
Another company to look out for is Take-Two Interactive. Its shares are trading at $154.92 and are down 7% in the last three months. But, with several great titles under its banner, including GTA and Red Dead Redemption and its consistent performance over the years, it is another stock that will surely rise as the industry continues to flourish.
How Will Upcoming Games Influence Stocks of Major Companies
New games, or the lack of, can influence a company's stock price. If a new game has a significant build-up and is highly anticipated, it provides an idea of how well it will sell. Therefore, investors may choose to buy shares in the owner of the game in the belief that its sales and downloads will do well.
On the other hand, if a games release date is pushed back after it has been hotly anticipated, this can cause investors to worry and could result in a fall in the company's share price.
Just take a look at Ubisoft who had initially planned to launch five video games this year.
The company revealed that it had to delay the release of two of the games due to the coronavirus pandemic, and was one of the reasons for a 7% fall in Ubisoft shares.
However, assessing Ubisoft's share price in the days after its new game Assassin's Creed: Valhalla (set for release on the 10th of November) was announced, back at the end of April, we can see it gained just under €6 per share.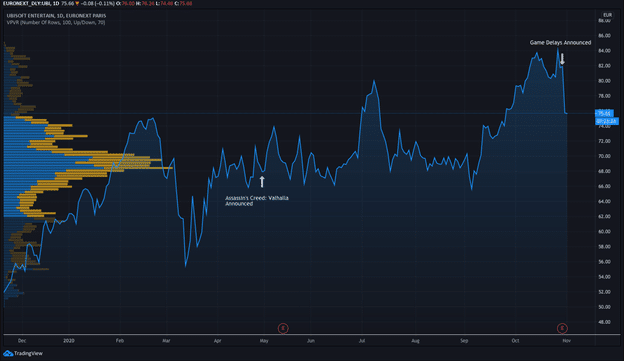 Another game we have to mention is Cyberpunk 2077, purely because of the amount of anticipation there is for its release.
The game was first announced by its creator CD Projekt Red in 2012 and was expected this year. However, due to the coronavirus pandemic and the complexities of employees working from home, it has been delayed three times in 2020.
If we take a look at the chart below, we can see that after the latest announcement that the game will be delayed, CD Projekt Red's share price gapped down the next day and closed over 9% lower on the day.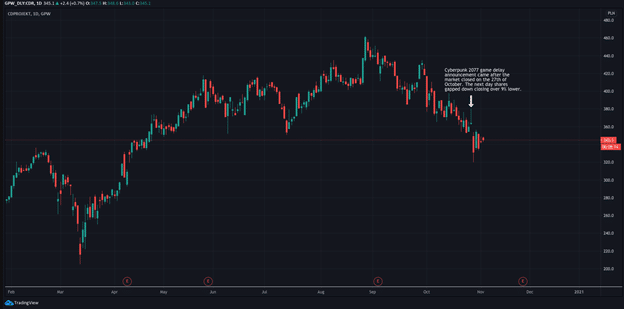 So as you can see, games, and their releases, can play a significant role in the movement of share prices.
Summary
The video game industry is an exciting one, especially when we consider that new technology such as immersive gaming is yet to be perfected and is still to reach its peak.
Remember, if you are going to invest in gaming stocks, it is vital that you manage your risk and diversify your investment portfolio.
If you want to keep up to date with the latest stock market news, you can do so by clicking here.
PEOPLE WHO READ THIS ALSO VIEWED: