Key points:
PREM shares have fallen 5.26% since the year started despite positive progress.
The lithium miner recently announced the arrival of a drill rig at its FPO site.
The company is set to benefit from surging demand for lithium from EV manufacturers.
The Premier African Minerals Ltd (LON: PREM) share price has fallen 5.26% since the year started as investors took profits following the December rally. As a result, many wonder what comes next for the lithium mining company?

Well, there is good news for PREM investors, given that the company posted earlier this week on social media that a drill rig had arrived as its exclusive prospecting order (EPO) and was ready to begging exploratory drilling.
The arrival of the drill rig marks a crucial milestone for the company, which can now start prospecting for lithium deposits on the EPO site. However, it appears the markets did not think that the move was quite significant.
Well, the start of the maiden drilling campaign is just the first step in a long road towards the beginning of commercial mining operations since companies usually conduct multiple drilling campaigns to ascertain the actual deposits before embarking on actual mining.
Premier African Minerals still has a long way to go before starting producing lithium on a commercial scale, which explains the slight dip in its share price.
On a positive note, the company is set to benefit from skyrocketing demand for lithium from vehicle manufacturers, increasing the production of electric vehicles in line with government targets towards eliminating internal combustion engines.
The trend will last for many decades as all car manufacturers unveil new electric vehicle models that need lithium-ion batteries to store the electric charge used to power such vehicles.
George Roach, Premier African Minerals CEO, said: "2021 was a year of activity that has set the foundation for a fully charged 2022. Drilling within the originally defined Zulu Lithium deposit has exceeded 5000 meters, including a large-diameter core, sent for Metallurgical testing. Our team on the ground have been hard at work and will strive to continue to deliver shareholder value."
Adding:
"Shareholders and investors can expect to receive metallurgical test work, expansion on the known resource identification of new mineralized zones and the completion of Zulu Lithium DFS. There is no doubt that 2022 is going to be a busy and exciting year for Premier Shareholders!"
Meanwhile, PREM shares look attractive despite rising over 300% in 2021. Moreover, there are more gains in store for investors going forward, given that PREM shares are trading for pennies.
*This is not investment advice. Always do your due diligence before making investment decisions.
PREM share price.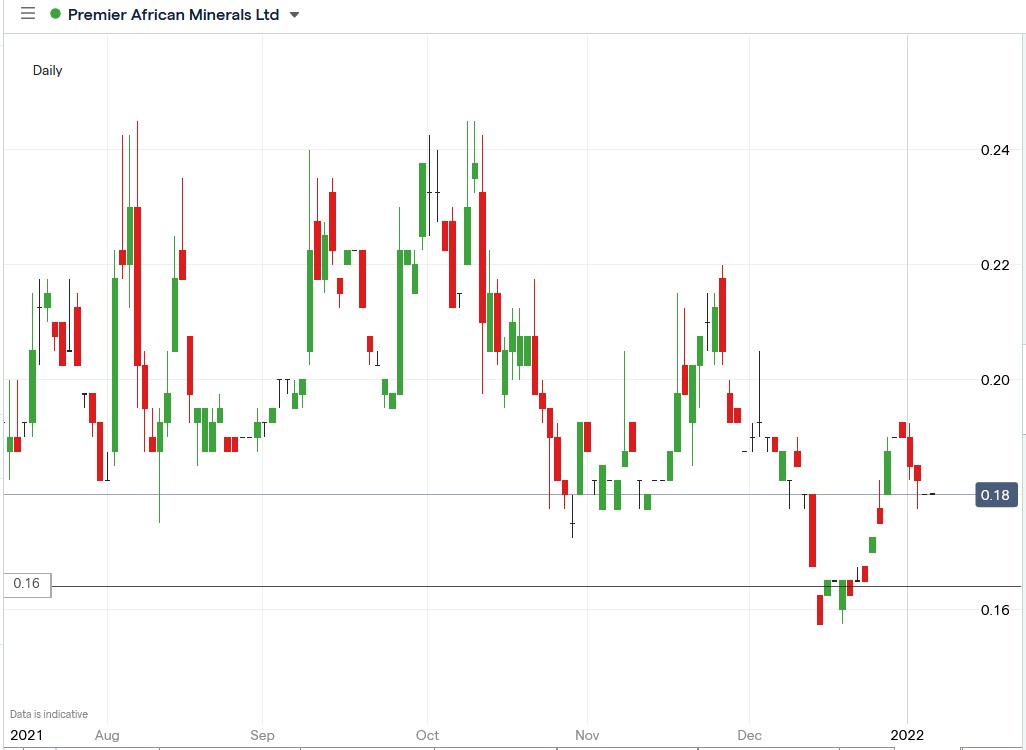 PREM shares have fallen 5.26% from their opening price of 0.19p on 4 January 2022 to their current price of 0.18p.