Lithium Americas Corporation, for example, saw its share price rise by more than 900% between March 2020 and January 2021. There may be bumps in the road, it is a high risk-return proposition, but this report will pick out some of the best lithium and lithium mining stocks in the market. It will then outline some safety guidelines that can help you try and tip the scales in your favour when you set up an account with an online broker.
Lithium Americas Corporation – Share Price Chart 2019 – 2021
Source: IG

Best Lithium & Lithium Mining Stocks
1. Lithium Americas Corporation (NYSE: LAC)
Lithium Americas Corporation (LAC) is one of the established players in the sector. It has a market capitalisation of CAD$ 3.7bn and owns reserves in Nevada and Argentina. With many of the world's natural lithium resources located in South America, the firm's foothold in North American lithium supply offers it some insurance against possible geopolitical risk.
The firm reported a loss of $6.5m or 7 cents per share in Q3 of 2020, and the balance sheet highlights how even big players in the sector have to be considered for their potential rather than actual returns.
Lithium Americas Corporation – Balance Sheet 2015 – 2021
Source: IG
It is, though, given a 'buy' rating by analysts, and there are potential rewards for those able to ride out the ups and downs of the share price.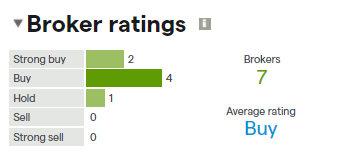 Source: IG
The +900% share price growth, which peaked in January 2021, was followed by the price of LAC stock halving in value in the space of just four months. Such price swings are typical in the lithium market, so investment strategies need to consider risk management.
Lithium Americas Corporation – Share Price Chart 2021
Source: IG
Highlights from the H1 financial results for 2021 include:
Net loss before extraordinary items increased 52% to $29.3m.
Higher net loss reflects Finance costs increase from $0 to $5.3m.
Share of loss of Cauchari-Olaroz project increase from $0 to $1.1m.
Office and administration increase from $585K to $1.4m.(Source:IG)
2. Brazil Minerals Inc (BMIX)
If you feel you missed the boat with LAC and are looking around for the next big thing, then Brazil Minerals Inc is the name on many shortlists. The firm is tiny compared to some of its peers, and the penny stock literally can be bought for cents rather than dollars. It has a market capitalisation in the region of $25m and annual revenues of only $17.8k.
LAC and BIMX sit at opposite ends of the spectrum of lithium mining firms and illustrate the range of investment opportunities and, it must be said, the 'Wild West' undertones of the sector.
Brazil Minerals Inc – 1Yr Share Price Chart
Source: Nasdaq
The share price surged earlier this year when the firm announced it had secured two further licences. As a result, it plans to expand its operations in the northeast part of the state of Minas Gerais in Brazil. The site benefits from being home to an exceptionally pure form of lithium and other rare metals.
Any shareholders who held positions before that announcement will be sitting on a healthy profit, but those who chased the good news story will be posting losses as the share price soon fell away.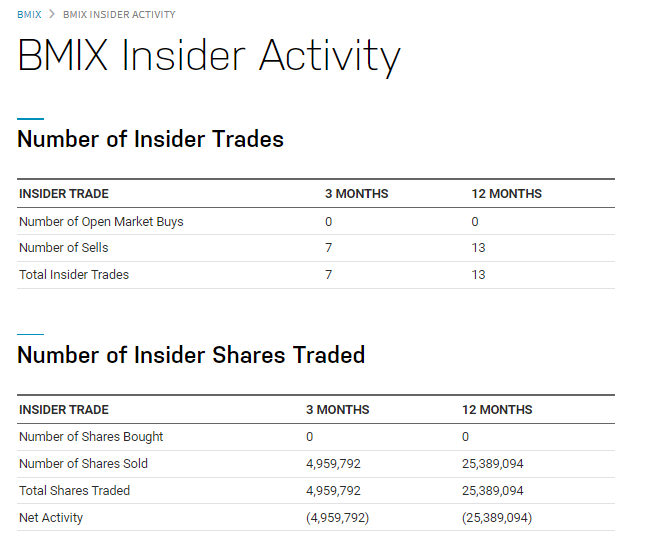 Source: Nasdaq
Is this a dip to buy? A glance at the insider dealings for the stock suggests not, or possibly more accurately, not yet. Officers of the firm have in the last 12 months sold some of their holdings on 13 occasions. During the previous three months, a total of seven sales have been registered. It's no surprise that the management may want to lock in some of the gains, but those looking to buy Brazil Minerals Inc may want to wait until the guys at the top start repurchasing their own stock.
3. Albemarle (ALB)
US-based miner Albemarle brings the shortlist of Lithium stocks back towards large-cap operators. The firm has a market capitalisation of $25.3bn, generates a dividend yield of 0.697% and has operating profit margins above 20%.
Albemarle – Fundamentals

Source: IG
Albemarle is less of a hit and hope proposition than some lithium stocks, but the P/E ratio of 52.16 demonstrates many investors have already bought into the stock. As the price chart shows, ALB stock has skyrocketed from $48 to $230 in the space of 18 months.
Albemarle – Share Price Chart 2020 – 21
Source: IG
Albemarle is one of the largest providers of lithium batteries that power electric vehicles. It offers some technical diversification thanks to it producing both types of lithium carbonate and hydroxide. Risk is further spread by the firm supplying more than 100 lithium-based products for a range of other industries, and it also runs significant bromine manufacturing operations.
Highlights from the H1 financial results for 2021 include:
Revenues increased 7% to $1.6bn.
Net income increased from $192.8m to $520.3m.
Revenues reflect Bromine Specialties segment increase of 21% to $560.2m
Lithium and Advanced Materials segment increase of 15% to $599.3m.
Net income benefited from Interest and financing expenses – Balance decrease of 39% to $20.5m (fee).(Source: IG)
Broker ratings are relatively mixed. This appears to be more to do with the current valuation and risks that the firm is overpriced rather than whether it is a good long term prospect for lithium investors. A price dip would likely attract a lot of attention, but the gradient of the price chart suggests that it may be some time before one of those materialises.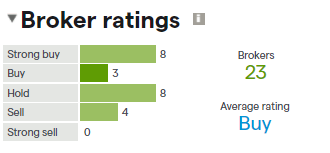 Source: IG
4. Sociedad Química y Minera de Chile (SQM)
One of the most direct plays on the price of lithium is Sociedad Química y Minera de Chile (SQM). Whereas some stocks in the sector are involved in processing, recycling or enhancing lithium or lithium related materials, SQM is all about lithium reserves. The firm was founded in 1968 and has licences to operate in Chile's much sought after area, the Atacama Desert.
SQM has exclusive access to the world's best and most extensive reserves of caliche ore and brines. The Atacama also holds reserves of iodine and nitrate and the highest concentrations of lithium and potassium on record.
SQM – Share Price Chart 2019 – 21
Source: IG
Lithium in its natural form is found mainly in compounds, such as seawater, and in most cases, extraction is economically unviable. Unless extraction methods experience a great leap forward, SQM looks set to benefit from having access to some of the prime lithium resources in the country with the world's largest known reserves.
SQM – Balance Sheet & Fundamentals

Source: IG

Source: IG
Highlights from the H1 financial results for 2021 include:
Sociedad Quimica y Minera de Chile (ADR) revenues increased 31% to $1.12bn
Net income increased 65% to $157.8m
Revenues reflect Lithium and Derivatives segment increase of 97% to $298.3m
Specialty Plant Nutrients segment increase of 18% to $411.2m
Asia and Other segment increase of 48% to $442.4m
North America segment increase of 15% to $266.4m.
Source: IG
5. Westwater Resources Inc (WWR)
Clean energy relies on more than just lithium. Another key ingredient for the batteries which power EVs and hand-held computer devices is graphite. There is some similarity in the way that sourcing a secure long-term supply of both lithium and graphite has crossed over into the political sphere.
Alabama-based Westwater Resources offers a home-sourced supply of graphite for the American market, and the firm's stock price skyrocketed in September 2020 following a decree from the White House. With politicians willing to use the force of law to "reduce the Nation's vulnerability to disruptions in the supply of critical minerals" (source: Federal Register). The Westwater stock price surged by 656% in the space of 13 days.
Westwater Resources Inc – Share Price Chart 2020 – 2021
Source: IG
The subsequent price crash highlights how basing investment decisions on political initiatives can be a costly as well as a profitable experience. Those still holding positions also need to contend with increasing concerns about the pollution associated with graphite extraction. Regulatory measures to limit the ecological damage of graphite mining appear to be set to increase in scale, and that would add extra costs to an already stretched balance sheet.
Westwater Resources Balance Sheet 2015 – 2021
Source: IG
Highlights from the H1 financial results for 2021 include:
Net loss before extraordinary items increased from $3.6m to $8.9m.
Higher net loss reflects product development expenses increase from $301k to $3.9m
General and administrative expenses increased from $96k (income) to $1.2m (expense)
Arbitration costs increase from $697k to $1.5m (expense).
Westwater attracts a lot of attention, but not necessarily for the right reasons. Investing in a 'green energy' firm that causes ecological damage is as potentially financially damaging as it is ironic. The balance sheet and share price aren't doing enough to counteract the potential downside, so there is no need to 'hold your nose' and buy into Westwater; better alternatives are available.
6. American Battery Metals Corp (ABML)
Another penny stock and a high risk-return proposition is American Battery Metals Corp. In the 12 months up to the 30th of September, the stock price traded between 16c and $3.98. Currently trading in the region of $1.3, it has, like many of its peers, fallen away in value since the excitement earlier in the year but settled into a price consolidation pattern at a lower level.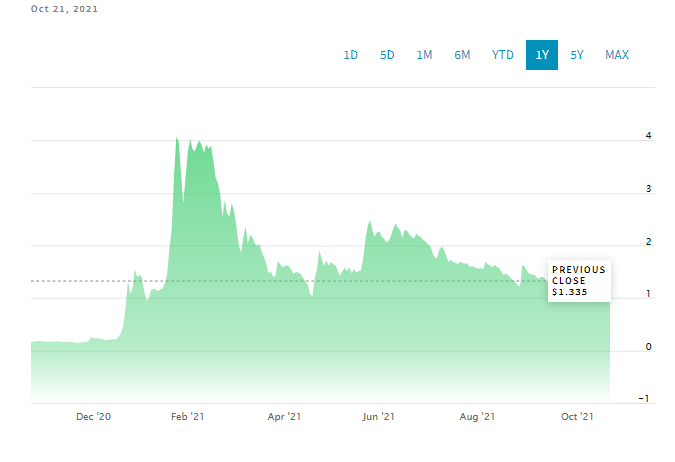 Source: Nasdaq
At face value, ABML looks like a less direct way to trade the lithium market. It's a recycler of old batteries, so it doesn't suffer the extreme price moves associated with the hit and miss nature of speculative mining exploration.
However, it is positioned to benefit from the projected surge in global demand for lithium, and there is also a kicker. The firm is trialling projects to use the extraction techniques associated with recycling to enhance the processes of extracting raw lithium from the ground. The aim is to introduce sustainable and cost-effective recovery of battery-grade lithium products from brine, claystone, hard rock and other sources
How to Buy Lithium & Lithium Mining Stocks
The good news is that there are plenty of trusted brokers in operation, and they are all competing for new business by offering a range of services designed to appeal to traders and investors. Some of the processes involved are generic, and there are five simple steps to follow to set up a trading account and start buying Lithium stocks.
1. Choose a Broker
A revolution in the finance sector has seen trading and investment go digital. The account opening and trading processes are all carried out online, dramatically reducing the workload associated with getting up and running and trading lithium stocks. This move has also driven down costs and put control into the hands of account holders. It has also resulted in many new brokers setting up, so how to go about finding the best-fit broker is an essential first step on a trading journey.
Differentiating between brokers can come down to fine margins, for example, whether you prioritise 24/7 customer service or trade execution speeds. Before you get into the final stages of broker selection, the first task is to check if the brokers on your shortlist are safe.
How to Choose a Safe Broker
There's nothing more disappointing than making a profit on a trade if you signed up with an unregulated scam broker. That will mean you don't get your profits paid out, and you'll likely lose your initial deposit.
Financial regulators that oversee the markets and provide licences to firms help provide an answer to that problem. They authorise and monitor companies that meet specific criteria and apply to be licensed.
The US financial market is overseen by various Tier-1 authorities, which set the gold standard in regulatory compliance. By choosing a broker licensed by one of the below highly regarded regulators, you are taking the first step towards trading safely.
Tier-1 US Regulators
The U.S. Securities and Exchange Commission (SEC)
Commodities Futures Trading Commission (CFTC)
National Futures Association (NFA)
Tier-1 International Regulators
The Financial Conduct Authority (FCA)
The Australian Securities and Investments Commission (ASIC)
Cyprus Securities and Exchange Commission (CySEC)
The exact terms and conditions of regulatory protection vary from individual to individual but are broadly based on country of domicile and citizenship. What is important is that to comply with the licence terms of regulators, brokers are required to pass a series of tests. These range from demonstrating they hold enough cash to be viable to having client funds in segregated accounts. There is also a need for independent audits of their operations and to provide regulators with reports on client safety protocols. More information on the regulatory pros and cons of different brokers can be found here.
Picking a regulated broker is a good step towards safer trading, but market risk, the risk of the market moving against you, is unavoidable. One way to manage that situation is to use a Demo account where virtual trades can be put on and closed out in a risk-free environment. They are also a safe way of trying out a broker to see if it's a good fit for your trading style.
Opening a Demo account requires little more than providing an email address, and in return, you'll get to try out the full functionality of the platform and trade using virtual funds.
2. Open and Fund an Account
Upgrading from a demo account to a live one or simply signing up for a live account from scratch is done online. The onboarding process is relatively generic across the different regulated brokers. It involves a series of prompts and questions so the broker can identify you and build up a client profile.
The KYC (Know Your Client) information that has to be shared will help ensure you and only you have access to your account. The time taken to complete the process varies but at some brokers can be completed in a matter of minutes.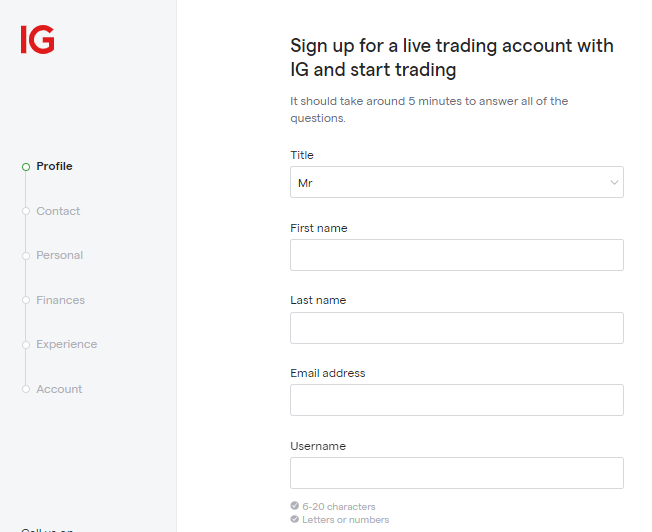 Source: IG
Once your account is set up, it's a case of simply funding your account by wiring funds. There is a wide range of payment processing options that can be used. The simplest and fastest methods have traditionally been debit or credit card payments, typically associated with immediate transfer of funds. Other payment services and, in particular, e-payments are increasingly popular, but whichever one you use, you'll find the process is designed to get you trading as fast as possible.
3. Open an Order Ticket and Set Your Position Size
Once set up on the platform, it's a case of locating the lithium and lithium mining stocks your research identified. You can do this by using the search function or filtering by sector.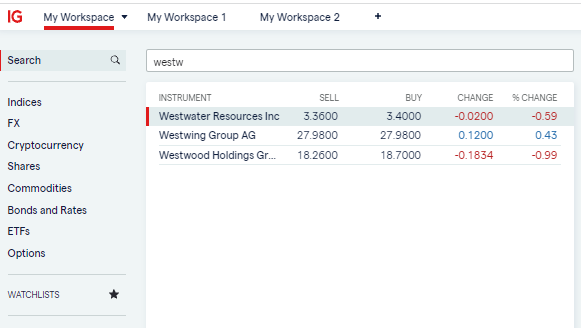 Source: IG
Each stock will have a dashboard that includes price charts, the latest news and company information. Entering the number of shares you want to buy into the appropriate data fields is the next step.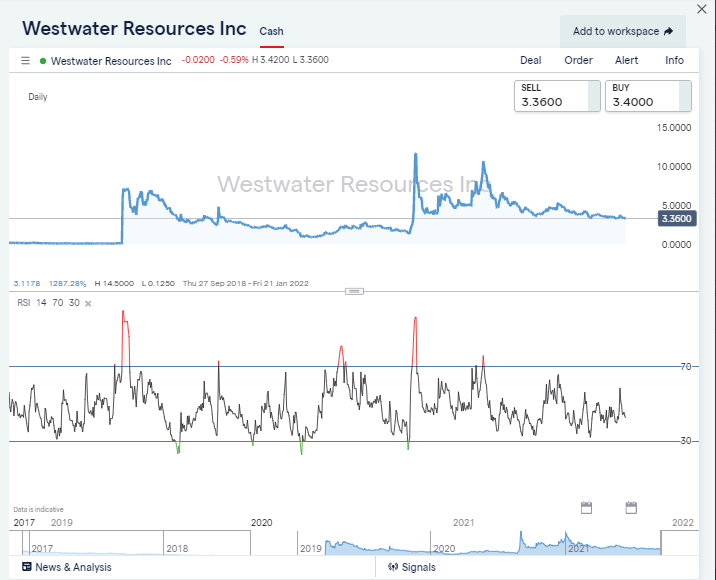 Source: IG
As stock exchanges have set trading hours, you will need to trade while the exchange is open or set a limit order, a binding contract to buy at a certain price when the market next opens. Getting 'filled' on a limit order does require market price to reach the level you stipulate, so it can lead to severe cases of FOMO.
4. Set Your Stops & Limits
Stop Loss instructions and Take Profit orders are risk-management tools built into the trading system. They instruct positions to be partially or fully closed out if price reaches a certain level.
Stop-losses come into play if price moves against you. They prevent loss-making positions from making further losses. Take profits, work in the other direction and lock in gains should the price of your lithium stock suddenly skyrocket.
Some buy-and-hold investors investing for the long haul don't use stop losses and take profit orders. They take the view that a short-term price crash might be something they want to ride out. If it's caused by a 'flash crash' or similar market outage, it could close out their position at a loss for price to recover back to normal levels soon after.
They might also consider take profit orders as putting an unnecessary cap on potential gains. Use of them comes down to individual appetite for risk-reward. Still, other risk management techniques such as portfolio diversification and trading in small sizes can be handy in a market such as lithium shares where single stock risk is a potential hazard.
5. Make Your Purchase
Once everything's been checked, it's simply a case of clicking or tapping 'Buy'. This can be done using a hand-held as well as a desktop device. Monitoring the performance of your lithium stocks can also be done on the move.
At the time of purchase, the cash balance in your account decreases, and in return, you will be credited with holding a lithium stock position. Live market prices will determine the value, and you'll be able to monitor the P&L (profit and loss) by accessing the Portfolio section of the platform. That is also the part of the site you access when you want to sell up some of your position. The process for selling is very similar to buying, just in reverse, so your stock holding goes to zero, and you receive a cash credit in return which is a function of market price at the time of sale.
It is essential at this stage to run some final checks. The online systems are reliable enough, but human error can come into play. 'Fat finger' errors are easy to make, and even experienced traders check the portfolio section of their account soon after trading to spot any mistakes. These are best rectified before prices move too far from where they were when you traded.
Summary
Most of the work associated with building a lithium and lithium mining stocks portfolio involves working through trade ideas and research notes. There is a lot of freely available information to be found online, and good brokers also have specialist analyst reports on offer. The aim is to incorporate the principles of technical analysis and fundamental analysis into your strategies to help tip the scales in your favour.
As lithium and lithium mining stocks are a hot topic at the moment, there is also a lot of 'chatter' about them on social media channels. While it might not be wise to base investment decisions on internet sourced ideas of strangers, keeping up to date with the market's mood is important.
Choosing a regulated broker is essential and fine-tuning your shortlist will primarily come down to personal preference. There may be features that suit your trading style or appealing T&Cs on offer. Depending on your investment time horizon, once your trade is booked, you may find that the post-trade experience has a wait-and-see feel. However, some brokers offer price alerts so you can let their system do some of the work associated with monitoring prices.
The excitement in the lithium sector makes it worth considering getting involved, but the basic investment principles still apply. Spreading capital allocation across a range of lithium stock names can improve your chances of finding the best lithium stocks and of holding a position in one which takes off spectacularly.