Lithium's vital role in the global shift to renewable energy means that projected growth figures for the industry are eye-watering. In 2020 the global lithium market was valued at $2.7bn; just one year later, it had grown to $4.0bn, and further growth between 2021 and 2028 is expected to have a CAGR (compound annual growth rate) of 14.8%. The boom reflects a global consensus that a move to carbon-free energy production is not only required but needs to be fast-tracked, and that shift in momentum has led to investors trying to buy Lithium assets.
One interesting feature of the industry is that lithium can't be traded in the same way as other commodities such as gold, silver and copper. However, investors looking to gain exposure to the sector do have the option of buying lithium mining stocks. This is in many respects a preferred option as equities do offer a more convenient and cost-effective way of trading the financial markets. The three best lithium stocks to buy now are detailed below, and all are listed on regulated stock exchanges.
To give an idea of the market's potential returns and risk profile, one of the stocks on the list, Lithium Americas Corporation, saw its share price almost double in the four months between August and November 2021. Like other lithium stocks, there has since been a sell-off, which, while disappointing for those already in a position, it is a chance for new entrants to process their FOMO and take this opportunity to buy Lithium stocks.

Lithium Americas Corporation – Share Price Chart 2021 – 2022
Source: IG
Best Lithium & Lithium Mining Stocks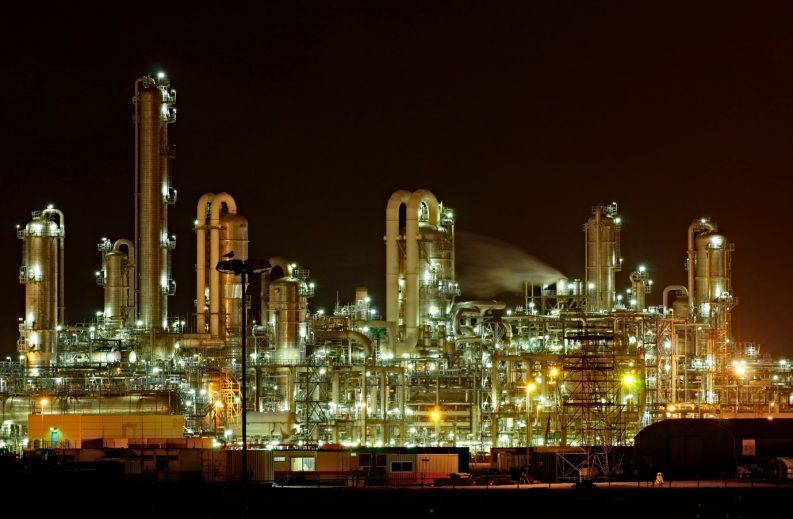 Source 123RTF
US-based Albemarle is one of the world's largest lithium miners. In Q3 of 2021, 43% of the firm's total revenue came from its lithium operations. The bromine and catalysts divisions contributed 33% and 23%, respectively and are also set to benefit from the move to renewable energy.
Albemarle – Share Price Chart 2019 – 2022 – Supporting trend line coming into play
Source: IG
Albemarle has a market capitalisation of $21.56bn and currently generates a dividend yield of 0.847%. Its size puts it in an excellent position to leverage off its critical mass and exploit the growth in the lithium sector. From a technical analysis perspective, price is currently nearing the supporting trend line, which dates back to 2020.
Albemarle – Fundamentals

Source: IG
Highlights from the 2021 full-year financial results include:
Albemarle Corporation revenues increased 6% to $3.33bn
Net income decreased 67% to $123.7m
Revenues reflect Lithium and Advanced Materials segment increase of 19% to $1.36bn
Bromine Specialties segment increase of 17% to $1.13bn
Other Foreign Countries segment increase of 9% to $2.6bn
Broker ratings improved slightly between October 2021 and March 2022, and the average forecast for the stock remains a 'Buy' with eight out of 23 analysts rating the stock a 'Strong Buy'.
ALB Broker Rating October 2021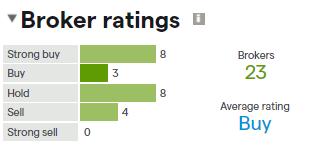 Source: IG
ALB Broker Rating March 2022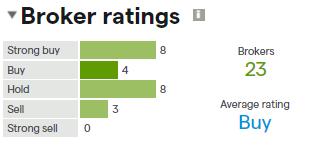 Source: IG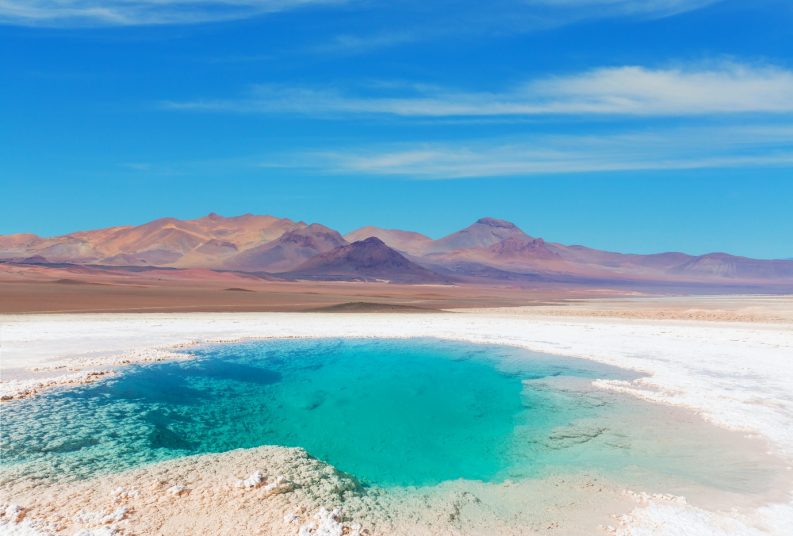 Source 123RTF
Lithium Americas Corporation (LAC) is one of the big players in the sector. It has been operating in the lithium sector for decades and has grown to have a market capitalisation of CAD$ 4.6bn. The reserves LAC owns in Thacker Pass, Nevada, are the largest-known lithium resource in the US. The company has recently received a Record of Decision from the Bureau of Land Management, which means the firm is advancing towards developing the infrastructure to start mining there.
It has other established operations in Argentina, and the Caucharí-Olaroz facility will soon come online. That plant is the largest new brine operation in over 20 years.
Lithium Americas Corporation – Share Price Chart 2018 – 2022
Source: IG
Between October 2021 and March 2022, the average broker rating for the stock remained at 'Buy', but representing the increased interest in the sector, two new analysts have started following the stock and one of them rates LAC stock a 'Strong Buy'.
LAC Broker Rating October 2021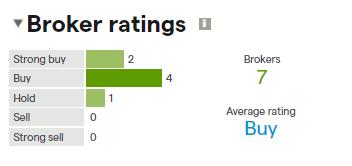 Source: IG
LAC Broker Rating March 2022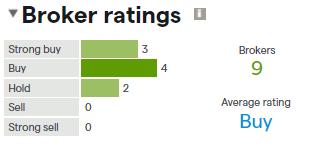 Source: IG
Highlights from the Q3 financial results for 2021 include:
Net loss before extraordinary items increased 82% to $46.6m
Higher net loss reflects Finance costs increase from $1.2m to $8.8m (expense)
Share of loss of Cauchari-Olaroz project increase from $355k to $2m (expense)
Office and administration increase from $937k to $2.1m (expense)
Lithium Americas Corporation – Balance Sheet 2015 – 2022

Source: IG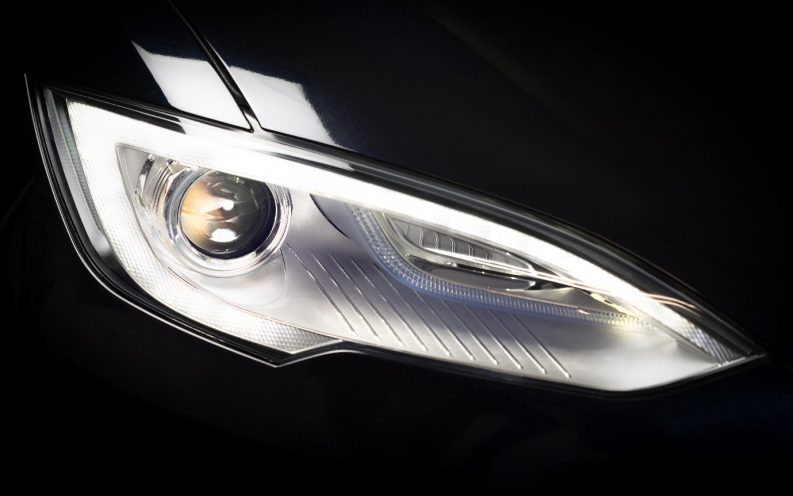 Source 123RTF
Tesla is better categorised as an EV stock, but its lithium credentials are strong enough for it to be included in some of the best lithium ETFs such as the Lithium & Battery Tech ETF. As well as the EV production line, Tesla has a residential solar-energy business and an energy-storage division. It also has a tie-in with Panasonic, which has resulted in the firm producing lithium-ion batteries at Tesla's Gigafactory in Nevada.
Tesla Motors Inc – Share Price Chart 2020 – 2022
Source: IG
The TSLA stock price surged to eye-watering levels in 2021 but since then has pulled back to an area on the charts where more level-headed investors might want to enter the stock. More than 25% of the analysts covering the stock currently rate it as a 'Strong Buy'.
Tesla Broker Ratings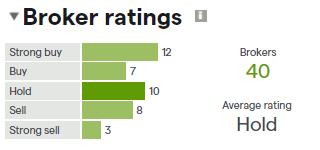 Source: IG
Tesla offers a way to gain exposure to the lithium sector and other growth sectors. With so much free research on the firm being available, it would be easy to keep up to date with news updates that might impact your investment.
Highlights from the 2021 full-year financial results include:
Net loss before extraordinary items increased 82%
Tesla Inc revenues increased 71% to $53.82bn
Net income increased from $690m to $5.52bn
Revenues reflect Automotive segment increase of 73% to $51.03bn
Energy generation and storage segment increase of 40% to $2.79bn
United States segment increase of 58% to $23.97bn
China (Country) segment increase from $6.66bn to $13.84bn
Tesla – Fundamentals

Source: IG
How to Buy Lithium & Lithium Mining Stocks
It might not be possible to trade lithium itself, but the good news is that there are plenty of trusted brokers offering markets in the best lithium stocks. They're all competing for new clients, making investing a straightforward and cost-effective possibility for a new group of investors. Here are the five simple steps to follow to set up a trading account and start buying lithium stocks.
1. Choose a Broker
Differentiating between the brokers on this list of trusted brokers can come down to finer details. Some specialise in offering 24/7 customer support; others prioritise research services, and some on the number of markets offered. Those are all worth considering, but the most crucial consideration is whether your funds will be safe.

Source: SEC
How to Choose a Safe Broker
Financial regulators in the below list oversee the financial markets and stock exchanges to ensure they operate effectively. One of their tasks is monitoring and licensing brokers. To gain a licence, a broker needs to demonstrate it is viable, aware of client care protocols, and that client funds will be segregated – if they go bust, you don't lose your money.
Tier-1 US Regulators
The U.S. Securities and Exchange Commission (SEC)
Commodities Futures Trading Commission (CFTC)
National Futures Association (NFA)
The Financial Conduct Authority (FCA)
The Australian Securities and Investments Commission (ASIC)
Cyprus Securities and Exchange Commission (CySEC)
The exact terms and conditions of regulatory protection depend on where you live. More information on the regulatory pros and cons of different brokers can be found here.
Picking a regulated broker is a good step towards safer trading, but if you're still getting to grips with the prospect of trading, then practising using a  Demo account can be an excellent first step. These use virtual funds to trade the markets, so they offer a risk-free way of testing out strategies.
2. Open and Fund an Account
Opening a Demo account requires providing little more than an email address but setting up an account for live trading involves sharing a more significant amount of personal information. This is so that you, and only you, can be identified as the account holder. It also allows the broker to comply with KYC (Know Your Client) regulations.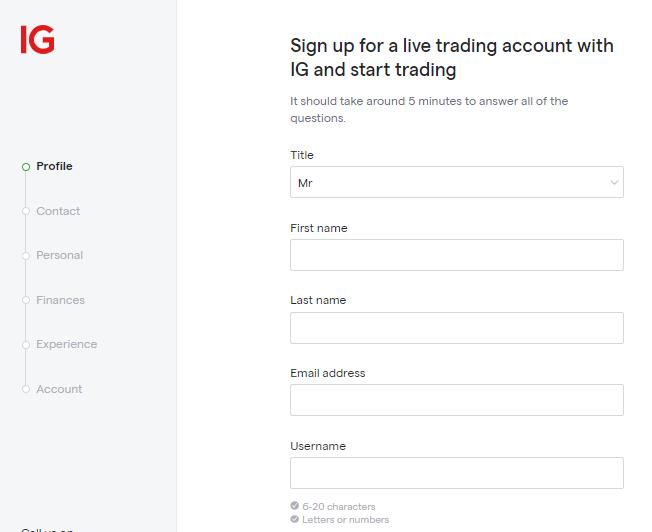 Source: IG
The next stage in the account opening process is wiring funds. The user-friendly nature of the broker platforms extends to this area, with most brokers offering upwards of ten different payment options. The simplest and fastest methods have traditionally been debit or credit card payments, but bank transfers and ePayment agents are also options.
3. Open an Order Ticket and Set Your Position Size
Once you're set up on the platform, it's a case of locating the lithium stocks your research identified as worthy of investment. Navigating to that market can be done using the search function or filtering by sector.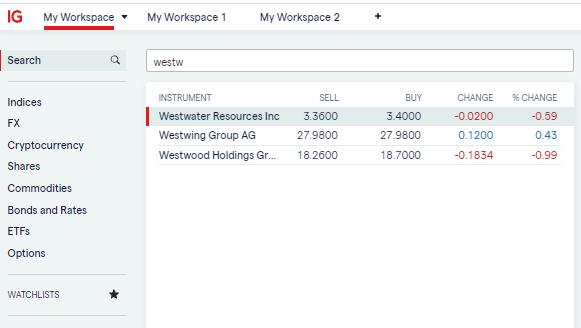 Source: IG
Each stock will have a dashboard displaying price charts, market news and company details. Enter the quality of shares you want to buy into the appropriate data field, click 'Buy' and then 'Open Trade', and you'll be the owner of a lithium stock position.
Source: IG
If you want to achieve an elegant entrance into the trade, then using limit orders allows you to set the price at which you're willing to trade. If the market price reaches that level, you'll execute your trade at your optimal price level. Getting 'filled' on a limit order is a great way to introduce discipline into your trading but does require market price reaching the level you stipulate, so it can lead to severe cases of FOMO.
4. Set Your Stops & Limits
Stop-loss instructions and take profit orders are risk-management tools built into the trading system. They instruct stock positions to be partially or fully closed out if price reaches a certain level. They allow investors to get on with their day-job while still being able to respond to market moves.
Stop-losses come into play if price moves against you. They cut lossmaking positions. Take profits, work in the other direction, and crystalise gains should price move in your favour.
Some buy-and-hold investors don't use stop losses and take profit orders as stop losses can lock in losses on positions that might eventually come back into profit and take-profits put a cap on potential gains.
Other risk management techniques include diversifying your capital across numerous positions and trading in small sizes to take the emotion out of the situation and reduce the likelihood of panic setting in.
5. Make Your Purchase
Once everything's been checked, it's simply a case of clicking or tapping 'Buy'. The platforms are set up to operate on mobile phones and desktop devices, so monitoring the performance of your lithium stocks can be done from nearly anywhere.
The Portfolio section of your site will display the value of your portfolio, with P&L (profit and loss) being determined by price feeds coming in from the stock market. This is also the area of the site to visit when you decide to sell out of some or all of your position. The process for selling is the reverse of the one used to buy, and once executed, the sell trade will convert the stock into cash which will be credited to your online account.
Whether you are looking to trade short or long-term strategies, it's essential to check your trading activity soon after the trade has been booked. The online systems are reliable and robust, but human error can occur. Even experienced traders make 'fat finger' mistakes, so checking the portfolio section immediately after trading minimises any potential damage.
Summary
A lot of the work associated with building a successful lithium stock portfolio is front-loaded but putting research into the firms and the broker you choose to use can pay off in terms of increased profits. Whether you're committed to trading or just curious about how things work, one recommendation from experienced traders is to start by using a Demo account.
Demo accounts give you access to the broker platforms, which means you can tap into free research and analysis reports. The aim is to incorporate the principles of technical analysis and fundamental analysis into your strategies to help you spot which lithium stock to buy and when to do so.
Some attention might need to be paid to the risk management side of investing. Lithium stocks are currently one of the hottest markets out there, and it attracts traders running short-term speculative strategies. Longer-term investors might do well to work through this market 'noise' as the move to renewable energy has crossed a tipping point. The secret to successful investing is spotting and joining trends, and increased demand for lithium could be about to take off.