RenovoRx Inc (NASDAQ: RNTX) stock price rallied 96.8% after unveiling a new method of managing pancreatic cancer yesterday after the market closed.

The biopharmaceutical company revealed that its novel therapy platform, RenovoTAMP™ (RenovoRx Trans-Arterial Micro-Perfusion), would be the highlight of a speech by Dr Ripal Gandhi at an evening event.
Dr Gandhi is the lead investigator in the company's ongoing Phase 3 TIGeR-PaC study and was set to explain the results of the initial clinical studies of RenovoTAMP when used in collaboration with radiation therapy on patients with stage 3 pancreatic cancer.
RenovoTAMP™ showed positive results when combined with radiation therapy to treat patients with stage 3 locally advanced pancreatic cancer (LAPC).
Dr Gandhi also explained to participants the main stages of the TIGeR-PaC protocol, which uses RenovoTAMP to deliver gemcitabine, a chemotherapy agent, intra-arterially to treat unresectable LAPC.
RenovoRx presented pharmacokinetic data describing how the drug is absorbed, as seen in the five patients enrolled in the phase 3 trial who received gemcitabine.
Investors seemed pleased with the presentation, as evidenced by today's premarket rally in the company's share price.
Dr Gandhi was quoted saying: "This innovative therapy platform is enabling the targeted treatment of inoperable LAPC with decreased side effects typical of systemic chemotherapy while shifting the focus to what is most important to our patients: improving quality of life and allowing them to spend more time with their family and loved ones,"
He added:
"RenovoTAMP, when used in combination with radiation therapy, is designed to reduce arterial microvasculature, thereby minimizing leakage during drug delivery and enhancing drug delivery directly to the tumor."
Investors who did not own RenovoRx stock before today's rally may feel like they have missed out on significant potential gains. However, it is never a good idea to chase stocks higher.
Investors are pretty likely to get better entry opportunities in the future when we get a pullback. Remember that parabolic rallies are typically followed by significant pullbacks when the rally phase ends.
*This is not investment advice. Always do your due diligence before making investment decisions.
RenovoRx stock price.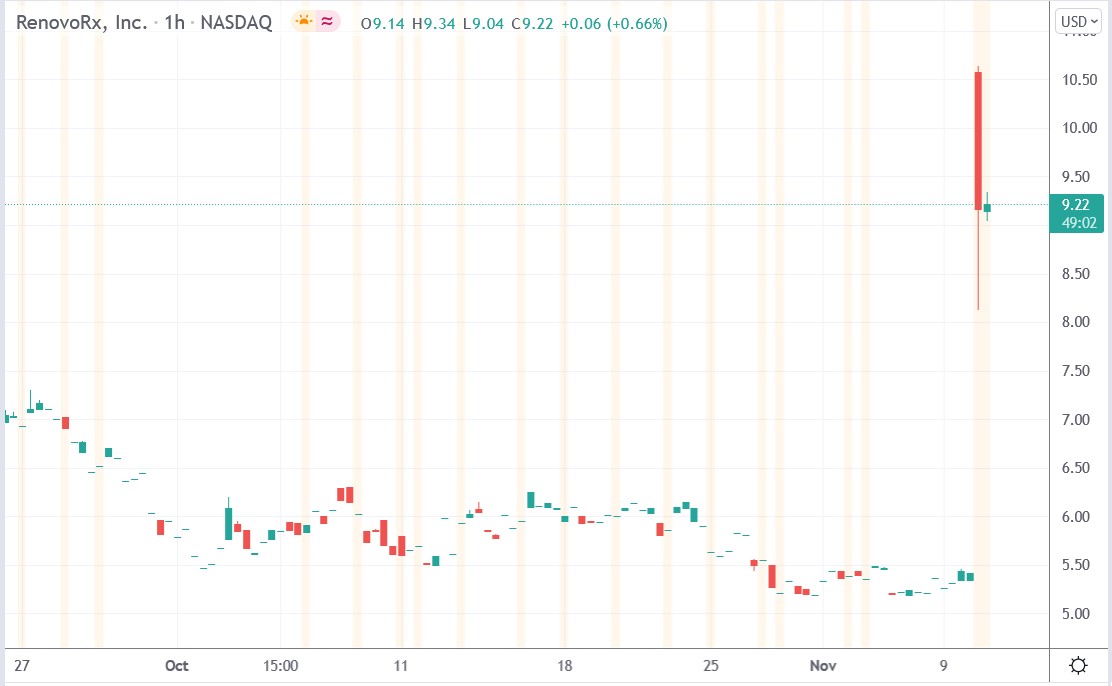 RenovoRx stock price rallied 96.76% to trade at $10.64, rising from Tuesday's closing price of $5.41.
Is Now a Good Time to Invest In RenovoRx Stock?
Healthcare stocks, including RenovoRx shares, saw a wave of investors buy their shares during the pandemic. Governments also pumped money into the companies in an attempt to speed up the vaccine process. But, what happens now vaccines have been approved and the pandemic is becoming less prominent? Should we still invest in coronavirus-focused healthcare stocks? Or should we look to firms tackling other areas? Here are the best healthcare stocks to buy now…