Rivian Automotive Inc (NASDAQ: RIV) stock price has soared 82.5% since its IPO on November 10, 2021, and many are wondering what's next for the EV manufacturer.

If there is one thing that the stock market has taught us over the past decade and in recent years, investors cannot afford to ignore the high flying growth stocks that garb all the media attention daily.
Investment firms that stuck to some of the old valuation models championed by legendary investors such as Warren Buffett and Charlie Munger have failed to beat the markets, which have been driven higher by growth stocks.
Therefore, as modern investors, we must ask ourselves if we are willing to sit on the sidelines and watch as growth stocks such as Rivian soar to the moon, or should we throw our hat in the ring and invest in a $100 billion company with zero revenues.
Well, the answer is being an investor in today's markets is a risky venture. But, on the other hand, being a short-term trader might be the answer for most people as it allows us to profit from short-term price movements.
As short-term traders, we can profit from Rivian's price movements without having to hold the stock for months on end. In this case, we shall not struggle to justify whether a car company with zero sales is more valuable than Volkswagen Group or Toyota. These companies sell millions of cars every year.
As short-term traders, all we need is market volatility and solid technical setups that place the odds of winning over a series of trades in our favour. So we use technical analysis to put the odds in our favour and proper risk management to ensure that we do not lose too much money on trades that don't work out.
It is too early to start trading Rivian stock, given that we only have a few days worth of price action data. Still, who knows how the company's chart will look like a couple of months later. Maybe then we will have strong technical reasons to trade the stock.
Meanwhile, we'll let the long term investors debate Rivian's stock price and market valuation. For us, all that matters are the proper trade setups and volatility that helps us profit from all types of stock, regardless of their long term fundamentals and prospects.
*This is not investment advice. Always do your due diligence before making investment decisions.
Rivian stock price.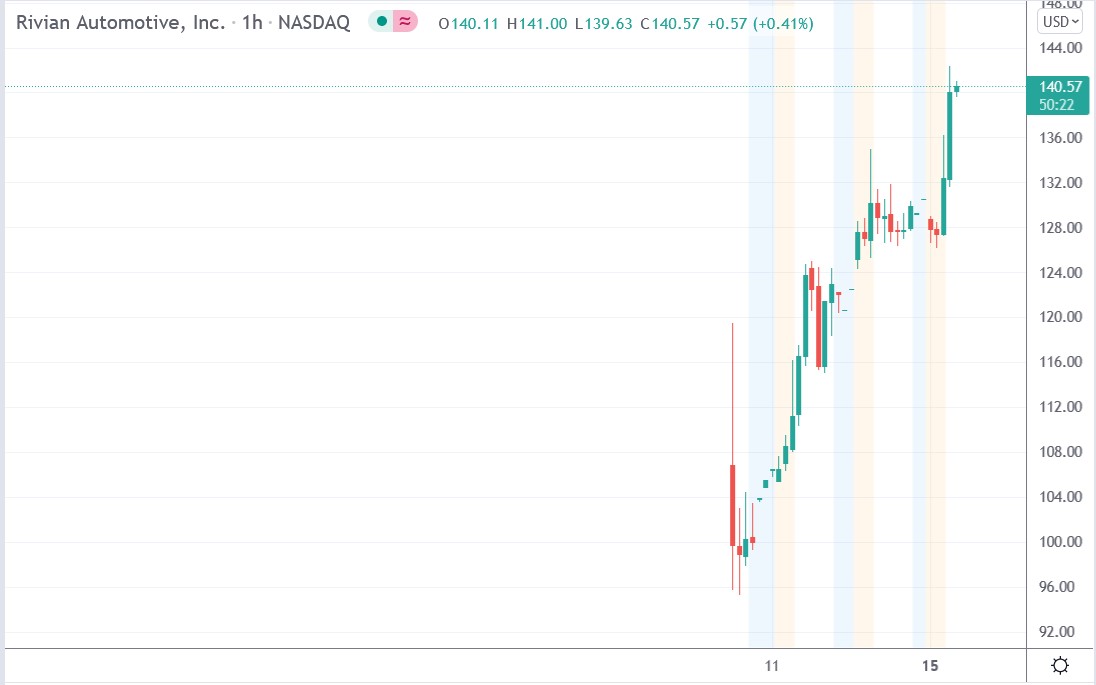 Rivian Stock price has risen 82.5% to trade at $142.35, rising from its initial IPO price of $78.
Should You Invest in Rivian Shares?
One of the most frequently asked questions we receive is, "what stocks are best to buy right now?" It's a wide-ranging question, but one that we have answered… Our AskTraders stock analysts regularly review the market and compile a list of which companies you should be adding to your portfolio, including short and longer-term positions. So here are the best stocks to buy right now.