Roblox Corp (NYSE: RBLX) stock price rallied 35.9% after releasing its Q3 earnings report showing that its revenues had doubled during the three months.

Roblox stock rose 34% after reporting that its Q3 2021 revenues surged 102% to $509.3 million compared to a similar period last year.
The video game company reported a net loss of $74.0 million from $48.6 million last year, translating to a $0.13 loss per share.
The company's bookings rose 28% to $637.8 million compared to Q3 2020.
Roblox had 47.3 million Daily Active Users (DAUs), representing a 31% increase compared to last year and a slight increase to the 43.2 million active users reported in Q2 2021.
David Baszucki, Roblox's CEO, said: "Engagement is our north star. We're very pleased that during the third quarter, people of all ages from across the globe chose to spend over 11 billion hours on Roblox,"
Adding:
"We are happy to report that the developer community earned over $130 million in the quarter and is on pace to earn well over $500 million this year. As we finish 2021 and head into 2022, we will continue to invest in innovative technology to enable our developer community to do what they do best – build and create."
Michael Guthrie, Roblox's CFO, commented: "Growth in all of our core metrics – DAUs, hours, and bookings – displayed strong year-over-year growth despite lapping Covid-impacted periods and back-to-school seasonality,"
Adding:
"Notwithstanding significant investments in developer economics and hiring, we also generated healthy cash from operations. Based on our October results, we appear to be having a great start to the last quarter of the year."
*This is not investment advice.
Roblox stock price.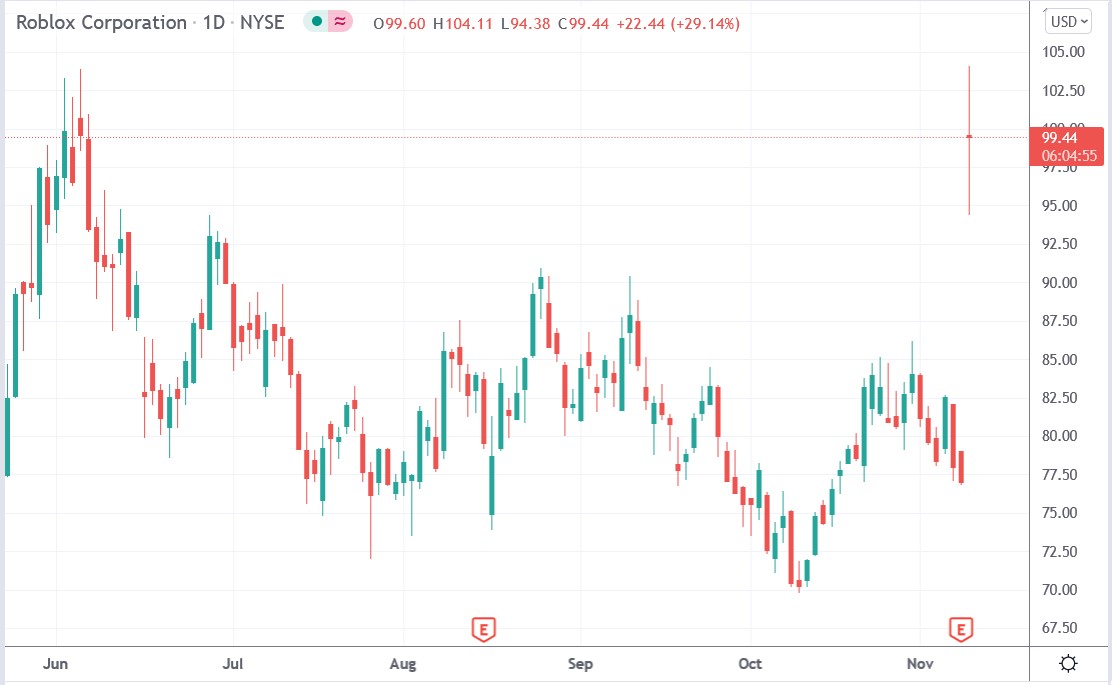 Roblox stock price rallied 35% to trade at $104.92, rising from Monday's closing price of $77.00.
Should you invest in Roblox shares?
Tech stocks offer some of the best growth potential, but time and time again, traders and investors ask us "what are the best tech stocks to buy?" You've probably seen shares of companies such as Amazon and Netflix achieve monumental rises in the past few years, but there are still several tech stocks with room for significant gains. Here is our analysts view on the best tech stocks to buy right now.