Rolls-Royce Holding PLC (LON: RR.) share price barely moved after revealing that it had completed the sale of its civil nuclear instrumentation & control (I&C) business to Framatome.

The company, which manufactures engines for ships, aeroplanes and submarines, sold the above division as part of efforts to generate a minimum of £2 billion from asset disposals to strengthen its balance sheet.
However, today's news reports' highlight was a rumour that Rolls-Royce had developed a small-scale nuclear reactor to generate electricity.
While the company is yet to confirm the story, it is rumoured to have developed a design based on four small modular reactors (SMRs) that can generate approximately 500 megawatts (MWs) of power.
Investors barely reacted to the rumours, which is substantiated could revolutionise the nuclear power industry by significantly cutting the costs associated with building nuclear reactors globally.
Rolls-Royce's SMR based nuclear power system can be installed at the cost of £2 billion compared to the £20 billion costs of the nuclear reactors currently being built at the Hinkley Point nuclear power plant in Somerset.
The last major announcement from the company was regarding its power systems business unit was improving its research and development capabilities in China after unveiling a new test bench for MTU engines. 
From a technical standpoint, RR shares are trading some distance away from the 131p support level and are headed towards the 150p resistance zone. So I would look to go long above 150p.
I would also wait for a pullback to the 131p support before jumping in. 
*This is not investment advice. Always do your due diligence before making investment decisions. 
Rolls-Royce share price.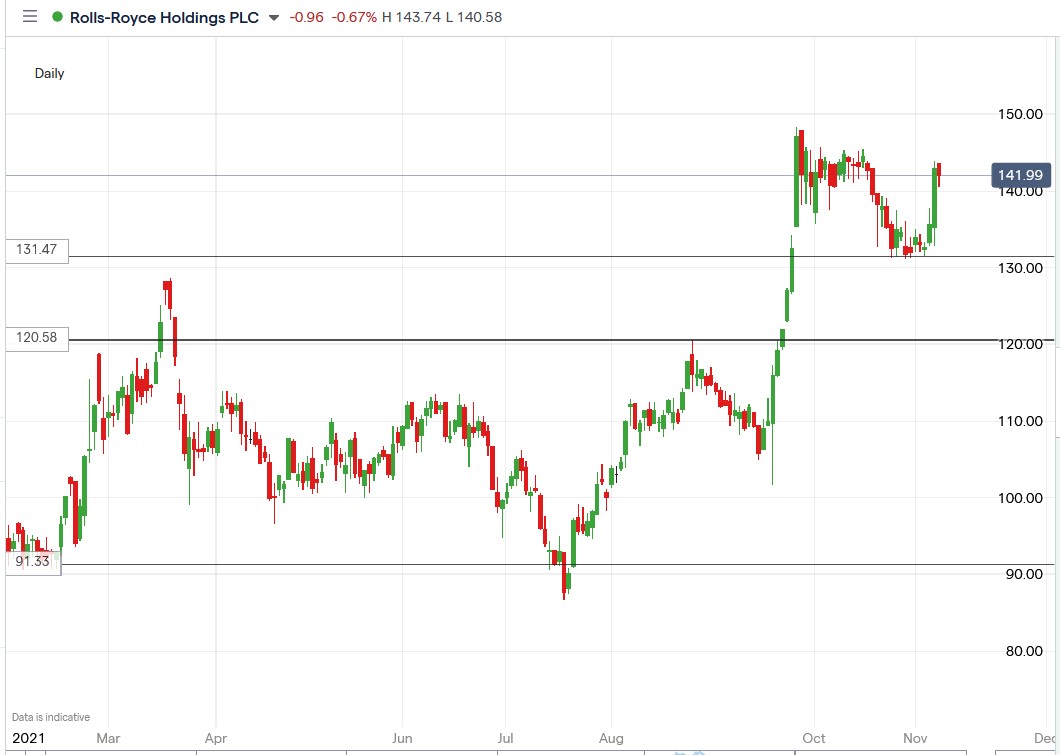 Rolls-Royce shares were trading down 1.23% at the time of publishing following the lacklustre market response.
Should you invest in Rolls-Royce shares?
If you're a smart investor, you will know that having large-cap stocks in your portfolio is vital. They are more mature companies, considered safer investments, trade with less volatility, have greater analyst coverage, and in most cases, have a steady dividend stream. Due to the current market environment, we think now is the perfect time to add large-cap stocks to your portfolio. But which large-cap shares should you buy? Our stock analysts regularly review the market and share their picks for some of the best large-caps to invest in.