Royal Mail PLC (LON: RMG) share price has risen 9.8% in the past month after bottoming in early October. Will the rally phase continue?
The postal service and courier company had seen its shares plummet from their June peak of 613.9p to a low of 404.4p in early October before the current rally phase began, as investors adjusted their expectations of the company.
The COVID-19 related lockdown measures last year boosted its share price as the eCommerce sector boomed, driving the shares of parcel delivery companies higher.

RMG shares are still up 32.12% since January, and they are up 76.7% over the past twelve months.
The question on most investors minds now is, will the current rally phase last over the coming months, or will we see further declines in RMG's share price.
While we cannot predict the future with any degree of certainty, I bet that Royal Mail shares will be trading much higher than their current prices by the end of the year, driven by several factors.
Firstly, we have the busy festive season shopping period starting with Black Friday on November 26, 2021, all the way to Christmas and the New Year, which have historically been the best months for e-commerce retailers.
Remember that Royal Mail stands to benefit from surging eCommerce sales as the number of packages being delivered surges leading to more revenues for the company.
However, the firm now faces stiff competition from other courier companies and has in the past suffered by having less-powerful logistics technologies than its competitors. RMG also had industrial relations issues with its employees, which dragged its performance lower.
Still, the firm has taken tangible steps to resolve most of its issues, reflected in its rising share price. 
Based on its solid fundamentals, long term investors may find Royal Mail's current share price quite attractive. However, as a short-term trader, I would have to wait for a pullback before opening bullish positions in the stock.
*This is not investment advice. Always do your due diligence before making investment decisions. 
RMG share price.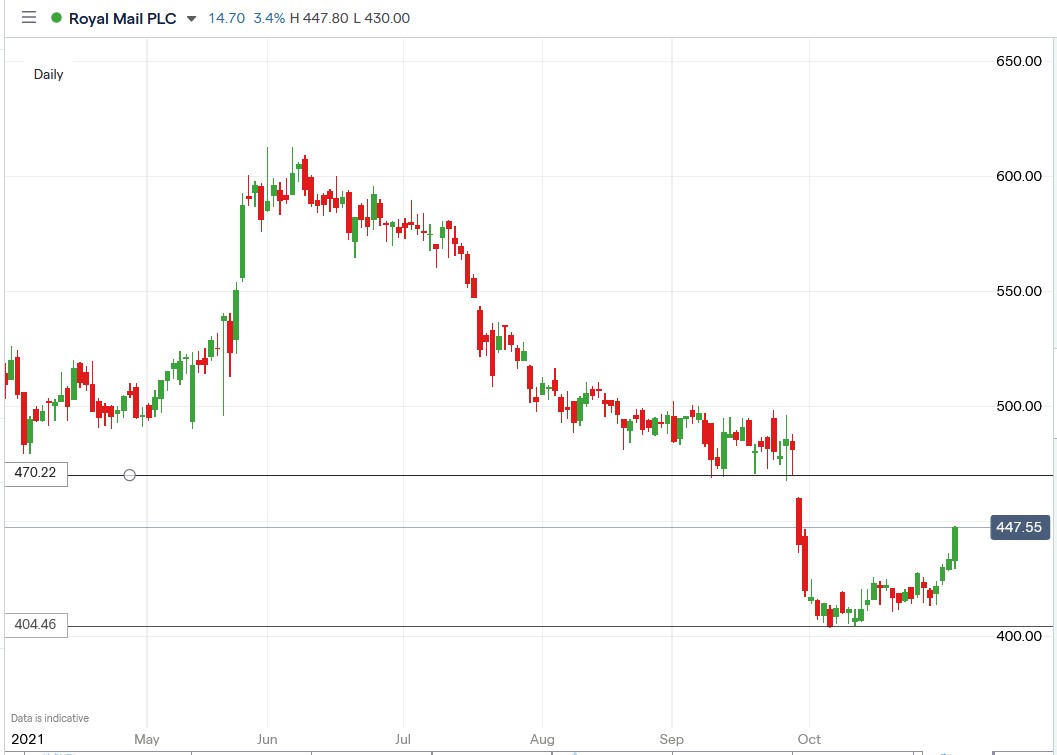 Royal Mail share price has risen 9.8% over the past month after bottoming in early October.
Should you invest in Royal Mail shares?
If you're a smart investor, you will know that having large-cap stocks in your portfolio is vital. They are more mature companies, considered safer investments, trade with less volatility, have greater analyst coverage, and in most cases, have a steady dividend stream. Due to the current market environment, we think now is the perfect time to add large-cap stocks to your portfolio. But which large-cap shares should you buy? Our stock analysts regularly review the market and share their picks for some of the best large-caps to invest in.