Chariot Ltd (LON: CHAR) share price edged 4.2% higher despite announcing a £7.1 million ($9.5 million) via an oversubscribed share placement.
The company issued 101.64 million new ordinary shares priced at 7p each, representing a slight discount to yesterday's closing price.
Chariot Ltd also revealed that it could raise a further $2.0 million (£1.5 million) by issuing new shares via an open offer to qualifying shareholders. Shareholders can apply for one new share for every 30 shares they hold.

The shareholders could also qualify for additional shares under the programme via an Excess Application Facility in a circular to be sent to shareholders on 7 December 2021.
Chariot Ltd intends to use the funds to re-enter the Anchois-1 discovery well to capitalise on the low-cost rig rate secured during the drilling of the Anchois-2 appraisal programme in December 2021.
The energy company also intends to finalise the negotiations of gas sales agreements and input the necessary funding to unlock FID on Anchois. In addition, the firm will also fund the feasibility work on a large-scale green hydrogen project in Mauritania, among other projects.
It is always a good sign to see a company's share price rally higher despite raising capital, which automatically dilutes existing shareholders. Such a scenario shows that investor confidence in the company is relatively high.
Adonis Pouroulis, Chariot Ltd's Acting CEO, said: "In addition to the ongoing support of our existing shareholders, I am also pleased to welcome a number of new institutions onto the register. I can confirm that me and my fellow directors subscribed for a material amount of the raise, all of which resulted in the fundraise being significantly oversubscribed. We recognise our strong retail investor base, and we encourage them to support the business with its growth ambitions via the Open Offer. In closing, we look forward to providing further updates as we head into a busy operational period for the company."
Investors and traders interested in buying Chariot Ltd's shares may find the current share price quite attractive since the shares are trading at a crucial support level.
*This is not investment advice. Always do your due diligence before making investment decisions.
Chariot share price.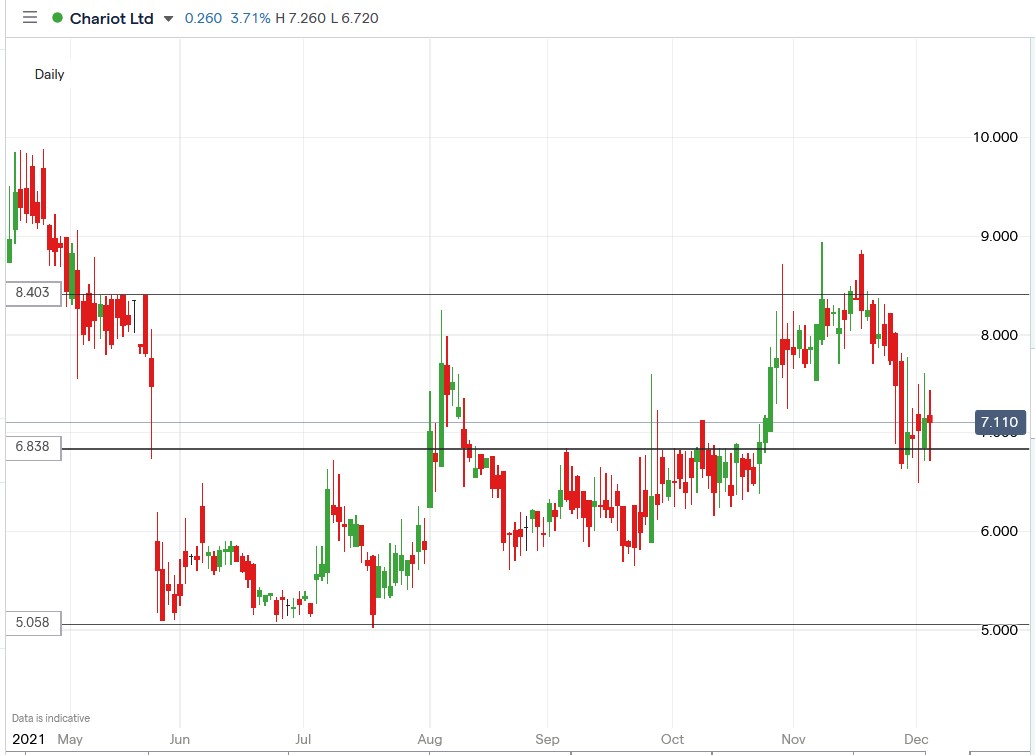 Chariot ltd share price edged 4.2% higher to trade at 7.44p, rising from Thursday's closing price of 7.14p.
Should You Invest in Chariot Ltd Shares?
One of the most frequently asked questions we receive is, "what stocks are best to buy right now?" It's a wide-ranging question, but one that we have answered… Our AskTraders stock analysts regularly review the market and compile a list of which companies you should be adding to your portfolio, including short and longer-term positions. So here are the best stocks to buy right now.