Key points:
SoFi Technologies shares surged 20.6% after becoming a national bank.
The Federal Reserve and OCC approved the firm's acquisition of Golden Pacific.
Many analysts are excited about the move, which will unlock new revenues.
SoFi Technologies Inc (NASDAQ: SOFI) stock surged 20.6% after receiving approval from the Federal Reserve and the Office of the Comptroller of the Currency (OCC) to acquire Golden Pacific Bancorp Inc.

The acquisition will transform SoFi Technologies into a US national bank after becoming a Bank Holding Company due to the acquisition.
SoFi Technologies will operate its new bank as SoFi Bank, National Association, with the acquisition set to close in February this year.
Anthony Noto, SoFi's CEO, said: "This incredible milestone elevates our ability to help even more people get their money right and realize their ambitions. With a national bank charter, not only will we be able to lend at even more competitive interest rates and provide our members with high-yielding interest in checking and savings, but it will also enhance our financial products and services to ensure they efficiently meet the needs of our members, business partners, and communities across the country while continuing to uphold a high bar of regulatory standards and compliance."
Adding:
"This important step allows us to add to our broad suite of financial products and services to better be there for our members during the major financial moments in their lives and all of the moments in between."
The acquisition of Golden Pacific Bancorp, Inc. was announced last year after SoFi's subsidiary, Social Finance, Inc., signed a definitive agreement to acquire the national bank.
SoFi intends to inject capital worth $750 million into the bank and pursue a national digital-first business strategy while maintaining the bank's community bank business ethos and practices.
Investors cheered the announcement, as evidenced by the premarket rally in SoFi stock, with some analysts saying that the acquisition could be a significant positive catalyst for the company.
Once the acquisition is completed, SoFi Technologies will become the bank holding company for SoFi Bank, National Association.
An analyst at Rosenblatt, Sean Horgan, raised his price target on the firm from $28 to $30 and maintained a buy rating saying that SoFi becoming a national bank was "the moment we have all been waiting for."
He also expects to company's earnings to surge substantially to $235 million compared to the current analysts' consensus estimates of $175 million.
*This is not investment advice. Always do your due diligence before making investment decisions.
SoFi Technologies stock price.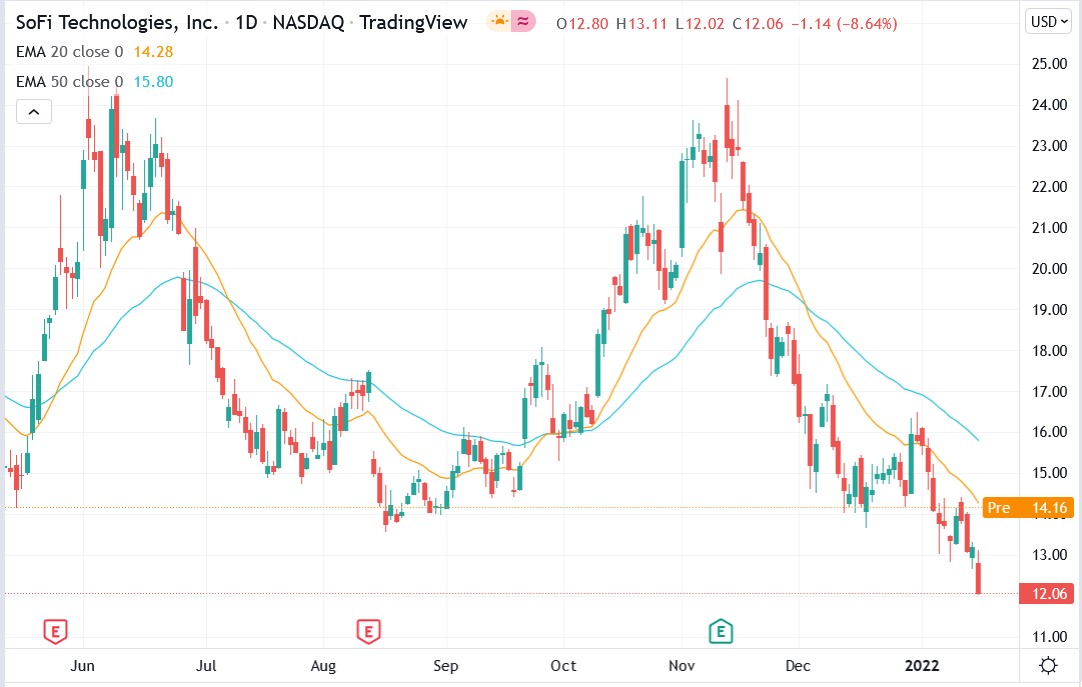 SoFi stock rallied 20.56% premarket to trade at $14.54, rising from Tuesday's closing price of $12.06.