Key points:
[email protected] Capital released a trading update for the second half of 2021.
Unfortunately, investors reacted negatively to the report, evidenced by the decline.
Nevertheless, the inventory funding company's 2022 prospects are promising.
The [email protected] Capital PLC (LON: SYME) share price crashed 28.3% after releasing a detailed trading update for the six months from 1 July 2021 to 31 December 2021.
Investors reacted negatively to the trading update despite the inventory monetisation company multiple growth opportunities available in the new year.
SYME revealed that it was working to sign a binding agreement with the first inventory funder for its home market in Italy, and it expects to finalise the arrangements shortly.
The fintech company revealed that interest in its products and services remained high in all the geographies it intends to launch operations.
For example, the firm is in discussions with ten potential investors and asset-backed lenders in the UK interested in providing inventory funding to SYME's clients within the UK.
SYME is currently working with Intesa Sanpaolo Private Bank (Suisse) Morval SA ("ISPB Morval"), a Shariah fund arranger in the Middle East, to roll out a shariah-compliant inventory monetisation service in the MENA region.
[email protected] Capital is exploring potential NASDAQ project routes with ARC Group in the United States while exploring inventory funding alliances.
Investors seemed disappointed by the trading update despite the multiple growth opportunities outlined by SYME in the report.
The inventory monetisation company's shares are set to end the year, having fallen 70.96%, with many hoping that it shall record better performance next year.
Alessandro Zamboni, [email protected] Capital plc's CEO, commented: "2021 has been a transformational year. The Group has made tremendous progress since December last year, and we should be proud of what we have created. [email protected] is a unique equity story that is attracting a lot of interest from investors, lenders and strategic partners across the globe. The standard setters and regulators are working as well to support the alternative capital market industry, and the Company will benefit from that in 2022. Now that market conditions seem more settled; we expect an acceleration of revenue, aimed at rewarding the commitment and trust of all our shareholders and key stakeholders."
I have long been a fan of SYME and its business model, but the firm has not rewarded long term investors given the massive decline in its shares since the year began.
The inventory monetisation faced multiple challenges in 2021, which slowed down its progress. However, it has since resolved many of these challenges, making next year much better for investors. Still, nothing is guaranteed in the markets.
*This is not investment advice. Always do your due diligence before making investment decisions.
[email protected] Capital share price.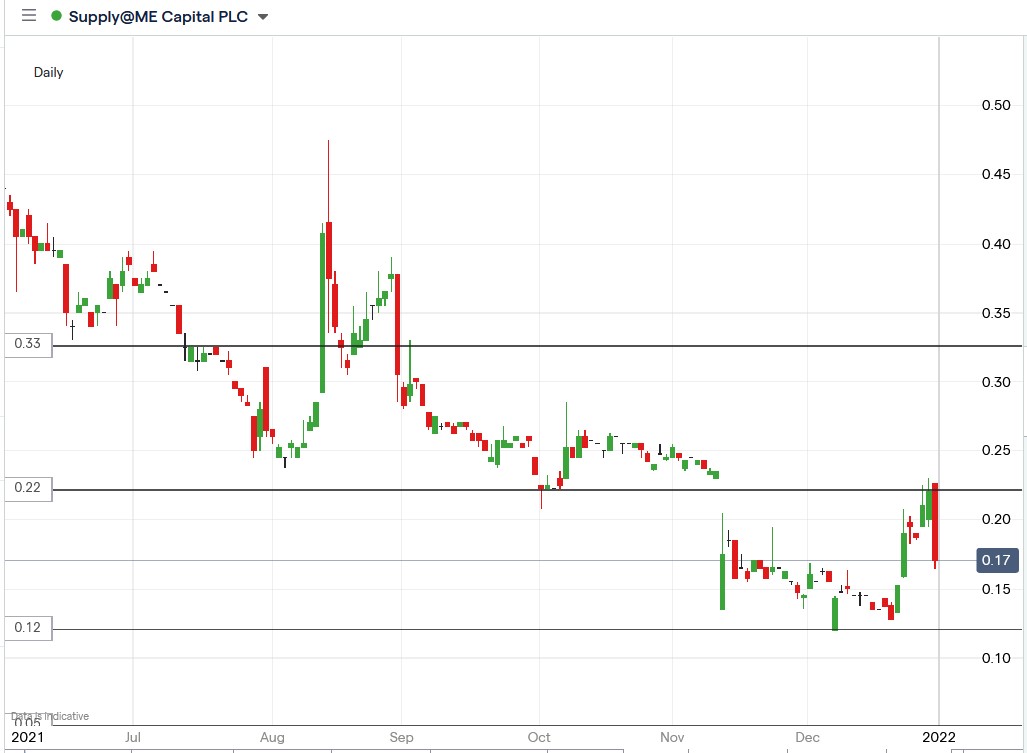 [email protected] Capital shares crashed 28.31% to trade at 0.1590p, falling from Thursday's closing price of 0.2218p.
Should You Invest in SYME Shares?
One of the most frequently asked questions we receive is, "what stocks are best to buy right now?" It's a wide-ranging question, but one that we have answered… Our AskTraders stock analysts regularly review the market and compile a list of which companies you should be adding to your portfolio, including short and longer-term positions. Here are the best stocks to buy right now.