Key Points:
Invesco QQQ Trust stock price has risen 23.7% since January.
The ETF has had periods where it rallied and others where it fell.
Investors are watching the impact of the Fed interest rate decision on QQQ.
SINCE JANUARY, Invesco QQQ Trust Series 1 (NASDAQ: QQQ) has risen 23.7% as tech companies listed on the Nasdaq exchange rallied higher.
However, some significant pullbacks lasted for a few weeks at a time, followed by significant rallies, as seen on the daily chart below.
The last pullback lasted from early September to early October and was followed by the latest rally phase until late November.
QQQ's rally was driven by large-cap companies such as Apple, Google, Facebook, and Microsoft, which have been in long term uptrends lifting the Nasdaq index, which is tracked by the QQQ ETF.
However, not all tech companies have been doing well. Smaller tech companies have struggled to keep up with their larger peers and could face significant challenges if the Federal Reserve implements hawkish policies to accelerate the tapering process.
Investors keenly watch the Fed's next move at Thursday's monetary policy meeting. The Fed is expected to unveil hawkish policies, triggering a further downtrend in the Nasdaq index and the QQQ ETF.
QQQ shares are currently in a downtrend that started on November 22, 2021, and appeared to bottom on December 3, 2021, when a small rally ensued. However, the downtrend is not yet over, as evidenced by yesterday's decline.
Investors should regard the downtrend as over once QQQ shares surge above the November 22 highs. Meanwhile, investors interested in profiting from the move higher may find QQQ's current stock price quite attractive.
The timing of the next rally phase may take a while given that we must first get a crossover of the 20-day EMA above the 50-day EMA, which is yet to happen, indicating that we could be in for a further decline or a sideways trending market.
*This is not investment advice. Always do your due diligence before making investment decisions.
QQQ stock price.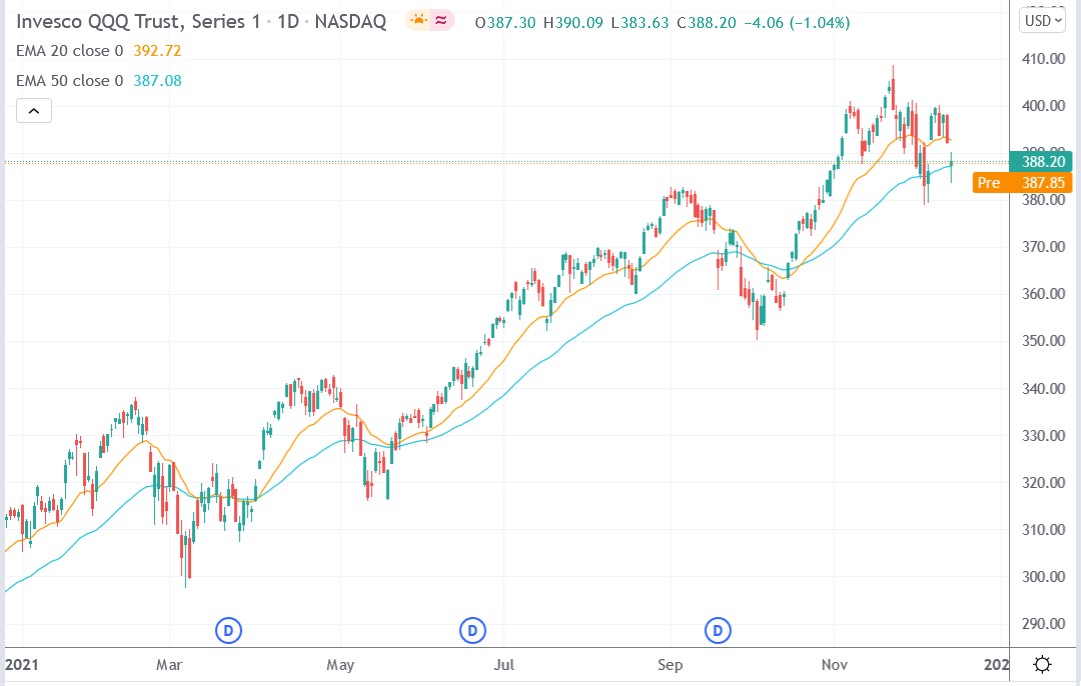 The Invesco QQQ Trust has seen its shares fall 1.65% in one month but is still up 23.7% since January.
Should you invest in QQQ shares?
Tech stocks offer some of the best growth potential, but time and time again, traders and investors ask us "what are the best tech stocks to buy?" You've probably seen shares of companies such as Amazon and Netflix achieve monumental rises in the past few years, but there are still several tech stocks with room for significant gains. Here are our analysts' views on the best tech stocks to buy right now.