The Lucid Group Inc (NASDAQ: LCID) stock price fell 15.6% after revealing that it received a subpoena from the Securities and Exchange Commission (SEC) requesting it to produce certain documents relating to an investigation.
Investors were spooked by the news, as evidenced by Lucid Group's stock price decline during premarket trading. Since October, the EV startup had enjoyed a massive rally when trading at $25 to its current prices near $50.
The electric vehicle manufacturer did not reveal many details about the investigation other than saying that it appears to concern the merger between the company and Atieva, Inc, a special purpose acquisition company (SPAC) that allowed it to become public.
Lucid merged with the SPAC to lower its listing costs and started trading on the NASDAQ valued at $24 billion. The company joins a list of other recent IPOs that involved SPACS being probed by the SEC.
The SEC is primarily focused on claims made in the IPO documents and prospectus that could have misled inventors.
Other companies in a similar situation include Lordstown Motors (RIDE), which is being investigated for its merger with Diamond Peak Holdings, another blank check company and its pre-orders.
Investors interested in Lucid Group shares should follow the SEC's investigation, but this should not dissuade those interested in owning its shares from buying them. I would wait for a deep pullback before jumping, which we could get due to the investigation.
*This is not investment advice. Always do your due diligence before making investment decisions.
Lucid stock price.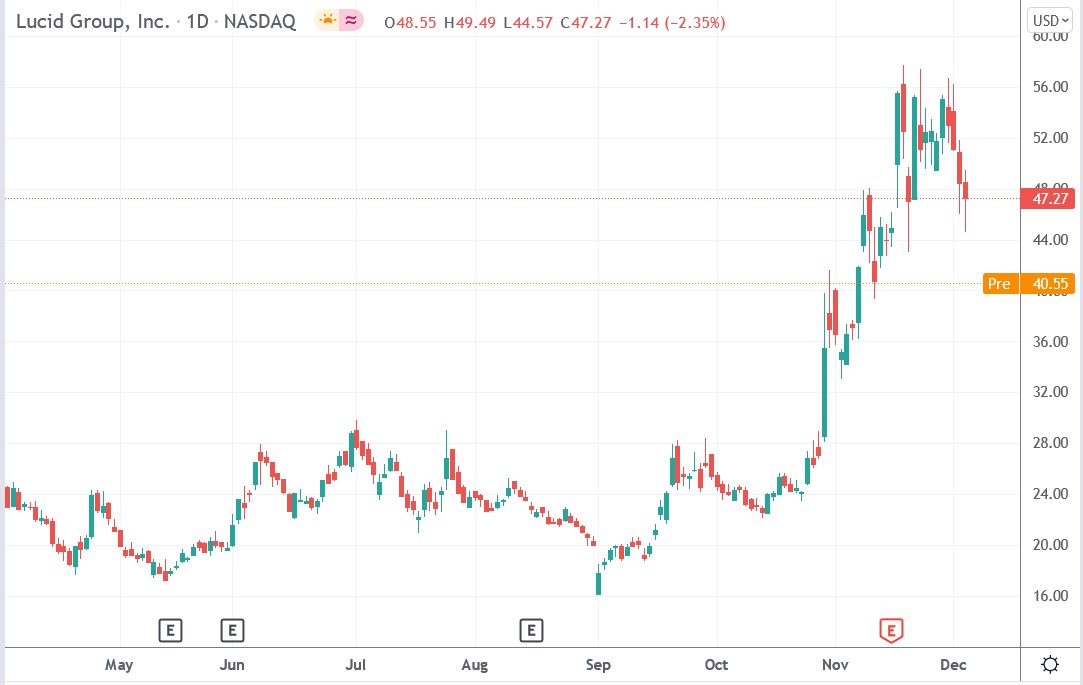 Lucid Group stock price fell 15.63% to trade at $39.88, falling from Friday's closing price of $47.27.
Should you invest in Lucid Group shares?
Tech stocks offer some of the best growth potential, but time and time again, traders and investors ask us "what are the best tech stocks to buy?" You've probably seen shares of companies such as Amazon and Netflix achieve monumental rises in the past few years, but there are still several tech stocks with room for significant gains. Here is our analysts view on the best tech stocks to buy right now.