Key points:
Plug Power stock has fallen 31.8% in one month. Is there hope for the firm?
Investors ignored an optimistic analysis of the stock from an investment analyst.
The stock's daily price chart has an impressive trade setup that I like.
The Plug Power Inc (NASDAQ: PLUG) stock price has fallen 31.8%, driven by negative investor sentiment despite the upbeat sentiment among analysts.

Recently, an analyst at KeyBanc Capital Market issued an overweight rating on the stock and a $40 price target. Yet, the markets seem to disagree with his assessment, given that PLUG stock kept falling despite the news.
Earlier today, the company revealed that it would issue its full-year trading update on Wednesday, January 10, 2022, a move awaited by most investors as a crucial deciding factor in their decision to buy or sell PLUG stock this year.
A look at the daily price chart below indicates hope for PLUG shares, given that they are trading near a long-term support level that has held for many months since mid-May 2021.
Usually, such support levels tend to keep holding with time and could generate a bounce for investors in the coming days.
The current technical setup makes Plug Power shares very attractive to technical traders and investors, but we cannot ignore the fundamentals. The current market sentiment is primarily negative towards the company, which could persist in the future leading to further declines.
Leo Mariani, the KeyBanc Capital analyst, believes that the global fuel-cell industry will generate revenues worth $300 billion by 2030, which is an ambitious target given that the industry only generated $1.1 billion in 2020.
It is extremely rare to have an industry grow 300X in 8 years, which is one of the primary reasons investors ignored his analysis and kept ushing Plug Power shares lower.
While Plug Power has a unique advantage over its peers in that it manufactures forklifts powered by hydrogen fuel cells in a highly scalable industry segment.
The company is planning to generate over $750 million in revenues from its materials handling business compared to the $31.3 million booked last year.
Again, these ambitious targets might not be met given that Plug Power intends to hit this lofty revenue goal within two short years.
Plug Power also benefits from strong partnerships with companies such as Home Depot, Amazon, Walmart and General Motors, among other Fortune 500 companies that currently generate over half of its consolidated revenues.
Investors will be watching the annual operations update scheduled for next week to get an accurate picture of Plug Power's operations. However, the current technical picture looks promising, and I would open a small position if the price bounces of the support level.
*This is not investment advice. Always do your due diligence before making investment decisions.
Plug Power stock price.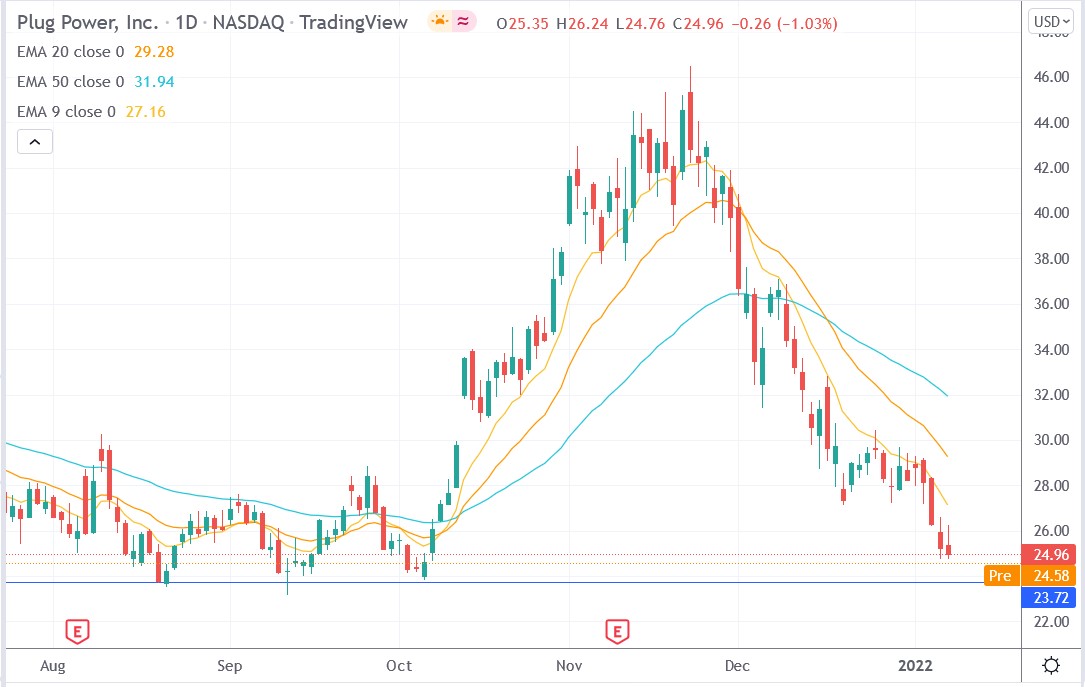 Plug Power stock has fallen 31.8% in the past month. So is there hope for a rally this year?