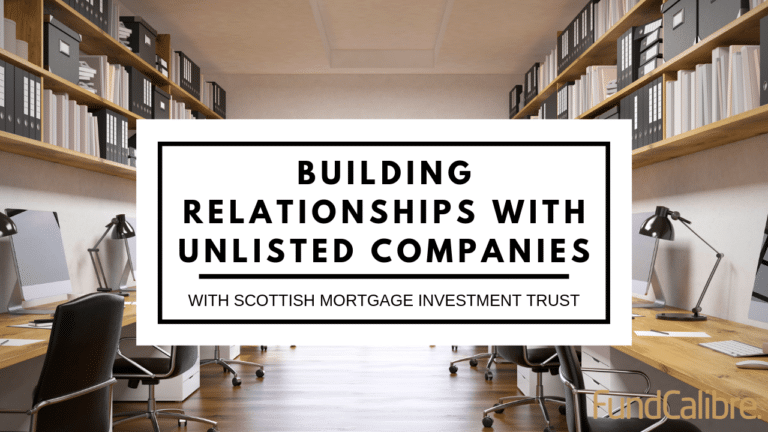 Key points:
The SMT share price is set to close the year up by 10.8%.
In addition, the fund will have a new manager starting April 2022.
So SMT's prospects appear pretty promising as we enter 2022.
The Scottish Mortgage Investment Trust PLC (LON: SMT) share price is set to end the year up 10.8% after falling11% in the last month, driven by falling growth stock prices such as Tesla.

The investment trust did not benefit from the Santa Claus rally covered by my colleague mainly because the UK stock markets were closed from Friday 24 December to Wednesday 29 December.
Many investors are thinking about allocating their hard-earned cash in the new year, and SMT remains a popular choice among investors for obvious reasons. The fund has outperformed UK indices and other funds due to its focus on growth stocks in the past years.
However, will this strategy pay off in the new year as the valuations of most tech stocks reach extreme levels and many make a case for a pullback?
The short answer is nobody knows what will happen, but we can extrapolate our future projections from past events since history tends to repeat itself.
Next year will primarily be characterised by central banks' tightening their monetary policies, which many predict will hurt global equity markets.
Growth stocks have benefited from the easy money policies and the stimulus spending implemented by the Federal Reserve and other leading central banks in the recent past.
The tiger monetary policies will result in higher borrowing rates for companies that rely on debt to fund operations and growth initiatives. Still, the leading tech business might not be affected, given that many of them are operating with surplus cash.
Other tech companies rely on venture capital investments, which are unlikely to slow down. Hence, the impact on the tech industry will likely be less pronounced than that on other sectors with slim operating margins and high fixed costs.
Furthermore, James Anderson, the man who has managed the Scottish Mortgage Trust for over 20 years, is set to retire in April 2022, leaving his co-fund manager Tom Slater in charge. Many do not expect much to change following the leadership changes.
Therefore, despite the latest decline, I remain pretty bullish on SMT, which is likely to continue outperforming its peers in the new year, but there are no guarantees here.
The market will do what it wants to do, and as astute investors, we must align our investment strategies with what is happening in the markets at a particular time.
*This is not investment advice. Always do your due diligence before making investment decisions.
SMT share price.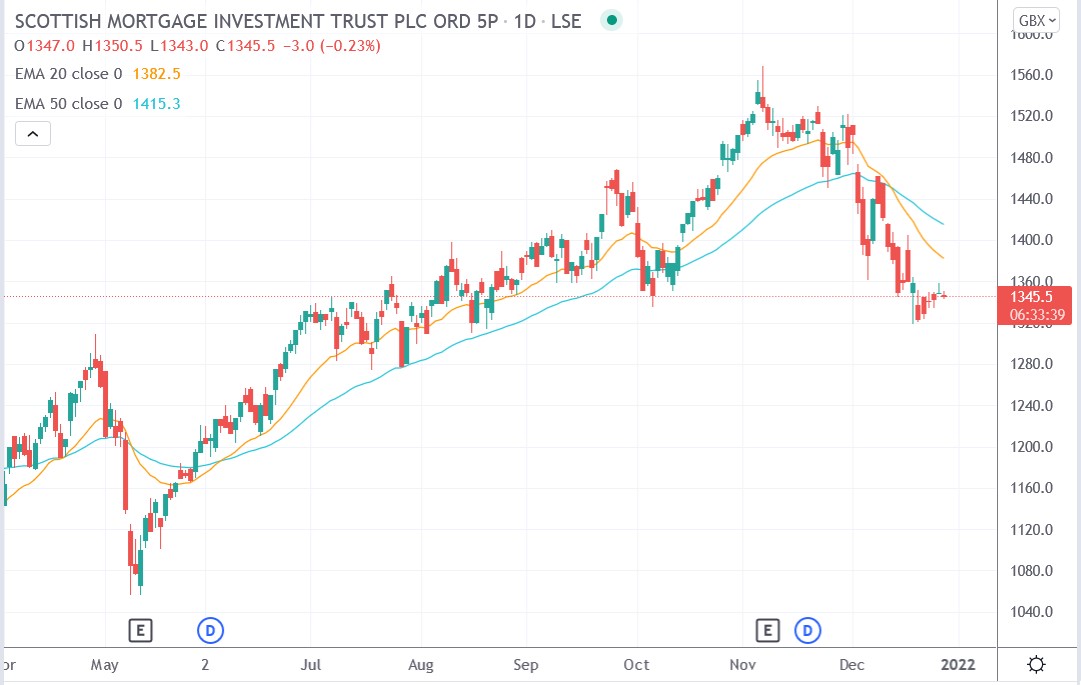 SMT shares are set to end the year up 10.76% following the recent pullback. So what's next for 2022?
Should you invest in Scottish Mortgage shares?
If you're a smart investor, you will know that having large-cap stocks in your portfolio is vital. They are more mature companies, considered safer investments, trade with less volatility, have greater analyst coverage, and in most cases, have a steady dividend stream. Due to the current market environment, we think now is the perfect time to add large-cap stocks to your portfolio. But which large-cap shares should you buy? Our stock analysts regularly review the market and share their picks for some of the best large-caps to invest in.