Velocys PLC (LON: VLS) share price soared 43.9% after signing two landmark fuel supply agreements with leading global airlines earlier today.
The first agreement is with IAG, one of the largest European airlines, which agreed to purchase 220,000 tonnes of sustainable aviation fuel from Velocys over ten years.
The agreement will see IAG consume about one-third of the sustainable fuels set to be generated at the Bayou Fuels project in the USA.

Velcoys also announced a second agreement with Southwest Airlines, a leading American airline that wants to buy 219 million gallons of sustainable aviation fuels over 15 years.
The off-take agreement will allow Southwest to combine sustainable fuels with conventional jet fuels to produce 575 million gallons of net-zero fuels.
The US airline will also save 6.5 million metric tonnes of carbon dioxide emissions throughout the agreement.
Southwest will also get its sustainable aviation fuels from the Bayou Fuels project as early as 2026, at the same time as IAG.
IAG plans to use sustainable fuels on all its airlines, including British Airways, Iberia, and Aer Lingus, with the ultimate goal of powering 10% of its flights with sustainable fuels by 2030.
The European airline intends to purchase one million tonnes of sustainable aviation fuels each year to reduce its overall emissions by two million tonnes by 2030.
Investors cheered today's announcement, which is proof that there is strong demand for sustainable aviation fuels produced by Velocys as global airlines rush to meet their emissions targets.
Henrik Wareborn, Velocys CEO, said: "This new strategic relationship with Velocys could ultimately provide Southwest access to additional significant quantities of sustainable aviation fuel. Our 15-year offtake agreement with Southwest Airlines will enable them to utilize the lowest carbon intensity sustainable aviation fuel announced to date,"
Luis Gallego, IAG's chief executive, said: "IAG is investing US$400 million in the development of sustainable aviation fuel in the next 20 years. This new agreement is another important step towards achieving our goal of ten per cent sustainable aviation fuel use by 2030."
He added:
"Sustainable aviation fuel is a critical element for the decarbonisation of the aviation industry. Clear policy support is needed to attract investment to construct the necessary plants to deliver enough supply for the airline industry."
*This is not investment advice. Always do your due diligence before making investment decisions.
Velocys share price.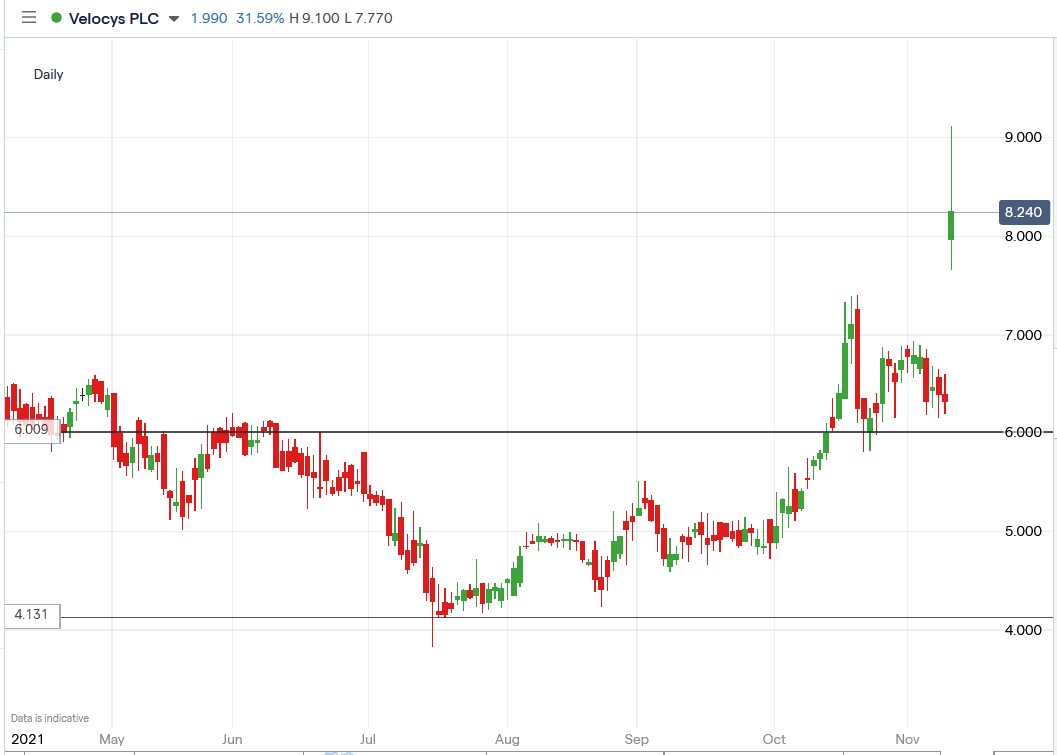 Velocys share price soared 43.91% to trade at 9.102p, rising from Tuesday's closing price of 6.325p.
Should you invest in Velocys shares?
If you're a smart investor, you will know that having large-cap stocks in your portfolio is vital. They are more mature companies, considered safer investments, trade with less volatility, have greater analyst coverage, and in most cases, have a steady dividend stream. Due to the current market environment, we think now is the perfect time to add large-cap stocks to your portfolio. But which large-cap shares should you buy? Our stock analysts regularly review the market and share their picks for some of the best large-caps to invest in.