Key points:
Wynn Resorts, Las Vegas Sands, and MGM Resorts stock rallied premarket.
The companies were reacting to Macau's new casino licensing rules.
Investors in casino stock can now breathe easy after today's announcement.
The Wynn Resorts, Limited (NASDAQ: WYNN) share price rallied 10.8% during premarket trading after Macau issued clear rules on the licensing of casinos starting later this year.

Wynn stock rallied higher after Macau clarified that it would maintain the current number of available licenses at six. Still, it would shorten the license terms by half from the current 20 years to 10 years, with the possibility of extending them for another three years.
However, the Macau gaming authority has increased the percentage of local ownership to 15% from the previous 10%.
The gambling industry is Macau's largest source of revenue, with the island also holding the title of the world's gambling capital. Macau generates up to $37 billion in annual revenues for casino operators, which is five times greater than the revenues generated on the entire Las Vegas strip.
US Gambling stocks, including Las Vegas Sands (NYSE: LVS), which was up 10.6% and MGM Resorts International (NYSE: MGM), which was up 4% and Wynn Resorts (WYNN), all surged higher on the news.
The stocks had fallen heavily last year after the Macau government initiated a process of gathering views from the public about potential changes to the rules governing the casino industry.
Macau is a Chinese Special Administrative Zone, and gambling has been legal in the territory has been legal since the 1850s, when the Portuguese legalised it in the autonomous colony.
The Chinese government had raised concerns that its citizens were using Macau casinos to get their money out of the country, given the strict monetary controls in China.
Officials also withdrew some unpopular policies, such as placing government representatives on company boards.
Today's announcement is great news for US casino stocks that draw most of their revenues from Macau, but there is still some uncertainty regarding how the new licenses will be auctioned when the time comes.
However, it appears that Macau and mainland Chinese authorities intend to maintain the current status quo minus the few changes announced today. It appears US gambling stocks will have a better 2022 compared to last year if they can win their licenses later this year.
*This is not investment advice. Always do your due diligence before making investment decisions.
Wynn stock price.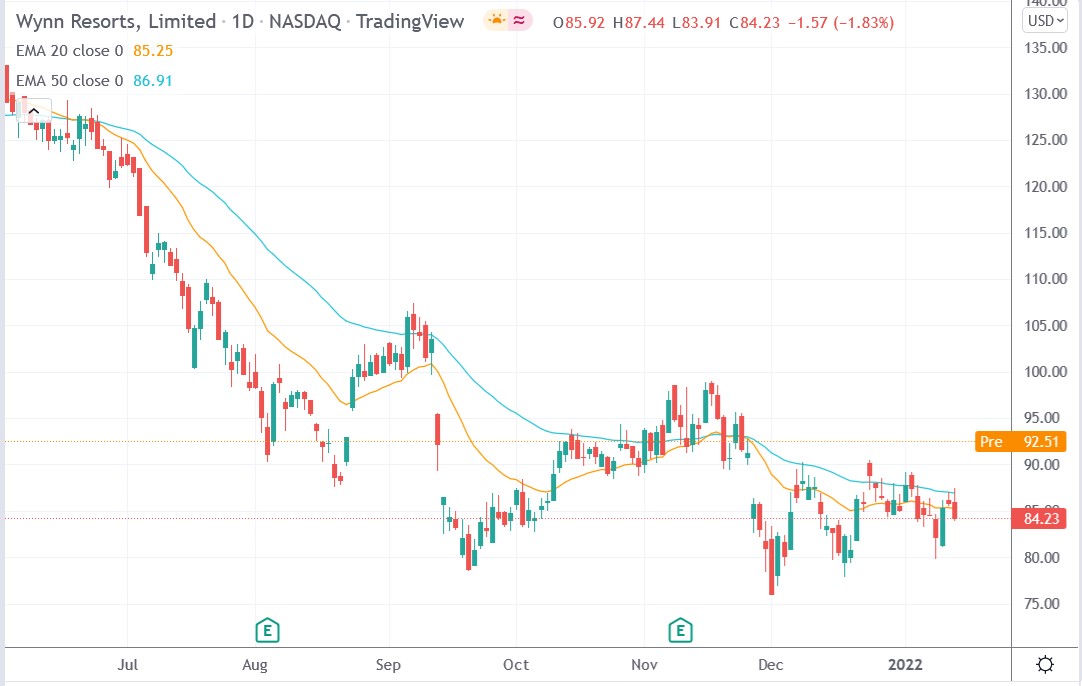 Wynn stock rallied 10.83% premarket to trade at $93.35, rising from Thursday's closing price of $84.23.