One feature that sometimes flies below the radar is the minimum deposit requirement. This is the amount of funds you need to wire to a broker to open an account. This article explores the deposit Tickmill requires.
It might appear to be low down on the list of priorities, but there are two reasons to keep it in mind. The first is that some potential clients have a limited amount of free funds. The other is that trading in small size can be beneficial to your P&L.
When starting out, having positions that are of an uncomfortable size can be hair-raising. Using small trades and taking the emotion out of trading can actually allow you to stick with your strategy, rather than panic and close out a position early instead of waiting for it to become profitable.
Before we get started, let's take a look at our other guides:
Below is a summary of why Tickmill should be top of the short-list of candidate brokers.
Low minimum deposit
User-friendly registration process
Low-cost trading
Superior trading infrastructure
No deposit or withdrawal fees
Tickmill Minimum Deposit
The minimum deposit for all account types is $100. If you want to step up to the VIP account, you have to hold a minimum balance of $50,000.
The Tickmill minimum deposit is a realistic amount of cash to facilitate you getting started trading the markets. You need a certain amount of capital to put trades on and hold positions if price goes against you.
Trading with the minimum would require you to trade in small size, but that's not a bad idea for newbies.
How To Make a Deposit
First of all, you need to open an account. This process is done online and involves setting up a password — which only you will know. There is also a requirement to submit personal information and proof of address.
Completing this Know Your Client (KYC) process is actually a good sign as regulated brokers ask clients to tick boxes so that compliance with the financial regulator is assured. Tickmill, as a regulated broker, is also required to keep a log of your tax ID details in case you make substantial profits and your local tax authority wants to apply the appropriate charges.
If you have all the information to hand, then the registration process can take as little as a matter of minutes. There is a requirement on Tickmill to verify the KYC docs you upload and this part of the process may be the one which takes the longest time.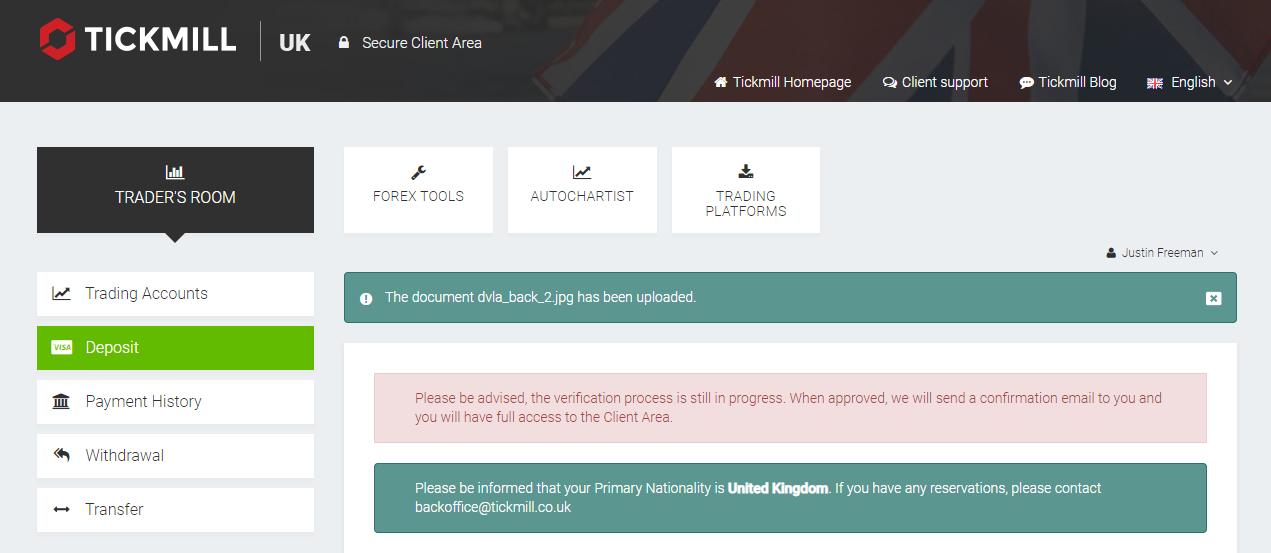 Once your account is validated, you can pay funds into it using the desktop or mobile app platform.
Log in to your Tickmill account client area
Click 'Deposit' in the left-hand sidebar
Enter the deposit amount and select your base currency
Select your payment method
Click 'Submit' to confirm your deposit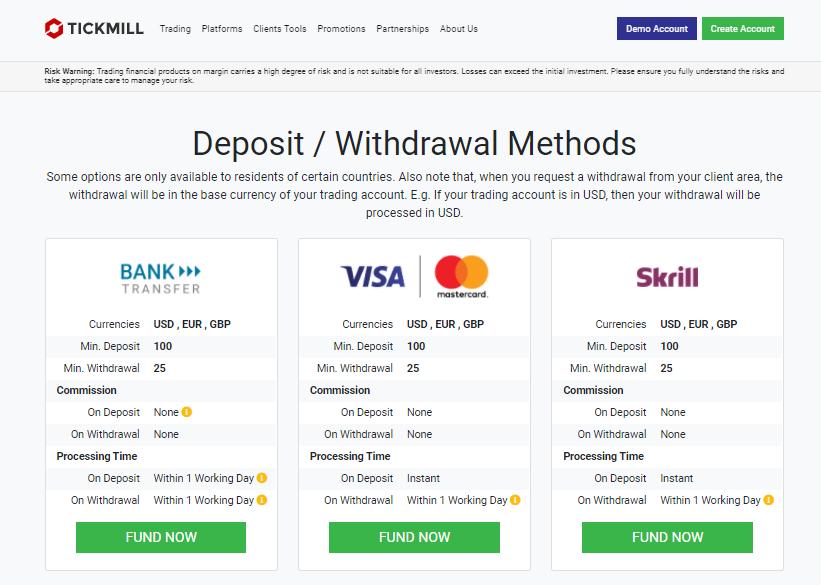 When depositing funds into your Tickmill account, there are more than 10 different payment providers to choose from. The list includes:
Bank transfer
Visa
Skrill
Neteller
Sticpay
Fasapay
UnionPay
vn
Qiwi
Webmoney
All of the above payment methods, apart from bank transfer and UnionPay, allow for instant deposits of funds.
You might also notice that Tickmill fees are reported with great transparency. The broker does not charge any commissions on deposits or withdrawals.
Part of Tickmill's eagerness to share that information is that this is a big plus point for it. There are a lot of brokers that charge commissions, particularly on withdrawals, and trading is risky enough without surrendering cash to admin charges.
Full disclosure does require mention of the fact that some clients may choose a payment option that incurs charges from a third-party. Giving the subject of which payment processor to use can save money.
If you choose one of the faster payment systems, then the process of depositing funds can take moments to complete.
All deposits starting from $5,000 USD or equivalent and processed in one transaction by bank transfer, are included in the Zero Fees Policy. Smaller bank transfer amounts may be liable to charges.
Tickmill Deposit Currencies
Currencies that can be wired include: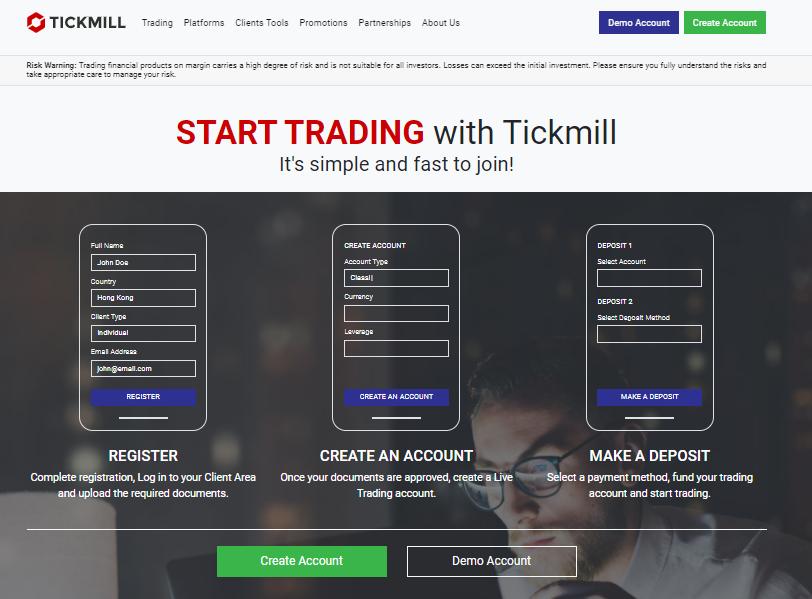 User-friendly registration process
One of the positive features of the Tickmill platform is the straight-forward onboarding process. The list of questions that has to be worked through is set by the regulator. Tickmill makes the process as painless as possible and its list of drop-down prompts helps guide users.
It's important to remember that there aren't any right or wrong answers to some of the questions. Tickmill just needs to know more about you so it can gauge your competency. Answering as accurately as possible is important as the broker will grade the degree of customer care they need to apply.
Low-Cost Trading
Tickmill fees are some of the lowest in the market. It's not a no-frills broker. In fact, it provides clients with dedicated a premium-grade trading experience. There are a whole range of additional services such as Autochartist, but when it comes to fees, Tickmill is market-leading.
This approach might stem from the fact that the founders of Tickmill themselves come from a trading background. They have first-hand experience of how hard it can be to make a profit in the markets and giving it up on administrative costs is a painful experience.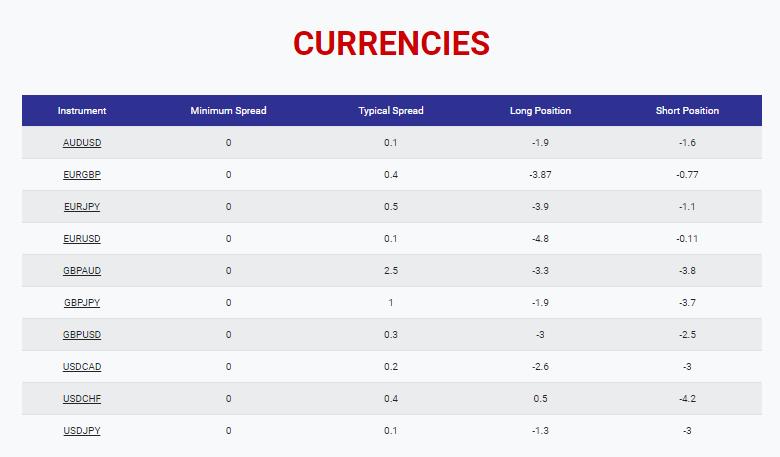 The broker operates a variable spread tariff. At times of strong market liquidity, the spreads on 10 major currency pairs, such as EUR/USD, can be as tight at 0.0 pips. It's hard to compete with zero.
The aggressive policy towards trader expenses is long-established and can be expected to remain in place — it's part of the Tickmill brand DNA.
Superior Trading Infrastructure
The behind-the-scenes infrastructure of a broker is sometimes overlooked. It's, in some ways, unglamorous, but is incredibly important.
The feeling that Tickmill has been built by traders, for traders is demonstrated by the platform operating on state-of-the-art technological infrastructure.
Tickmill's set up means that not only does it offer low-cost trading, but it is reliable as well.
It has one of the industry's fastest execution times — 0.20s on average.
Its no requotes policy means that when you execute a trade, you can have confidence of it being filled.
This policy runs across the 80+ markets on offer on the platform.
Trading strategies such as Expert Advisors (EAs), hedging and scalping, which are not available or permitted at other brokers, can all be conducted on the Tickmill platform.
Virtual Private Servers (VPS) are available 24/7 and come with a 100% uptime guarantee.
The VPS servers are located close to the exchanges to ensure lower latency — which means better quality and lower cost trading.
One-click trading — including 'go to zero' functionality so you can close all your positions with just one click.
Tickmill is Safe
Everybody wants their trader to be 'safe' and Tickmill has gone to great lengths to give its clients a sense of security.
Applying for licences at regulators and complying with all the reporting standards costs money and takes time. Tickmill's approach to take on licences with five different regulators therefore needs applauding.
By operating under license in five distinct regions of the world, Tickmill gives its clients coverage from a regulator geographically close to them.
Tickmill UK Ltd is authorised and regulated by the Financial Conduct Authority (FCA). FCA Register Number: 717270.
Tickmill Ltd is regulated as a Securities Dealer by the Seychelles Financial Services Authority (FSA). FSA licence number: SD008.
Tickmill Europe Ltd is authorised and regulated by the Cyprus Securities and Exchange Commission (CySEC) as a CIF limited company. CySEC licence  number: 278/15.
Tickmill Asia Ltd is authorised and regulated by the Labuan Financial Services Authority (Labuan FSA). Licence number: MB/18/0028.
Tickmill South Africa (Pty) Ltd is authorised and regulated by the Financial Sector Conduct Authority (FSCA). FSCA licence number: FSP 49464.
(Sources: Tickmill)
A client's location and domicile status will determine which regulator's protective umbrella they come under. Not all of the below features will apply to all accounts, but some of the protective to look out for includes:
Negative Balance Protection — NBP stipulates that you can't lose more money than you put into an account. If you invest $100 in Tickmill and get things horribly wrong then the most you can lose is. $100.
Segregation of Funds — Some regulators require brokers to hold client funds at an independent bank. If segregation applies then Tickmill's own accounts, which pay staff wages and other costs, will be separate from client trading accounts. This means that if a broker fails, your funds are safe.
Anti-Money Laundering – AML protocols at the FCA and CySEC, for example, require any funds paid into a Tickmill account to only be returned to the account from which it initially came. This is to prevent cash being laundered through brokers, but adds up to extra security for clients as their cash can't be forwarded on to a rogue account.
Ease of Access
Once you've set up your account and wired funds, you want the platform to work for you, not vice versa. The Tickmill trading infrastructure may be extremely high-tech, but the user-interface has an intuitive feel.
The desktop version of the trading platform has functionality that has been tested and enhanced for more than 15 years. It's very much a finished product with the input of millions of individual traders going in to shaping how it works.
The mobile trading experience is also high-quality. Given how powerful some of the MetaTrader analysis tools are, it's quite an achievement to have so many available on the smaller screen. The app is free to download and compatible with iOS and Android devices. Setting it up takes moments, and once completed, you're in a position to trade at your desktop, or on the go.
Further reading: