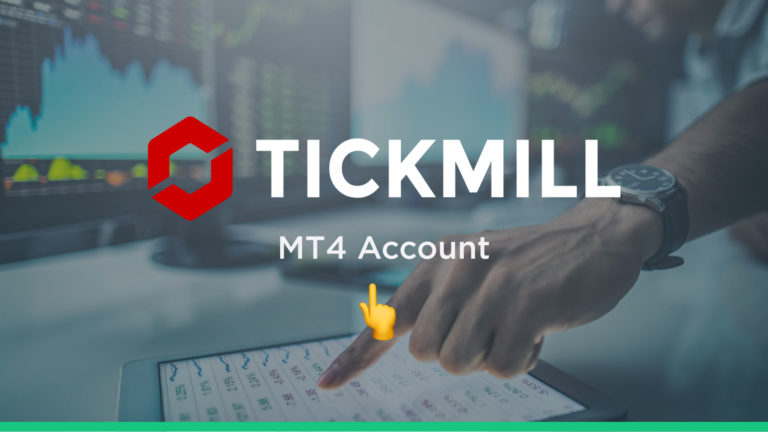 MetaTrader 4 (MT4), which Tickmill provides for its traders, is the most popular retail trading forex platform in the world. This article will go over how to open a Tickmill account.
The user-friendly functionality makes it ideal for beginners, but there are enough powerful software tools to meet the most experienced traders' needs. With so much on offer, the challenge is developing enough of an understanding of MT4 to ensure you get the most from it. But once you do, you'll be in a great position to trade the markets.
MT4 has been in operation since 2005, so it's been subject to years of minor upgrades. Each adjustment has finessed the service to make the current MT4 a joy to use. The longevity of its operation also means it has been tested to destruction. MT4 is a robust, reliable and proven platform that is used across the globe by millions of successful traders.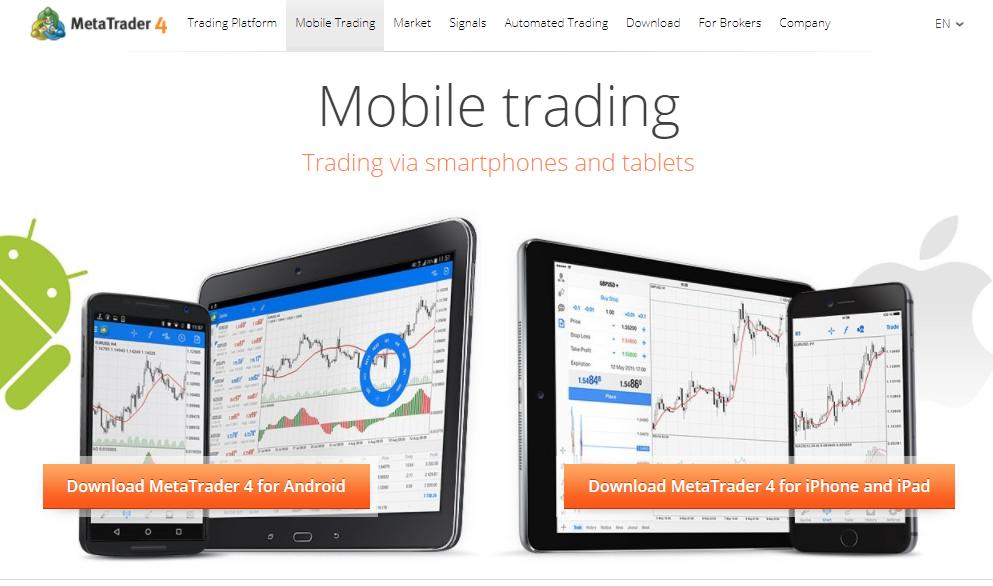 Source: MT4
Tickmill offers MT4 in the downloadable desktop version. It is free to install and compatible with iOS and Windows devices. There is also a WebTrader version, which gives quick and easy access to the markets via any internet browser.
Those looking to keep in touch with the markets while on the move can use the free iOS and Android apps for tablets and phones. The platform's handheld version is much admired for managing to transfer nearly all of the trading indicators over to the smaller screen format.
Highlights of MT4:
Quick and easy to set up
User-friendly functionality
Razor-sharp graphics
Almost unlimited range of trading tools
High-quality research
Access the MT4 / MQL5 community where other users share thoughts and ideas
How to Set Up a Tickmill MT4 Account
Signing up for a Tickmill MT4 account takes moments to complete. MT4 is third-party software that Tickmill subscribes to under licence from MetaQuotes and then rolls out to clients. The registration is handled by Tickmill, that holds your personal data on its system and issues you with a login to MT4.
All it takes is to verify an email address and you're ready to go.
Accessibility and Customisation
As soon as you log in to your Tickmill MT4 account, you're taken right into the heart of the markets.
There are various display settings to choose from and the functionality of MT4 has been the template for almost every other platform that has since come onto the market.
A sidebar lists the markets you might want to trade. These can be dragged and dropped into a chart monitor and you are then ready to analyse and execute trades in that particular market. If you want to study multiple time frames simultaneously, that is also possible with many opting to study a market using a combination of 15 minute, 1 hour and 4 hour charts.
The default settings for MT4 include:
Nine different time frames ranging from 1 minute to 1 month
Multiple language options
Charting and annotation tools
30+ indicators including moving averages, MACD and Bollinger Bands
Three colour options, black and white, black and green, and yellow and black
Complete trading history in the Portfolio monitor
Order flexibility – 2 market orders, 4 pending orders, 2 stop orders and trailing stops
Security – high thanks to encryption software
Gold Price Chart on MT4 – Four hour candles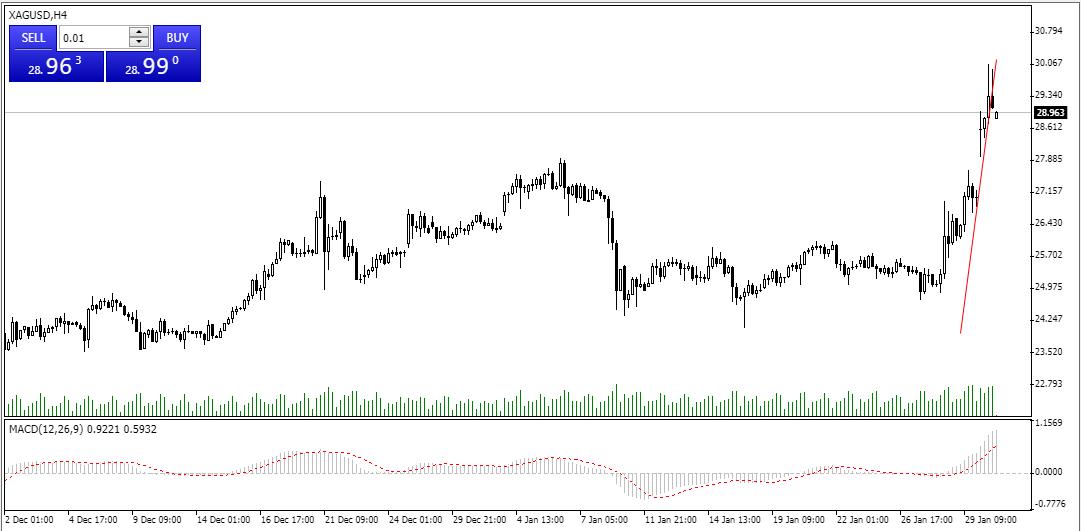 Source: Tickmill WebTrader
The beauty of MetaTrader is the extent to which it can be customised – time-frames are just one example. It's possible to set your charts to whatever time period you like, something not all platforms offer. But you can also go right into the heart of the platform and develop your own functions and features.
This user-led customisation of the platform has always been one of the main attractions of MT4. The millions of users of the platform are continually developing new tools using the MQL5 language, and while some charge other users to access them, many are provided free of charge.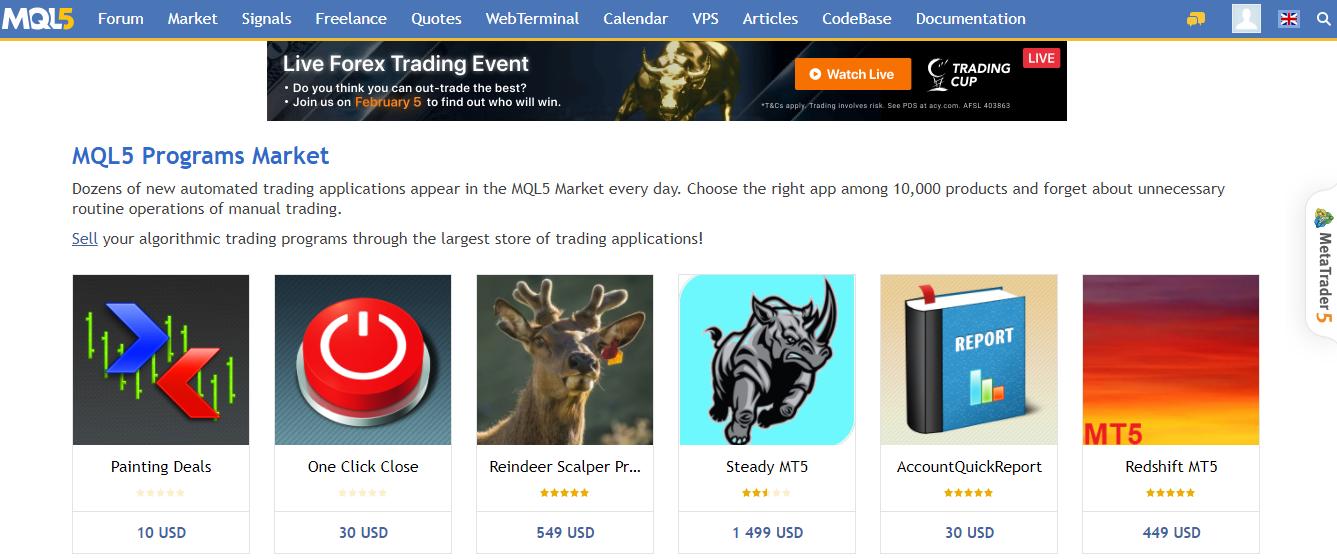 Source: MQL5
The result is a vibrant community of traders busily and informally crowdsourcing ideas. As such, there is now an almost unlimited number of add-ons available to MT4 users so they can make the platform just right for them.
Download up to 2,000 available indicators – many of them for free
Set your platform to one-click trading
Incorporate trading volume to act as a confirmatory indicator
Enjoy the unlimited amount of user-based research shared on the platform
Automation
MetaTrader 4's popularity is based mainly on its functionality. It's easy to see why it was a no-brainer for Tickmill to make it the cornerstone of its platform. There is also the matter of MT4 being a perfect fit for automated trading. The forex markets, which Tickmill specialises in, are particularly popular with traders who use algorithms and systematic models to automate their trading.
Automated trading is more hands-off, so it allows traders to get exposure to the 24/5 forex markets while getting on with their day-job. Relying on pre-determined computer algorithms also minimises the risks of emotions coming into play. Emotional trading can be the enemy of traders. Beginners and experienced traders alike often make the mistake of over-riding their in-play strategies which ultimately (and as planned) come good.
The open-source software of MT4 makes it almost feel like the trader's platform rather than the brokers. That is because the language used to build models (MQL5) is surprisingly easy to use and is complemented by wizards.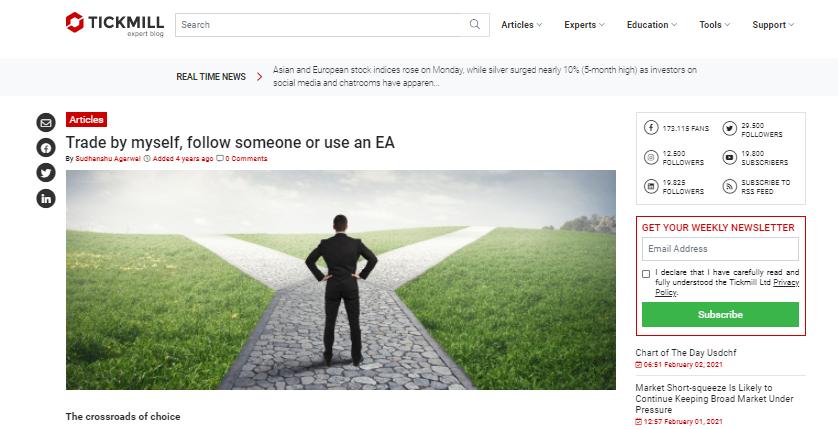 Source: Tickmill 
You don't need to learn the programming language yourself to build a degree of automation into your trading. Instead, the Expert Advisors service allows Tickmill clients to use the models of others to trade their accounts.
Using a third-party to manage your account has its risks, but a bit of research and due-diligence can steer you towards a best-fit. Then you're set up to trade the markets with minimal involvement.
The Expert Advisors Automated Championship is a competition between trading robots with the winner over four months claiming $80,000.
Why Tickmill?
Below is a summary of why Tickmill should be top of the short-list of candidate brokers.
Tickmill minimum deposit – $100
User-friendly registration process
Low-cost trading
Superior trading infrastructure
Tickmill fees – no deposit or withdrawal fees
Super-strong regulation
Ease of access
Multiple funding options – many of them allowing instant transfer of funds
Why Tickmill is Considered A Safe Broker
Getting platform choice is one thing, but there's little point in making a paper-profit only to discover your broker is a scam. Selecting a safe broker is a priority and Tickmill has gone to extreme lengths to demonstrate that they are trustworthy.
Tickmill has gained authorisation and operates under licence from five different regulators. That means clients are protected by a regulator who is geographically close to them.
Tickmill UK Ltd is authorised and regulated by the Financial Conduct Authority (FCA). FCA Register Number: 717270.
Tickmill Ltd is regulated as a Securities Dealer by the Seychelles Financial Services Authority (FSA). FSA licence number: SD008.
Tickmill Europe Ltd is authorised and regulated by the Cyprus Securities and Exchange Commission (CySEC) as a CIF limited company. CySEC licence number: 278/15.
Tickmill Asia Ltd is authorised and regulated by the Labuan Financial Services Authority (Labuan FSA). Licence number: MB/18/0028.
Tickmill South Africa (Pty) Ltd is authorised and regulated by the Financial Sector Conduct Authority (FSCA). FSCA licence number: FSP 49464.
(Sources: Tickmill)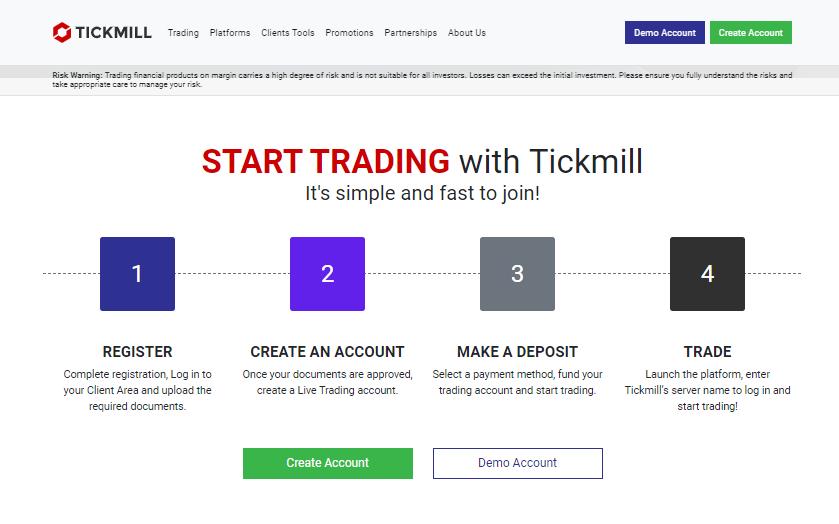 Source: Tickmill
A client's location and domicile status will determine which regulator's protective umbrella they come under. Not all of the below features will apply to all accounts but some of the protection to look out for includes:
Negative Balance Protection – NBP stipulates that you can't lose more than your initial stake. If you invest $200 in Tickmill and get things horribly wrong, then the most you can lose is that $200.
Segregation of Funds – If segregation applies, client funds are held independently of Tickmill's own accounts. That means that if Tickmill can't use your funds to pay wages or other costs and if they go bust your money won't be used to bail them out.
Anti-Money Laundering – AML protocols at the FCA and CySEC require any funds paid into a Tickmill account to only be returned to the account from which it initially came. This is to prevent cash from being laundered through brokers. The neat feature for clients is that it represents extra security as their money can't be forwarded to a rogue account.
Cash balance protection – Schemes such as the FSCS in the UK protect client funds in the case of a default. Exact terms vary from regulator to regulator but FCA coverage applies to the first £85,000 of any trading account balance.
Research
The protection provided by Tickmill helps protect clients but it is also active in developing its clients' skills so they can protect themselves.
The free MT4 demo account allows clients to trade risk-free while developing a trading mentality. It has the same functionality as the live account, just none of the downside risk.
A Tickmill account can support a trader on their journey from beginner to advanced status. The research and learning materials are first-class and range from 'How to Trade' to more advanced strategy ideas.
Trading and education tools are very trade focused – that is, they are tailored to helping traders develop the skills to spot trade entry and exit points. There are 18 different sections of the site related to trader development and some of the best features are:
AutoChartist
Myfxbook Copy Trading
Forex Calculators
Pelican Trading
Webinars
Seminars
eBooks
Video Tutorials
Fundamental Analysis
Technical Analysis
Market Insight
Final Thoughts
Tickmill has the feeling of being a platform designed by traders, for traders. The inclusion of MT4 in the suite of services demonstrates this.
The rest of the platform delivers what any forex trader could hope for. It has everything you need, but nothing that you don't. The combination of Tickmill safety and support, and the MT4 platform, make Tickmill a broker that can easily lay claim to the title of 'the best MT4 broker'.
People Who Read This Also Viewed: